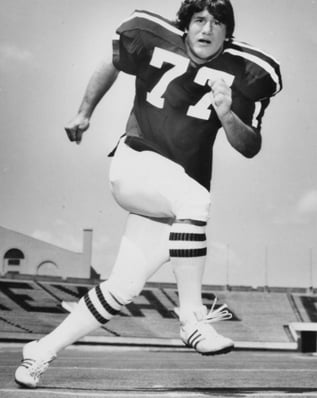 Feb. 2, 1954: Texas A&M linebacker Ed Simonini was born. The All-American led the team in tackles from 1973 to 1975. Simonini was the 81st overall pick in the 1976 NFL draft by the Baltimore Colts. He played six seasons with the Colts, and his final season in 1982 with the New Orleans Saints. Simonini was part of the 2019 SEC Football Legends class. He died Sept. 30, 2019.
Feb. 2, 1918: Thomas Barton, class of 1901; Marion Church, class of 1905; Francis McGinnis, class of 1900; and Joe Utay, class of 1908; represented the Dallas A&M Club in a meeting with Gov. William Hobby to gain authorization to form a volunteer cavalry regiment and train with the Texas National Guard, according to Texas Aggies Go To War by Henry Dethloff.
The unit was designated the 3rd Regiment of the 1st Brigade of Texas Infantry, but it was more commonly known as the "A. & M. College Regiment." It was composed of A&M alumni and students. Advertisements were printed, seeking "red-blooded Texans."
The volunteers were to recruit fellow Aggies and train with the goal of fighting in World War I. The unit was equipped through private funds and was at full strength and meeting federal inspections by October, but "the armistice dashed the hopes of these Aggie citizen soldiers serving in France," according to Dethloff.
Feb. 2, 1964: Former Texas A&M men's basketball coach Billy Kennedy was born. Kennedy, who was head coach at Murray State, was hired by A&M in 2011. He was an assistant coach at A&M during the 1990-91 season.
Kennedy was named 2016 SEC Coach of the Year after leading the Aggies to the Sweet 16 in the NCAA tournament. The team returned to the Sweet 16 in 2018. He was fired in March 2019.