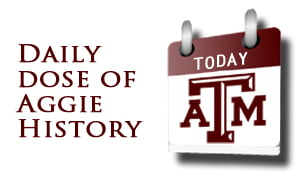 Dec. 23, 1887: Gibb Gilchrist, Texas A&M's 11th president, was born. Gilchrist, a graduate of the University of Texas, was state highway engineer from 1927 to 1937. He reorganized the department and restored federal highway funding. Gilchrist oversaw the establishment of the first statewide marking system (route signs and miles) and added a landscape architecture office to add aesthetics along the highways.
Gilchrist left to be dean of the School of Engineering at Texas A&M. He pushed to expand the program by establishing a department of aeronautical engineering and a flight-training program, according to A Centennial History of Texas A&M by Henry Dethloff.
Gilchrist became president of A&M in 1944. His vision and focus was to see A&M emerge as a top agricultural and engineering research and teaching institute, according to the Texas State Historical Association.
He left his role as president to be the first chancellor of the Texas A&M College System, established by the Texas Legislature in 1948. Gilchrist presided over the system, which included 12 participating campuses and agencies. He retired as chancellor in 1953 and spent the remainder of his life in College Station. Gilchrist died in 1972 and is buried in the College Station City Cemetery.
Dec. 23, 1957: James W. Aston, class of 1933, was named to Sports Illustrated's silver anniversary All-American football team.