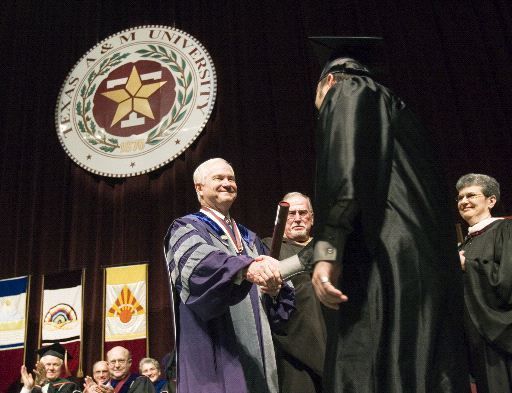 Dec. 16, 2006: Robert Gates' duties as Texas A&M president ended after conferring degrees at the December ceremonies. Gates went on to fulfill a presidential appointment as U.S. secretary of defense.
Gates previously served as director of the Central Intelligence Agency from 1991 to 1993. He entered academia as interim dean of the George Bush School of Government and Public Service at A&M from 1999 to 2001, before becoming the president of the university in 2002.
Dec. 16, 1971: Former A&M baseball and football player Jeff Granger was born. Granger attended A&M from 1991 to 1993. He was the backup quarterback in 1991, and played when starter Bucky Richardson was injured. He was also the starting quarterback for the start of the 1992 season.
Granger was 16–6 with 251 strikeouts in 220 innings in two seasons for the Aggie baseball team. He set the school record in 1993 with 150 strikeouts. He was named to the All-Southwest Conference and All-American teams after the 1993 season and was drafted fifth overall in the 1993 MLB draft by the Kansas City Royals.
He played four seasons for the Royals and Pittsburgh Pirates. 
Dec. 16, 1989: Former Texas A&M kicker Randy Bullock was born. Bullock played for the Aggies from 2008 to 2011. He was the winner of the Lou Groza Award, given to the nation's best kicker, after making 29 of his 33 attempted field goals during the 2011 season. He was also a consensus first-team All-American that season.