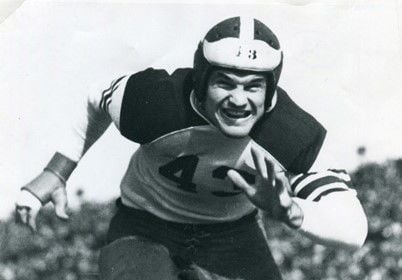 Dec. 10, 1944: Joe Routt, class of 1937, was killed in action during World War II.
Routt played guard on the Texas A&M football team from 1934 to 1937. In 1936, Routt was named an All-American, the first in A&M program history. He was named a consensus All-American in 1937 and was a second-round draft pick for the Cleveland Rams in 1938. He went on active duty in 1940 as an infantry captain in the U.S. Army.
Routt was inducted into the College Football Hall of Fame in 1962. His citation read: "In war as in football, Joe Routt was a true leader of men, ever prepared to make the ultimate sacrifice," according to the National Football Foundation.
Routt's name is prominent on campus, with Joe Routt Boulevard between Wellborn Road and Coke Street. The Memorial Student Center, Kyle Field and Rudder Tower are located along the street.
Dec. 10, 1913: Eli Whiteley, class of 1941, was born. Whiteley received the Medal of Honor for action fought in the Battle of Sigolsheim in France during World War II.
The first lieutenant led a platoon clearing houses and buildings of enemy soldier occupants. His left arm was injured by shrapnel, but Whiteley continued to lead the platoon. A shell fragment pierced one of Whiteley's eyes during a charge into one of the houses that resulted in killing five German soldiers and capturing 12.
After being evacuated for medical aid, Whiteley was fitted with an artificial eye during his recovery. President Harry S. Truman presented Whiteley with the Medal of Honor in August 1945 during a ceremony at the White House.
Whiteley returned to A&M in 1949 as a professor in the agronomy department, where he spent 30 years teaching and researching various plants and soil management.
Whiteley died in 1986 and was the second person to lie in state in the rotunda of the Administration Building. The funeral was held in Rudder Auditorium and the Corps of Cadets led a military-honors funeral procession across campus. He is buried in the College Station Cemetery.
Whiteley is recognized in the Hall of Honor at the Memorial Student Center and his Medal of Honor and other medals are on display at the Sam Houston Sanders Corps of Cadets Center. A dorm in the Corps Quadrangle is named for Whiteley.
Dec. 10, 1970: Norman Borlaug was awarded the Nobel Peace Prize. Borlaug was a member of the Texas A&M faculty from 1984 until his death in 2009.
"Dr. Borlaug's advances in plant breeding led to spectacular success in increasing food production in Latin America and Asia and brought him international acclaim," according to his obituary in The New York Times. His methods have been applied to alleviate world hunger.
Borlaug received the Presidential Medal of Freedom in 1977 and the Congressional Gold Medal in 2006.