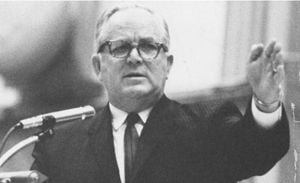 April 29, 1963: Texas A&M President James Earl Rudder met with 4,000 students at G. Rollie White Coliseum to make the announcement on the Board of Directors' decision that women could enroll and earn course credit toward a degree. Some students chanted, "We don't want to integrate!"
Women related to faculty members had previously been allowed to attend A&M, but could not earn degrees.
According to Rudder's speech manuscript on file at Cushing Memorial Library, he said, "You can pick up your marbles and leave and throw in with some other school. Or you can suck up your guts and work to make A&M great. Those that choose to defect should know they leave A&M in the hour of her greatest need."
Enrollment was limited to wives and daughters of enrolled students and faculty, according to A Centennial History of Texas A&M. Graduate studies were open to all women. Housing accommodations on campus were not available to women. That fall, 150 women enrolled. 
Women wouldn't be able enroll without limitations until 1969.