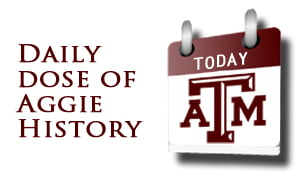 April 25, 1945: Lt. Albert Kotzebue, class of 1945, and Frank W. Parent, class of 1931, were two of the first Americans to meet Russian troops at the Elbe River in Germany. Kotzebue led an intelligence boat across the river, where they met a Soviet patrolman.
The meeting would later be used during the Cold War to call upon the time when American and Russian forces were not at odds with each other. In 2010, the 65th anniversary of the event was commemorated by President Barack Obama and Russian President Vladimir Putin as Elbe Day.
April 25, 1898: The United States declared war on Spain. Approximately 89 students and former students fought in the war that concluded in August that same year. Aggies established a Spanish-American War Memorial on the Texas A&M campus in 1953.
April 25, 2013: A&M offensive tackle Luke Joeckel was selected second overall in the NFL Draft by the Jacksonville Jaguars.