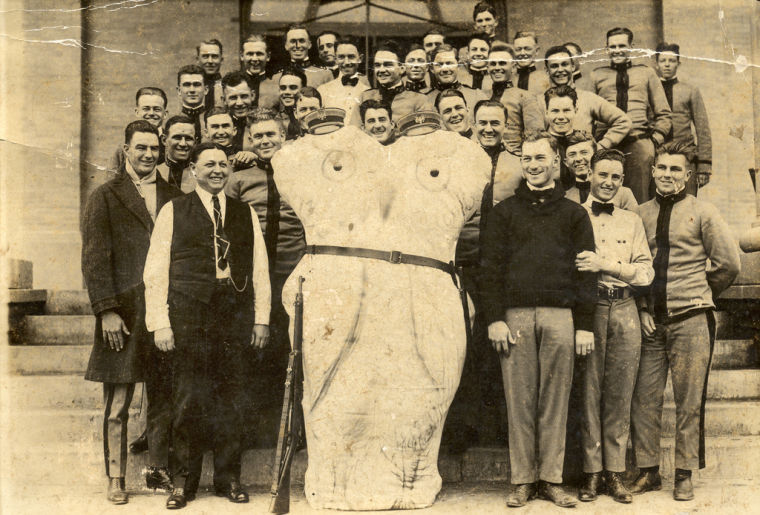 Jan. 16, 1917: The A&M basketball team defeated Southwest Conference foe Rice in Houston. As a post-victory celebration, A&M cadets stole Rice's unattended mascot, a 6-foot-tall canvas owl. The owl weighed about 200 pounds and was stuffed with sawdust, according to a January 2000 article in Texas Aggie magazine.
Back on campus, the owl was moved around to various locations, where it "attended" chapel and lectures and "watched" the cadets march in review. The student newspaper, The Battalion, published an article saying the Rice students "can find him at 37 Milner Hall."
Rice students went over in groups disguised as A&M upperclassmen and hired two detectives to find the bird. The first detective was unsuccessful. The second, who went by "Snowball," "posed as a newspaper reporter gathering information on the 'owl-napping' for an article," according to the Texas Aggie magazine.
By late January, Snowball learned the owl was being kept in the armory. The detective gave the mascot a name and sent a coded telegram letting Rice students know that "Sammy is fairly well and would like to see his parents at 11 o'clock," according to The Rice Thresher student newspaper. A group of Rice students made plans to recapture their mascot the night of Jan. 30.
Rice students drove from Houston in two automobiles and "before their intentions were found out they had taken the big owl from its resting place and started on the return journey," according to an article in The Eagle on Jan. 31, 1917.
When the Aggies found out the owl was missing, some left in automobiles while others jumped aboard the southbound passenger train. The cadets caught up with the fleeing Rice students, who were having car trouble, in Millican. The Rice students emptied the owl and burned all of its canvas body except for its head. "They burned their big owl rather than surrender it to the College Station boys," according to The Eagle.