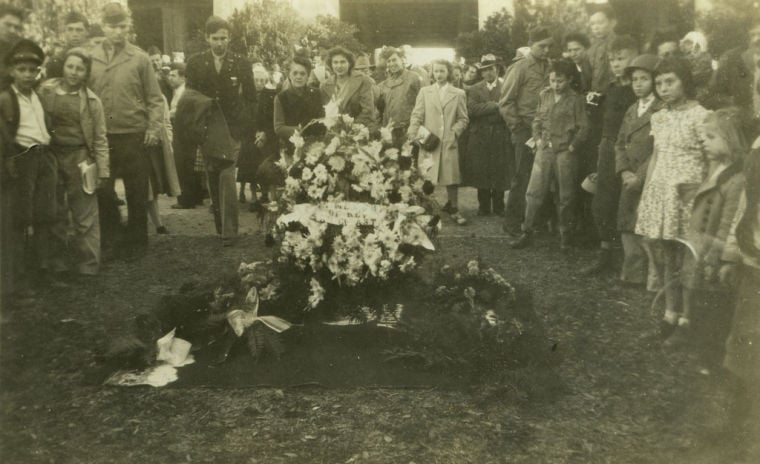 Jan. 19, 1944: The Corps of Cadets conducted a military funeral at Kyle Field in honor of Reveille. She was buried at the north end of the stadium.
"The ceremony was carried out in military style with the Corps at attention until the last note of Taps was blown," according to an article in the university archives. "Upon completion of the mid-field ceremonies, the playing of the Spirit of Aggieland and Taps, the body of Rev was carried out to the grave where it was placed with the Aggie blanket draped over it and every cadet and visitor could see it as they passed out of the stadium and home, never again to see the famous mascot of the Texas Aggies."
Jan. 19, 1890: Norman G. Crocker, class of 1917, was born. Crocker is the first known Aggie to be killed in action during World War I, when the Tuscania was sunk by German submarines on Feb. 5, 1918, off the coast of Ireland. A dorm was built in 1942 on the north side of the A&M campus. It was demolished in 2011 to make room for Hullabaloo Hall.
Jan. 19, 1905: Olveta Culp Hobby, namesake of Hobby Hall, was born. Hobby served as the nation's first secretary of health, education and welfare. As a member of President Eisenhower's cabinet, she reached a major milestone by getting the public to accept the polio vaccine. During World War II, she was director of the Women's Army Corps and held the rank of colonel. She was the first woman in the Army to receive the Distinguished Service Medal. Hobby also filled several editor and executive roles within the Houston Post and KPRC (radio and TV), both of which she and her husband, former Texas Gov. William P. Hobby, owned.