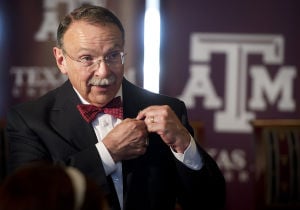 Feb. 12, 2010: R. Bowen Loftin was appointed as Texas A&M's 24th president. As a member of the class of 1971, he was the fifth Aggie to serve as president of the university. He previously served as interim president and as chief executive officer of A&M's Galveston branch campus.
Loftin retired from A&M in January 2014 to become chancellor at the University of Missouri.
Feb. 12, 1899: The temperature dropped to -4 degrees in Bryan when the worst cold front on record swept through Texas. Dallas recorded -11. Galveston Bay froze over enough to drive a team and wagon from Galveston to Point Bolivar.
A&M students burned more than "3,000 cords of wood in their efforts to keep warm," according to A Centennial History of Texas A&M by Henry Dethloff.
Feb. 12, 1973: Two F-105 Aggie pilots were released after being POWs in Vietnam: Capt. Robert N. Doughtrey, class of 1955 (captured Aug. 2, 1965) and Lt. James E. Ray, class of 1963 (captured May 8, 1966).