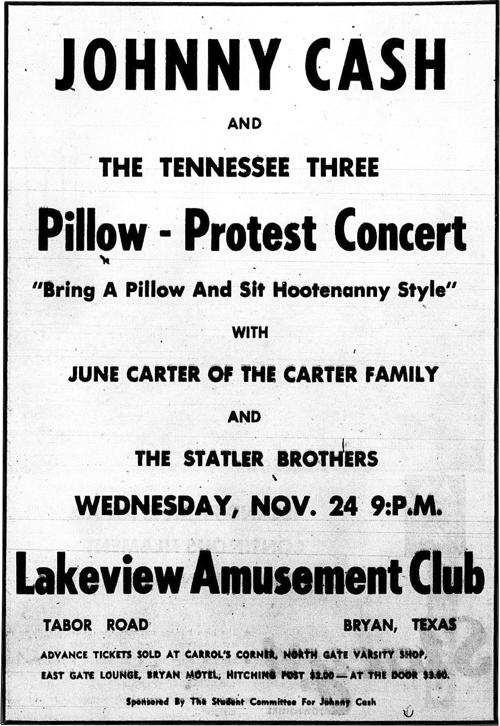 Nov. 24, 1965: Johnny Cash performed at the Lakeview Amusement Club in Bryan. He was originally set to perform on the Texas A&M campus for the post-Bonfire concert, but that plan was derailed when he was arrested in El Paso on Oct. 4 for illegal possession of prescription drugs.
A&M President James Earl Rudder canceled the concert in November. A small group of students and graduate students created The Committee for Johnny Cash, and worked with Cash's manager to bring the singer-songwriter to the off-campus venue. Cash performed with opening acts June Carter and the Statler Brothers.
Nov. 24, 1921: Students on the A&M campus broadcast what is believed to be the state's first play-by-play of a football game, according to the Brazos County Historical Commission. The game was the annual Thanksgiving matchup against Texas, ending in a scoreless tie at Kyle Field.
Prior to game day, students and faculty in the electrical engineering department organized a system of abbreviations in Morse code to describe on-field action during the game. They sent the code out to radio stations around the state. On game day, the students transmitted coded messages describing the field action using equipment from the Signal Corps unit.
Nov. 24, 2012: Texas A&M quarterback Johnny Manziel completed 32 passes -- a freshman record -- in the Aggies' 59-29 victory against Missouri.
Nov. 24, 2018: The A&M football team beat LSU 74-72 in an epic seven-overtime game at Kyle Field. Quartney Davis caught a 19-yard touchdown pass from Kellen Mond on the final play of regulation to force overtime. Kendrick Rogers caught the game-winning two-point conversion in the seventh overtime.
"I can't be happier for a group of guys and what they have shown the grit," A&M head coach Jimbo Fisher said. "The determination, the desire, the toughness, the effort, the discipline, the pride and everything they have."