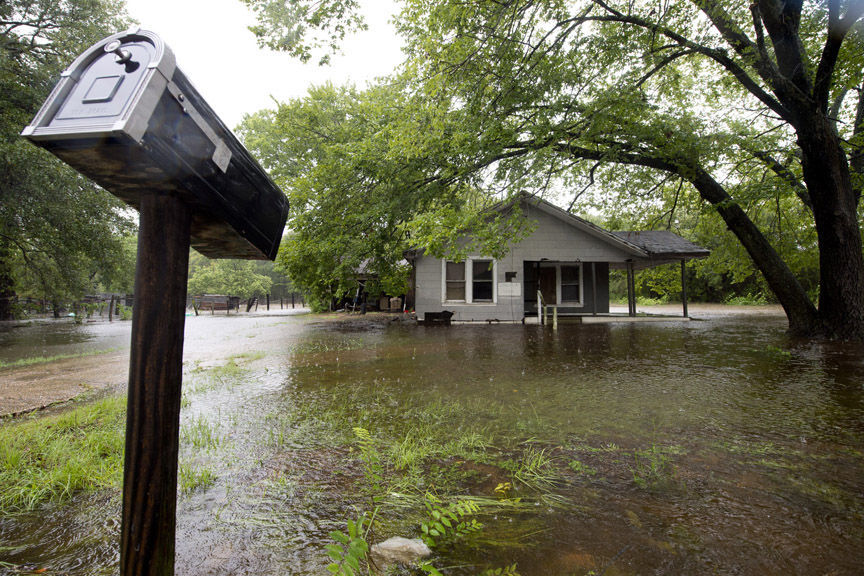 In 16 years, Texas will celebrate its bicentennial, and a new report from State Climatologist John Nielsen-Gammon's office shows the state may face warmer days and extreme rainfall by 2036.
The report, which was released Thursday, was commissioned by the Dallas-based group Texas 2036, which formed in 2016 to address the challenges that will face the state as it continues to grow. According to the group, Texas could see an additional 10 million people by 2036 and another 7-8 million jobs.
Nielsen-Gammon, who also works at Texas A&M as a regents professor in the department of atmospheric sciences, said he used climate trends and models to generate the data.
"Obviously, this isn't a forecast for a specific weather on a specific day," he said, "but climate's been changing gradually over many decades, so at least for the next couple decades, it's possible to get a decent sense of what's going to happen by extrapolating those trends forward, especially when the observed trends are consistent with what climate models have been projecting."
By 2036, the average temperature is expected to be about 3 degrees warmer than the average during the last half of the 20th century (1950-1999), and the number of 100-degree days could double.
"With temperature, it sort of creeps up on you," Nielsen-Gammon said. "You eventually notice the winters are generally milder, but summers are becoming more annoying, as it were. When we get locked in to day after day of high temperatures in mid- to upper-90s and we've sort of gotten used to expecting that, add another 2 or 3 degrees to that, and strings of days in the 100s become normal. Most people seem to find an important distinction between 95 degrees and 100 degrees in terms of comfort level."
This year, the Houston-Galveston office of the National Weather Service released statistics for the meteorological winter season, which spanned from December to February. College Station saw its eighth warmest winter with an average temperature of 56.2 degrees Fahrenheit. That was the lowest average temperature of the four areas covered by the office. Galveston had the highest average temperature at 61 degrees Fahrenheit, which was the sixth warmest on record. Hobby Airport had its 10th warmest winter, while the City of Houston had its 18th warmest season.
Nielsen-Gammon said rainfall also could become more intense in the coming decades. According to the report, extreme rainfall is expected to increase by 30% to 50%, especially in cities, such as Houston, where there is more concrete.
Climate can have a direct relationship on increases in extreme rainfall, he said, because a warmer atmosphere can hold more moisture.
"So when you get rain being produced, you can get more intense rainfall, and that also then can change the structure of the storms themselves, making hurricanes potentially more intense, even though they might become less frequent," he said.
Storm surge is also an increased threat in the future for the Gulf Coast region of the state, he said, because even if hurricanes do not change, there still would be an increase in storm surge due to the rise in sea levels.
The trends and models are helpful in anticipating future patterns of temperature and extreme rainfall, but other extreme weather, such as tornadoes, do not have enough long-term data to make predictions on how or if their frequency and intensity will change.
While Texas 2036 anticipates an additional 10 million people in Texas in 16 years, Nielsen-Gammon said, the impact of that growth on the climate will not come in the form of increased carbon emissions, but in water demand.
"I don't think people end up emitting more carbon just because they move to Texas, so that's not a big issue," he said. "… It's a stressor because you become more vulnerable to droughts and water shortages during times of drought and that sort of thing because the demand is that much higher."
With the understanding of what will happen in the future, he said, developers, engineers and city and state leaders can better prepare and build infrastructure and communities to withstand the anticipated extreme weather changes in the future.
"People — economists and so forth — who have looked at it say that it is possible to start reversing climate change sometime in the latter half of the 21st century if we start dramatically reducing emissions now and investing in new technologies that can actually remove carbon dioxide from the atmosphere. That's very challenging, and I think it's probably more realistic to hope that we could stabilize the climate system in a few decades," Nielsen-Gammon said.
However, he noted, the United States and other countries do not have a few decades to make those changes.
"We'd have to be putting in serious changes right now to be on the path to stabilization," he said.
Calling it a global problem, he said, the best thing people can do to help with that stabilization is "to work to make it politically popular to implement the policies that they want to reduce climate change. … People can reduce their carbon footprint and feel less guilty about contributing to climate change, but it's a large-scale policy issue that's really necessary to tackle it."