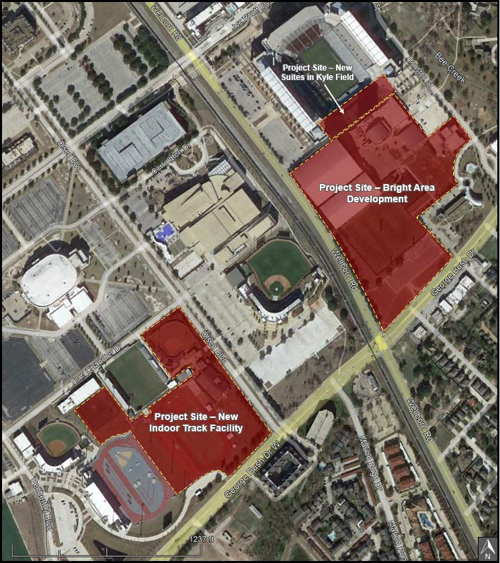 The Texas A&M University System's Board of Regents approved adding a $205 million project to its capital plan to renovate athletics facilities on the A&M campus during a Thursday meeting.
The plan was approved in an open session. Thursday's approval is the first step in making the plan come to fruition with fundraising and designs still needed.
The plan will allocate $125 million toward redeveloping the Bright Football Complex and constructing a new indoor football practice facility, with $25 million to add 31 suites to the south end zone of Kyle Field. Another $55 million will go toward building a new indoor track facility adjacent to E.B. Cushing Stadium.
Building a new indoor football practice facility and relocating the indoor track stadium would replace the McFerrin Athletic Center, which opened in 2007, and the Gilliam Indoor Track Stadium, which opened in 2009.
"We're committed to building championship sports and our student-athletes, we want to support them as much as we possibly can," A&M regent Elaine Mendoza said. "We're excited about what this could mean for all athletics, so placing it on the capital plan was something by process we do to start the planning for construction, the design and so-on, so we're really excited about kicking this off."
Plans also call for construction of a new academic support center for student athletes and relocating the Slocum Nutrition Center. Renovating the first and second floors of the Bright Complex and modernizing player meeting and locker rooms are also listed.
Relocating the new indoor track facility adjacent to E.B. Cushing Stadium, which opened in 2019, would consolidate A&M's indoor and outdoor track programs into a single destination on the university's west campus.
A&M is starting a fundraising effort for this project and plans to enter into an agreement with the 12th Man Foundation to pay debt service. A&M System policy requires 50% of the gift funds in hand and an additional 25% in documented pledges before approval for construction on the project is received, according to the agenda.
Authorization to negotiate and execute new contracts for A&M Athletic Director Ross Bjork and two assistant baseball coaches also were approved at Thursday's meeting. These items were discussed in executive session in the morning and approved during an open session in the afternoon.
According to a release, Bjork's new salary will be in the top three among athletic directors in the Southeastern Conference, adding that regents noted how Bjork will be overseeing aggressive facilities renovations over the next five years and want to maintain a sense of community within the athletic department.
A&M's Board of Regents also approved Texas A&M-Commerce to accept an invitation to join the Southland Conference, which will move the school from Division II to Division I. The invitation was extended by the conference in September. A&M-Commerce will officially join on July 1, 2022.
"We've had wide success in athletics for several years now," A&M-Commerce President Mark Rudin said. "We won the national championship [in football] in Division II in 2017. Our Olympic sports are regulars in postseason play in D-II athletics. When the opportunity presented itself, the Southland was looking for a number of new schools to be part of their athletic conference and they reached out to A&M-Commerce and of course we were interested and really saw it as an opportunity for our institution."