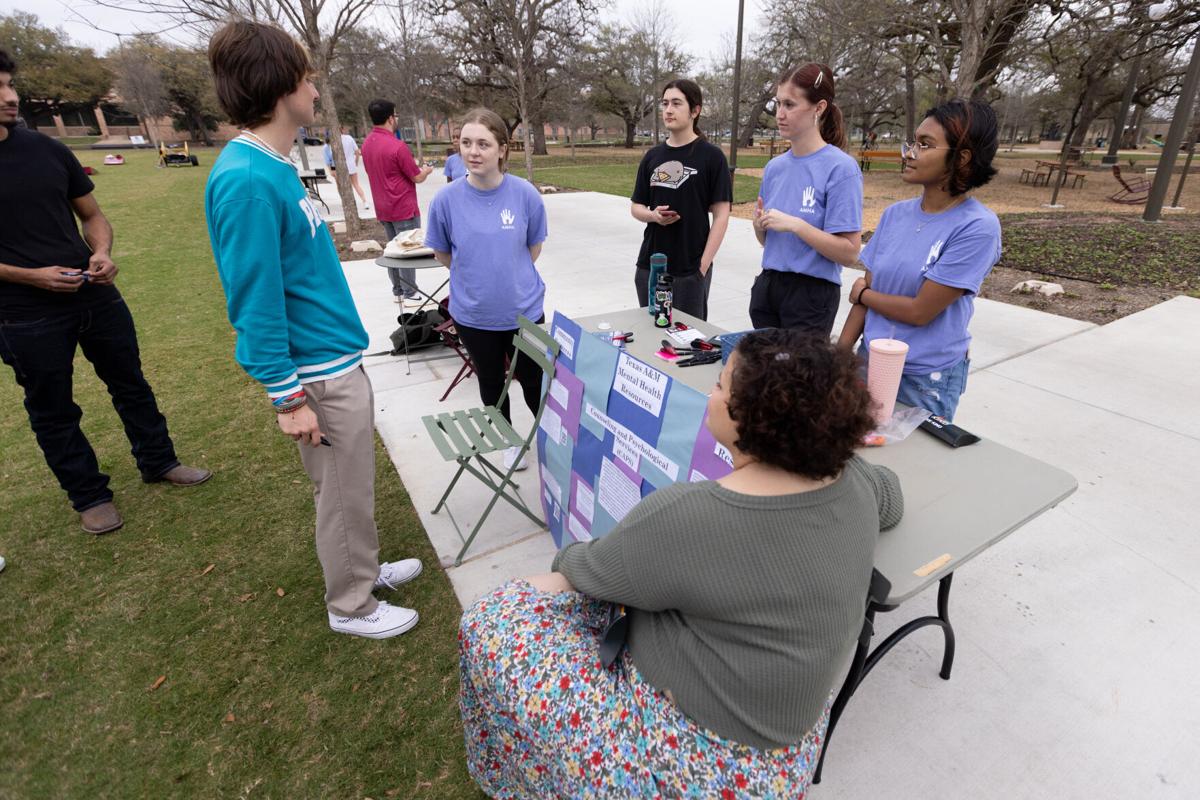 Texas A&M student body president Case Harris conducted an experiment on his roommates, fellow students at A&M, a while back and asked them a question: If they had a mental health issue, where would they go on campus for help?
Harris' roommates said they had no idea. A follow-up question was asked: Did they know what A&M's Counseling & Psychological Services was? They told Harris they'd never heard of it.
"Students are always going to struggle with mental health in today's day in age," Harris said. "As of now, we're going to see students struggle, so I just want students to be 100% clear that if I'm struggling, where do I go and I want them to know they have everything they need provided by Texas A&M to address their mental health needs."
In 2022, 9.52% of A&M's total student population at the College Station campus sought university mental health and counseling services, according to an email response from A&M President M. Katherine Banks on Sunday morning. From 2017 to 2021, according to Banks, the number of students per mental health counselor on campus increased by 33% and students seeking services for mental health issues increased more than 60%. Since the COVID-19 pandemic in 2020, Banks noted the number of students presenting with anxiety has increased by 59% and those presenting with depression has increased by 43% of those seeking care.
"The mental and physical well-being of our students is an area of significant importance on campus," Banks said. "As the need for mental health services continues to grow, we are expanding the services offered to our students, increasing accessibility, and creating greater awareness of the availability of such services. The goal is to make mental health services available when and where needed, and in formats that make students feel comfortable seeking help."
Some current A&M students, including Harris, say they believe the university provides adequate health resources in this post-COVID world, especially since the university has one of the nation's largest enrollments. A&M announced a fall 2022 enrollment of 74,829, including 67,165 students at its main campus in College Station and 54,502 undergraduate students. However, students added they don't think the average A&M student knows the full extent of mental health resources provided to them.
"They are making steps to provide resources to students even though there are just so many of us," sophomore Julian Harrison said.
Currently, university administrators are in the midst of implementing a plan to expand A&M's mental health services while also making them more accessible and visible to students.
Over the next three years, Banks told The Eagle, A&M plans to double the funding for student mental health and bring the number of mental health professionals in line with national standards, which she noted is a ratio of one professional for every 1,000-1,500 students and was "set" prior to the COVID-19 pandemic. Right now, Banks said A&M is at a 1:2,000 ratio and the university is hoping to bring that down to 1:1,200.
"Mental health and well-being are foundational to students' overall success," Banks said. "Through greater awareness of the importance of mental health and enhanced services and resources, we can help our students meet their personal and academic goals."
Nancy Fahrenwald, A&M's associate vice president for University Health Services, said the university began a goal last year to add 20 new positions dedicated to mental health services in different capacities.
"The state of mental health of students, faculty and staff at Texas A&M really parallels what we're seeing nationally across many communities and sectors within communities, but certainly within a university community," Fahrenwald said. "We know that students are more distressed and have higher levels of distress than we've seen in the past."
As part of The Path Forward released in December 2021, Banks accepted a recommendation that integrated A&M's Counseling and Psychological Services (CAPS) into Texas A&M Health as part of a goal of providing holistic student health services. In her state of the university address last September, Banks announced A&M planned to double the amount of student mental health services over the next three years and embed clinicians across campus in key academic locations.
Last month, A&M representatives went to the state Capitol in Austin to meet with legislators amid their legislative session. The five priorities university officials relayed to legislators included an investment in student mental health services. According to Texas A&M Today, the costs of student mental health services have increased by 76 percent at Texas A&M since 2020 and are projected to increase by an additional 150 percent by 2025.
Moves to expand and integrate A&M's mental health services for students started soon after Banks announced The Path Forward.
In January 2022, A&M announced a new partnership with My Student Support Program (MySSP) to supply services offered by CAPS and provide students with 24/7 telehealth counseling via an app, phone or web as the university reported the demand for counseling services increased. A tab for MySSP has since been placed in A&M's academic course platform for students called Canvas. Texas A&M Today reported this January about 3,200 A&M students downloaded and registered for MySSP during the first year of the university's partnership with the app. The report said more than 70% of students said they had never reached out for mental health support before using My SSP. Fahrenwald told Texas A&M Today 20% of users reported they had never spoken with a friend, family member or advisor about emotional challenges.
According to Texas A&M Today, almost 200 people requested appointments at CAPS by the third day of the spring 2022 semester and A&M officials said they expected the total would be more than five times higher than the beginning of the spring 2018 when just 59 students registered for services in the first week of classes. Although A&M officials didn't provide more specific year-to-year data, university leaders and students alike agreed demand for mental health services has increased among students.
Harrison said he thinks the state of mental health among students at A&M is better than other similar-sized universities, but added it's a difficult task to connect every student to mental health services. Harrison himself participated in a group therapy session through CAPS on exploring one's self-worth.
"I know a lot of students in the past have complained about the long wait times, but hopefully that's subject to change and they have been making efforts, such as MySSP," Harrison said.
Counseling services at A&M are free for students, who aren't limited to a number of sessions they can attend. Fahrenwald said most students are satisfied with their counseling after three sessions since most issues students face are situational. The average wait time for an appointment is around a week, Fahrenwald said. But she noted that figure varies depending upon the time of the semester during peak demand times. She said the average wait time to see a mental health professional in the Bryan-College Station community is a month.
"We have to keep that perspective that you cannot just access a mental health professional any time you want to meet in person, but the beauty is we have MySSP and students are using it," Fahrenwald said. "In the evenings, on the weekends, during holidays, and what a huge asset that is for them to have that resource available as part of this umbrella of services."
One way university leaders continue to have dialogue with students on how to improve mental health services is a task force started by Banks last fall. Fahrenwald and Harris have partnered to lead a six-person steering committee that then meets with a 30- to 40-person task force comprised of students and faculty members. Fahrenwald focuses on the rollout of the task force's plans while Harris handles how to communicate plans to students.
"I think a lot of times with committees on college campuses and universities, they can be very focused on discussion and ideas, which is great, but this committee is all about action and [Banks has] been very clear that we have got to get results for our students," Harris said.
One development Harris is optimistic about is having embedded on-campus counselors.
"The vision is for counselors to be at Mays Business School in Wehner, at Zachry for engineering, different colleges and places throughout campus, there will be a counselor in those buildings so students can access them easier, but also if students are afraid of going into the student services building now they can just walk into an office in their college and they don't have to trek all the way across campus," Harris said.
Before expanding services, Fahrenwald said A&M worked to retain its current workforce of mental health professionals and looked at a market analysis for their salaries. Now, the focus has shifted toward expansion.
Fahrenwald said a collaboration is being created with the Texas A&M University Police Department to hire mental health professionals to work with UPD as a medical responder. The first of four planned positions is about to be filled, Fahrenwald said. She also noted a position has been filled for A&M's school of education and human development to work in their student success center. A&M's Suicide Assessment and Prevention Office (SAPO) is currently funded by a grant, but when the grant ends Fahrenwald said A&M plans to sustain that work inside.
"We are working with students and university leaders to address the mental health needs on campus, to inform our efforts, strengthen how we're rolling out our initiatives," Fahrenwald said.
Sophomore Shondalyn Moore said she struggled with mental health problems in high school but didn't seek counseling services until she got to A&M. Moore said her high school had just one counselor and noted she couldn't meet with her as frequent as desired.
When Moore enrolled at A&M, she said she was a bit skeptical about going to CAPS. She began to meet with a counselor through CAPS during her freshman year and has now met with the same counselor on a bi-weekly basis since last August.
"The biggest benefits is them helping me recognize some of my behaviors and how in some ways I wasn't in the wrong and in certain situations or ways I was in the wrong," Moore said. "This is how for another situation I can approach it in a more healthy and a more effective way rather than acting off my trauma responses."
Moore has since become involved with Aggie Mental Health Ambassadors, a student organization that provides mental health awareness to students. Moore said she's noticed peers express feelings on social media that are concerning to her. She noted she's reached out to some and encouraged them to consider utilizing A&M's mental health services and shared her experience going to CAPS with them.
"I just feel like some students are a bit afraid, which is understandable," Moore said. "I even had the same fear for a little bit. Or maybe they feel like they don't have enough time or maybe they won't understand it. But I feel like if they give it a chance, they will see the counselor in fact will validate how they're feeling and have you see situations from different perspectives and notice that you aren't in the wrong and if you are, here are some ways that you can try to fix that."
On Friday, Hudson Kraus was elected A&M's next student body president. Kraus will take over for Harris in the next few weeks. Ahead of the election, Harris said he believed whoever the next student body president was going to be will continue this year's efforts to expand and promote A&M's mental health resources to students.
"We have good mental health resources at A&M, but I think that over the past couple of years you've seen from students the demand for mental health resources and the mental health issues students have had have skyrocketed," Harris said. "There definitely is more demand than there is supply for the resources and things we need, or at least students feel that way. We were very in touch with that throughout this year and the biggest thing is we have a need and we're not totally meeting it."