A Texas A&M graduate is helping to bring the beloved 1980s action figure series and animated show "He-Man and the Masters of the Universe" back to television.
Brad Graeber is CEO and chief operating officer of Austin-based Powerhouse Animation, which produced the new animated show "Masters of the Universe: Revelation." It debuts on Netflix on Friday.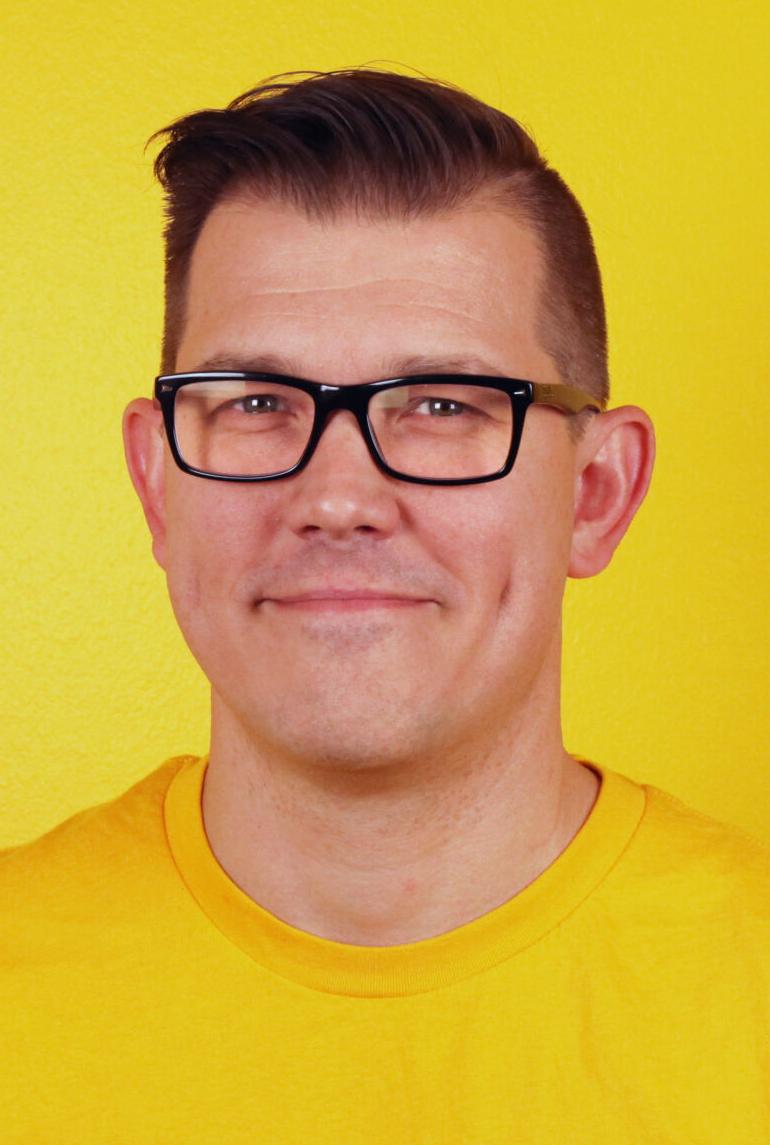 "I think it's going to be one of the most successful things we've ever done," Graeber said. "He-Man, Masters of the Universe has a 40-year history that goes way back and is deep, and there's a giant fandom of very loyal fans."
Graeber, 45, graduated from Texas A&M in 1998 with an English degree. He was also in A&M's Department of Visualization, and he worked at The Battalion and The Eagle. Graeber founded Powerhouse Animation in 2001 with Frank Gabriel and Bruce Tinnin, and the studio currently has approximately 150 employees.
Powerhouse began with 2D animated features, Graeber said, including work for Adam Sandler's "Eight Crazy Nights" movie and the Disney Channel's sitcom "The Proud Family." But, Graeber said, as 2D began to dry up with the rise of 3D animation, Powerhouse shifted gears toward hiring younger employees with video game and anime backgrounds. The studio picked up jobs doing cinematics, trailers and art development for video games.
In 2017, Powerhouse produced "Castlevania," a Dracula series based on a video game, which was the studio's first show on Netflix. Powerhouse also produced Netflix shows "Seis Manos" in 2019 and "Blood of Zeus" in 2020.
"We went from doing feature stuff to TV stuff to [Adobe] Flash stuff to education stuff, just trying to figure it out," Graeber said. "It wasn't until about five or six years ago that we hit this big stride with 'Castlevania,' 'Seis Manos' and 'Blood of Zeus,' and then 'He-Man.'"
In June, Powerhouse signed a first-look deal with Netflix, which means it will pitch any original content to Netflix first. Graeber said the deal also guarantees Powerhouse a certain number of episodes on the streaming service over the next five years, which takes some pressure off the studio.
"It is a really big deal, and all kudos goes to the team for being as talented as they are making these successful shows that gives Netflix the confidence to continue working with us," Graeber said. "That also allows us to pursue bigger things because we have the time."
Graeber credits Powerhouse's blend of film and television experience as well as employing young artists with a love for anime. He added that the studio excels at fight choreography because of its experience working in video games.
"It's not common for a domestic, U.S.-based animation studio to be doing as much action as Powerhouse," Graeber said. "And if it weren't for having to do video game work to try to survive, because the 2D animation business has changed a lot over the years ... we probably wouldn't be able to do a lot of the type of shows that we worked on. It's created a very unique studio."
Shane Minshew, Powerhouse's head of production, said Graeber has been the driving force of the entire studio.
"There's been many, many times since I've been here where he has essentially put the studio on his back and through sheer force or will found ways to survive in an industry and a climate that was ever-changing," Minshew said.
"Masters of the Universe" is a high-profile project given the long history of the muscle-bound hero He-Man, villain Skeletor and a host of other colorful characters. It began as a series of action figures made by Mattel in 1982, which grew in popularity so quickly that sales reportedly cleared $400 million in 1986. The toy line was developed into a popular animated television series by Filmation that aired from 1983 to 1985.
While the original "Masters of the Universe" show featured minimal fighting and moral lessons at the end of each episode, Graeber said this rendition will be different.
"The He-Man you imagined after you were done actually playing with the action figures, this is that 'Masters of the Universe,'" Graeber said. "It's all the action you wished you could've seen and envisioned in your head. It's for the fans. It's a jam-packed, action-filled show."
Minshew has a deep connection to "Masters" in the form of a forearm tattoo. He-Man was Minshew's first pop-culture love, he said, and he got the tattoo on his 18th birthday. Graeber sent a photo of the tattoo to the staff to show how he'd like the character to be portrayed.
"When we got our show, I told Brad I'll probably have to quit when this is over, because nothing will ever top it for me, personally," Minshew said. "It's the highlight of my entire career. It's the thing I'm most proud of."
Director Kevin Smith, known for such films as "Clerks," "Chasing Amy" and "Dogma," serves as showrunner and executive producer for "Masters." The voice cast is led by "Star Wars" star Mark Hamill as Skeletor and Chris Wood as He-Man, along with Lena Headey, Sarah Michelle Gellar, Justin Long, Stephen Root, Alicia Silverstone and Henry Rollins.
"What I was stunned by is how beautifully they've done it," Hamill said on "The Tonight Show Starring Jimmy Fallon" on July 15. "It's lush, it's opulent. It really looks epic."
After two years of work, the first season of "Masters of the Universe: Revelation" is set to make its premiere. Graeber said He-Man is "part of this cultural fabric of pop culture."
"Whether it's memes of him singing songs, somebody can connect with that in some form or fashion," Graeber said. "I think in that way, it's going to be one of the biggest things we've ever worked on, and it's also going to give people from that era a reconnect to nostalgia that they haven't felt in a long time."