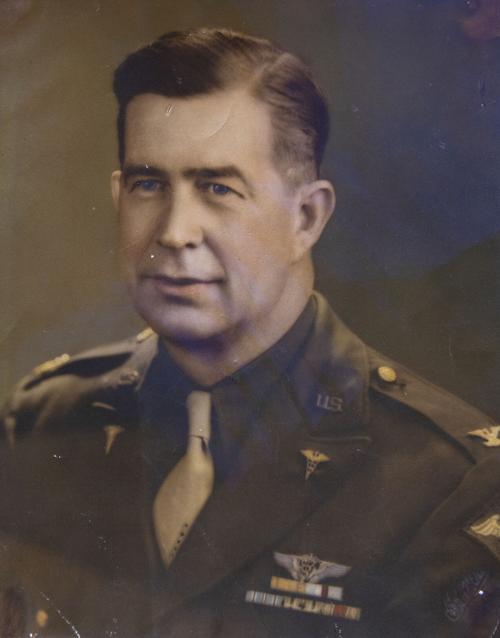 Growing up, Doug Vorpahl knew E. King Gill, who started Texas A&M's famous 12th Man tradition in 1922, in his later years as "Big King" and a supportive family friend.
Now, Vorpahl is sharing some of those memories of Gill with other Aggies. Vorpahl donated 17 family photos of Gill's adult life to the Cushing Library during a Texas A&M Class of 1980 reunion Saturday morning at the Stella Hotel in Bryan.
"I'm happy that these pictures won't sit in a box in an attic somewhere as they're handed down from generation to generation," Vorpahl said. "Better to have them out there for everybody to see and to know the man a little better instead of just the man who stood up as the 12th Man."
Gill befriended Vorpahl's father, "Lucky," when the two were stationed together at Majors Field in Greenville. Gill was a colonel and a former three-sport athlete at A&M. He took note when Vorpahl's father, a former standout basketball player at St. Mary's University in San Antonio, arrived and recruited him to play on his intramural sports teams.
"Dr. Gill, he really enjoyed having him on his base intramural teams because he was such a good athlete, even to the point where he would promote him or refuse any transfers just to keep my dad on the base because he wanted to win every on-base competition," Vorpahl said. "He was a very competitive guy."
Lucky Vorpahl and Gill served together in World War II and remained close friends after their days in the Army were completed. The two families moved to the Corpus Christi area before the Vorpahls moved to San Antonio. The Vorpahls would vacation during the summers to Gill's house in Rockport, where he died in 1976 at age 74. Gill would visit the Vorpahls in San Antonio for Christmas and rounds of golf.
"Dr. Gill and my dad would come on weekends and whenever they could get off work and whatnot and we'd fish," Vorpahl said. "He and my dad would sit on the screened-in porch and drink Scotch and tell stories."
Vorpahl's older brother, David, has the middle name King. Vorpahl said Gill offered to pay for him to attend A&M with one stipulation: Vorpahl had to join the Corps of Cadets. He respectfully declined the generous offer, opting to work and pay his way through school, but it was an example of the support Gill gave the Vorpahls. At age 12, Gill footed the bill of an airline ticket so Vorpahl could attend a Pop Warner All-American event in Cincinnati.
When A&M's Class of 1980 dedicated a statue of Gill in front of Kyle Field as a class gift, Vorpahl's father gave a dedication speech. When that statue was moved to Rudder Plaza in 2014 by the Class of 1980, Vorpahl gave a dedication speech for the bigger statue of Gill that now stands in front of Kyle Field.
It was there that Vorpahl brought a few family photos of Gill to show to others. He then met with a class agent and soon got in contact with folks at the Cushing Library about donating them to their archives. Several years later, the photos are set to make their appearance in the archives and in the same year A&M is celebrating the 100th anniversary of the 12th Man tradition.
"Big King was like a grandfather to us," Vorpahl said. "He never spoke really of the act that he took to start the 12th Man tradition. If you asked him, he'd tell you what he did, but he was very humble about it. It's kind of interesting because it's a major part of A&M history and yet I knew him as a different man that had nothing to do with that."