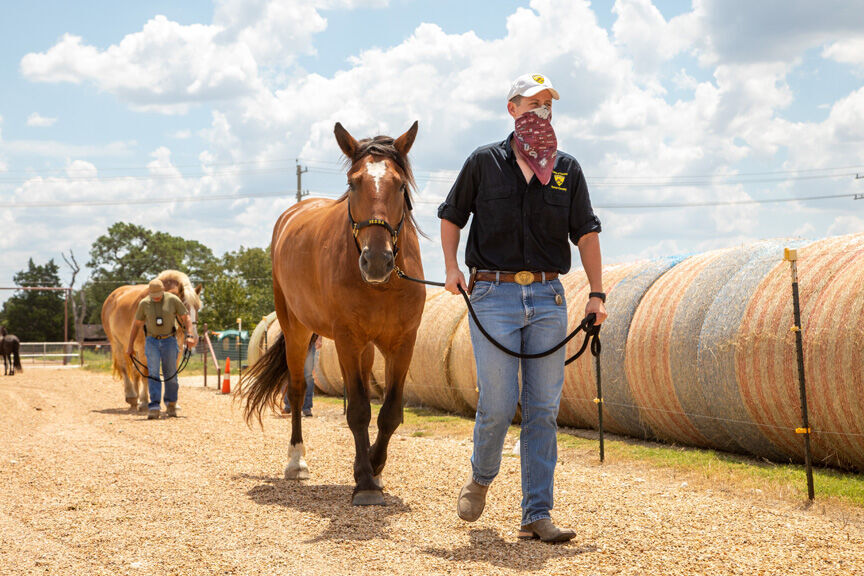 Horses from the Houston Police Department have returned home after spending the night in College Station on Wednesday to avoid any adverse weather brought by Hurricane Laura.
The cadets of the Texas A&M Corps of Cadets' Parsons Mounted Cavalry took care of the 36 HPD horses that stayed at Fiddler's Green, a large field set off the side of Harvey Mitchell Parkway in College Station. After the horses arrived Wednesday afternoon, 20 members of the Parsons Mounted Cavalry unloaded the large animals into a pasture separate from the university's herd. The students then helped two attending police officers care for the animals and clean the trailers. Once the Houston Police Department determined it was safe for the animals to return home following Laura's landfall, the equine sleepover drew to a conclusion, and the visiting horses returned home early Thursday afternoon.
Parsons Mounted Cavalry military adviser Lt. Col. Jeff Gardner said that the Cavalry has had a relationship with HPD for years. A team of the department's horses spent several days in College Station during Hurricane Harvey.
"It's a great experience for our cadets be able help the Houston Police Department," Gardner said. "Not only do we learn things from them, but this gives the students an opportunity to show off their skills. We have cadets who will go into law enforcement some day, and this is a great opportunity to talk to a law enforcement officer in a much more casual environment. It's a very beneficial program for Houston PD, and for the Parsons Cavalry."
The Houston Police Department typically provides feed for the animals when they come to College Station and assigns officers to stay and work with the cadets. Gardner said the other 30-plus officers who ride the horses are often busy when a hurricane hits.
"The officers have other duties, so they leave horses here and go back to Houston in case they are needed in any other capacity, such as search and rescue, that sort of thing," he said.
While Texas A&M houses these police animals for free, Gardner noted that the Houston Police Department gives back to Parsons Mounted Cavalry annually by offering training to be used on Aggie football game days.
"The Houston Police Department does riot training with the PMC, which is desensitizing the horse and rider to external stimuli," Gardner said. "Each fall they run our cadets through this training. We throw footballs and open umbrellas in [the horses'] faces, like a normal crowd on a normal game day."
In a press release issued by the Texas A&M Corps of Cadets, a Houston police sergeant is quoted praising the Parsons Mounted Cavalry.
"We are very fortunate to have such a great relationship with Parsons Mounted Cavalry, and to be able to bring our horses up here," said HPD Sergeant C. Teel in the release. "[It's] great to have a plan in place. It gives us peace of mind during this hard time."