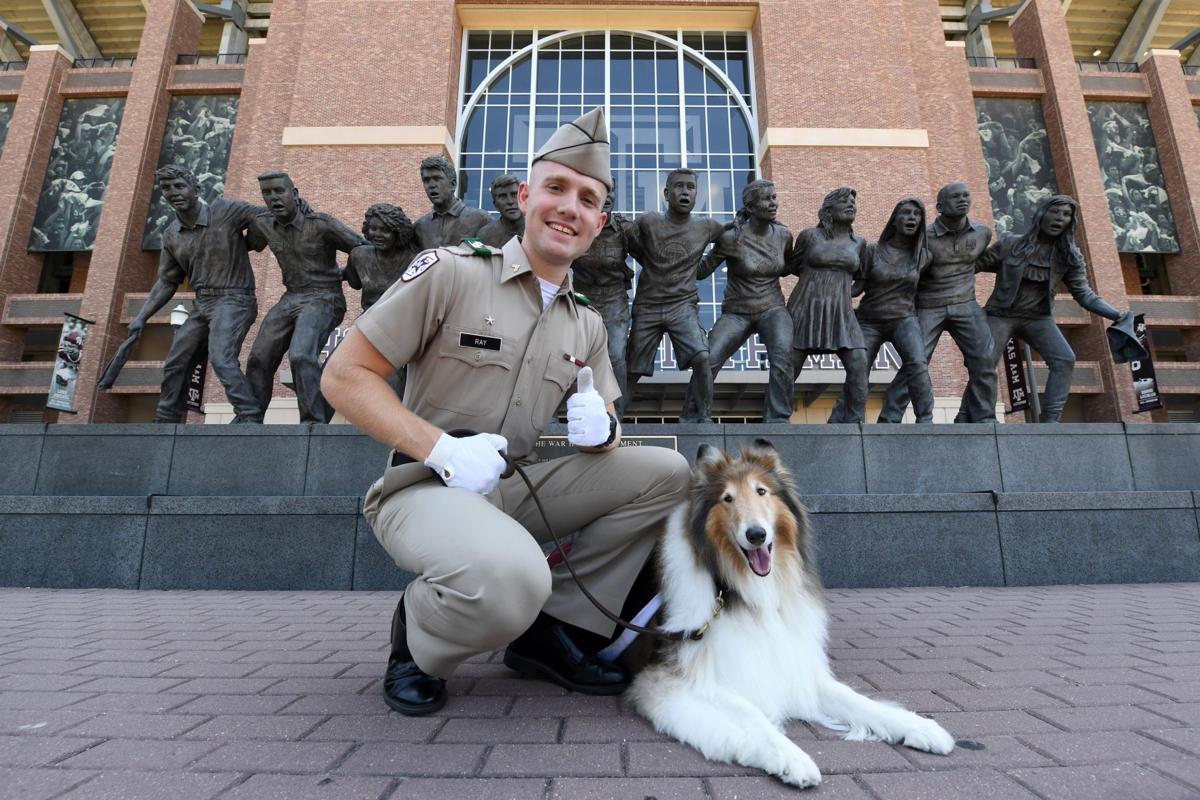 Texas A&M sophomore Colton Ray has been learning about what it takes to be the Corps of Cadets' mascot corporal since getting that coveted role in April. He's done his research, and he's received guidance from former mascot corporals. But his top teacher is the reason for the position: Reveille IX.
"She knows what she's doing by now," Ray said about Reveille, A&M's mascot and the highest-ranking member of the Corps. "She's going on her fifth year now as mascot, so it's cool to see that she kind of knows the traditions like everyone else does. When we practice out on the football field, she knows exactly where to run; she knows exactly what song she's running out to."
Ray, who hails from Greenbrier, Arkansas, spent the summer bonding with "the First Lady of Aggieland," and said the time between semesters allowed him to understand Reveille's quirks and how she reacts to the public, and to continue her training.
He approached it as if Reveille was his own puppy.
"It's just like getting to know any other dog," he said. "You spend every single moment with them, and you just kind of observe them and play with them. And through that, you get to know kind of their habits and how healthy they are, when they want to eat, when they don't want to eat, and when they want to play and just when they want to sleep."
With Reveille's celebrity status on campus and in the community, Ray said people sometimes forget she is still a dog that likes treats (peanut butter and cheese), plays with water bottles and squirrels on campus and occasionally gets distracted by bicycles and golf carts.
"She's just a normal dog," he said. "I just kind of treat her like a normal dog sometimes, let her play around and be a dog at her own expense."
She also plays with Ray's German shepherd named Trooper when visiting his family, who now lives in Plano.
When it comes to commands and tricks, Reveille's training goes beyond the typical "sit" and "lay down" commands. She will shake Ray's hand when he says, "Howdy." And she knows where her allegiance lies: "When I ask her, 'Would you rather be a teasip or a dead dog?' she'll play dead," he said with a chuckle.
As the university mascot, Reveille encounters many things that other dogs do not, Ray said, such as being approached almost constantly by others. He acknowledges part of his job as her handler is to allow for those meetings and interactions to take place, which can require leaving an hour earlier to get to class or leaving class a little early.
"When somebody meets her for the first time, you want to make sure that they get the chance to pet her and take a picture with her, because sometimes, it's a once-in-a-lifetime opportunity," Ray said.
One such instance occurred during a photo shoot for this story, when A&M senior Emilio Martinez walked by Ray and Reveille posing for pictures. Stopping to ask for a photo of his own, Martinez said he had seen Reveille in person only about three times in his almost four years on campus.
"Every time I see her, I have to stop by and take her picture," he said. "It's huge."
"Just getting to take the opportunity to let them pet her and take a picture with her, I cherish that and I know they do too," Ray said about these moments.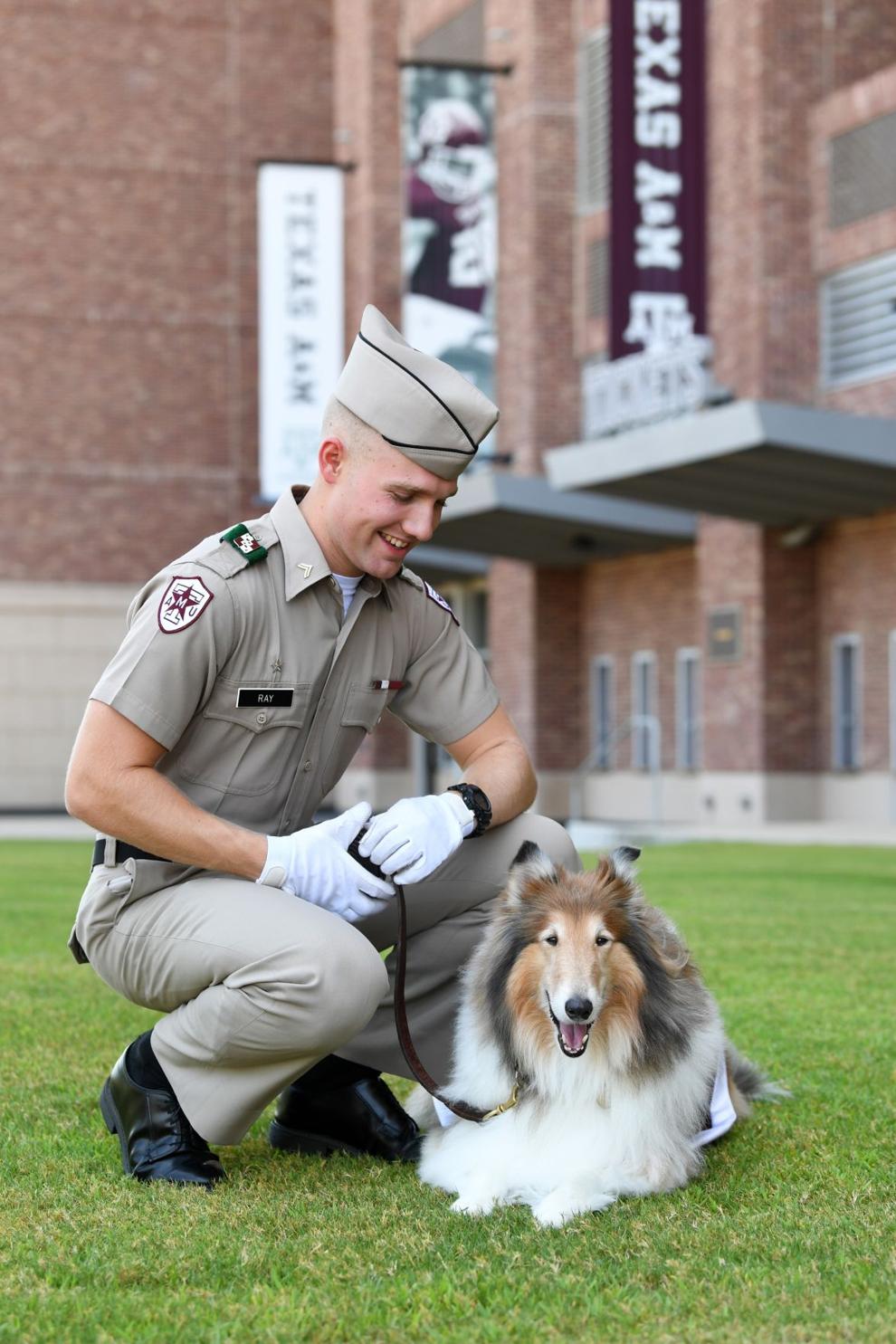 During Ray's freshman year as a member of E-2, he spent time exploring the Cushing Memorial Library archives in the spring to learn about each of Reveille's predecessors. That provided some guidance about what it takes to be Reveille's handler, but he said there is no way to know the full extent of the job until taking it on.
"You work for the university," he said. "You're always in the public eye. They say, basically, when you step out of this dorm, there's always going to be some type of camera on you, whether it's a normal camera or some type of phone. Someone's always going to be recording you."
Reveille is a "normal student," he said, and goes with Ray to class, along with morning and evening formations. Sometimes she accompanies him to the grocery store. She is by his side enough that he describes her as his shadow.
"She's kind of like having a girlfriend with you 24/7," Ray said. "I put all my time and effort into her."
The mascot corporal duties also include protection. Ray referenced a notable Reveille moment from 2014, when mascot corporal Ryan Kreider shielded Reveille VIII from an incoming player on the sidelines of A&M's game at SMU.
"To protect her, you put your body in front of her," Ray said. "Anytime, you want to protect her. That's your number one responsibility."
Despite the time commitment and the responsibilities of the job, Ray said he knew he wanted the role because it is special to E-2: "Every outfit has their guidon and their leadership roles, but not every outfit has a mascot corporal."
Ray calls it a privilege. "She is the queen," he said.
Once a week, Reveille gets treated like a queen, spending about six hours getting a bath, a haircut and being pampered, he said.
There is plenty of support among E-2 as well, and Ray notes that all sophomores put in time and effort to help care for her, and someone is always with her.
"I mean, we're protecting a tradition that's been here since 1931," he said. "We want to keep it as sacred as possible and as special as possible to everyone around campus."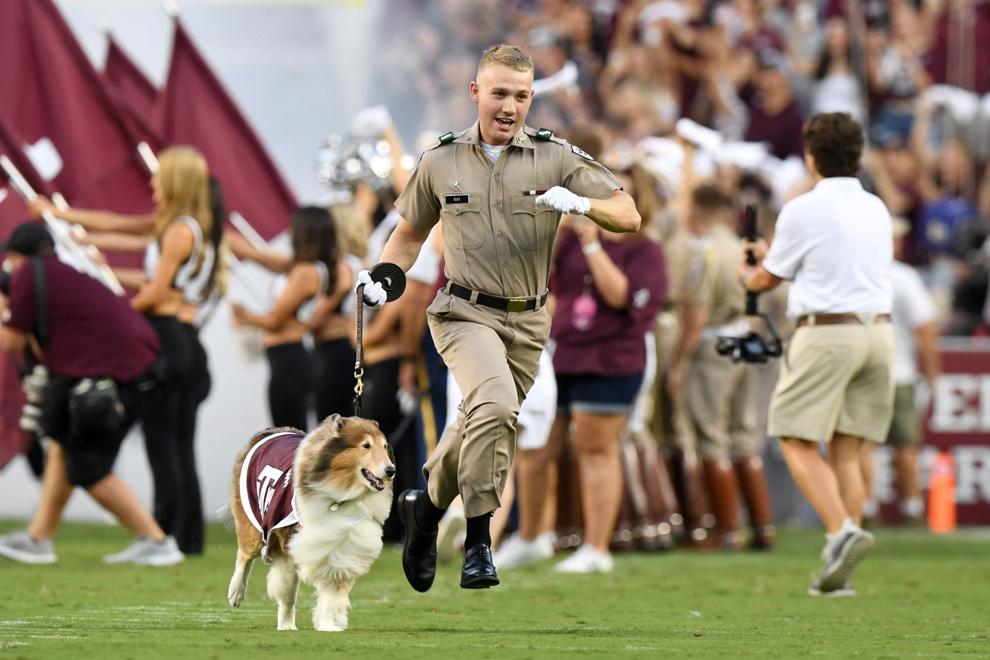 Ray said the thing he was most looking forward to was running out on Kyle Field with Reveille, which he did on Aug. 29 in the Aggies' season opener against Texas State. Looking ahead, he is also excited to teach the new freshmen about her care and passing her on to the next mascot corporal.
"I bet it will be hard passing her down, because you get to create such a close bond with her over the year," he said. "But that's just the tradition, and you respect that. That's kind of the cool thing about it — you get to train your successor to prepare for the same job you did."