It is often described as the most important victory in Texas A&M football history, though there was no championship trophy involved or even significant bragging rights.
This game meant something different. On Nov. 26, 1999, the Aggies played the Texas Longhorns for the 106th time, but the pageantry and vitriol of one of college football's greatest rivalries took a back seat. The A&M campus was in deep mourning. Eight days prior, the 90th edition of the Aggie Bonfire collapsed.
The towering log stack, which students built each year and then burned the night before the Texas game to represent the "burning desire to beat the hell outta t.u.," stood at 40 feet on its way to a completion height of 55 feet. The structure held an estimated 5,000 logs at the time of its collapse. Eleven students and one former student were killed: Miranda Denise Adams, Christopher David Breen, Michael Stephen Ebanks, Jeremy Richard Frampton, Jamie Lynn Hand, Christopher Lee Heard, Timothy Doran Kerlee Jr., Lucas John Kimmel, Bryan Allan McClain, Chad Anthony Powell, Jerry Don Self and Nathan Scott West. Twenty-seven Aggies were injured.
The unthinkable tragedy devastated the campus and the Bryan-College Station community. Football was the last thing on anyone's mind. But after a week of sorrow and loss among the Aggie family, the game went on at Kyle Field. It was an emotional scene, from pregame tributes to moving halftime performances by both university bands. And in the end, with many who witnessed it in tears, the Aggies were victorious over the highly ranked Longhorns.
As the 20th anniversary of the Bonfire collapse approaches, here is a look back at some of those moments from those who were there in November 1999.

'A horrible accident' 
Bonfire fell at 2:42 a.m. on Nov. 18. News spread quickly by word of mouth, then through local and national media reports in the early morning hours.
U.S. Rep. Will Hurd (Texas A&M student body president): Probably several minutes after [Bonfire fell], I got a call from my best friend at the time saying, "Hey, something happened at Bonfire. You should get over there." I had literally just gone to bed because it was the Leonid Meteor Shower. I had taken some of the fish aides and some freshman organizations out to watch the meteor shower. When I got called, I threw on a sweater and jeans and jumped in my car and went to the polo fields.
Ray Bowen (A&M president): We had phone problems, there was some delay in getting to me. I finally heard, at almost 3 a.m. I got to the Bonfire a little bit after 3:30.
Dave South (A&M announcer, associate athletic director): We have a clock radio that went off at 5 a.m. that morning. I was laying there, listening. It wasn't turned up real loud. And I thought I heard them say something about Bonfire. So I jumped up and turned it up, and they were talking about the collapse of the Bonfire that night. I woke Leanne up. Then I got on the phone, and first I called our athletic director, Wally Groff. I woke him up, and he was not aware of what had happened. Then I called R.C. Slocum, our head football coach, and gave him that news. And of course both of them were shocked.
R.C. Slocum (A&M football coach): Dave South called me and told me about it. Told me there had been a horrible accident at the Bonfire site, and that there were serious injuries and some casualties. I hurried up; we had a staff meeting planned early that morning at the stadium. I went there and had some of the coaches there, and we just talked about it. We didn't know what was going on. Then some players started calling in.
Randy McCown (A&M quarterback): My mom called at like 6 o'clock that morning, which is totally out of the ordinary. She called and said, "Are you OK?" "Of course I'm OK." "What about all your friends?" "Yeah, everybody's fine. Why, Mom? What's going on?" "Well, the Bonfire fell."
Matt Bumgardner (A&M receiver): Wake up [that] morning to helicopters flying over our house, which was odd because there's no traffic 'copters like in Houston or Dallas. That was a really weird sound. Randy [McCown] came busting in the room, and he says, "Bum, get up, Bonfire fell. Four students are already confirmed dead." I just remember becoming nauseous to my stomach, getting up and actually throwing up.
Mack Brown (Texas head coach): I was driving to work in my car in Austin. When I heard it, the first thing I heard was someone on the radio say, "For you parents that want to make sure your kids are safe, call this number." And I thought, how awful for a parent to have to worry about if their child was alive or safe, or were they involved. Especially the big football fans who were trying to have fun and do something positive and good for the Bonfire to rally their team.
And then they came back on the radio and said, "Sorry parents, these lines are overloaded." … And I pulled off on the side of the road and I started crying, as a father. Because I thought, what an awful thing to have to worry about whether your children are alive, and you can't even talk to them, and especially if they're not calling you.
So I called Sally, my wife, immediately and said, "Here's what's happened. What do we do?" Women are smarter than men, and she said, "Well, we'll pray for the families of those that have lost their children. But what we can do is we can do something to try to help the injured kids that are still alive. Let's start a blood drive immediately at our office." And we did that, and it was overwhelming to see how many fans from all different universities came to give blood.
'Is this really happening?'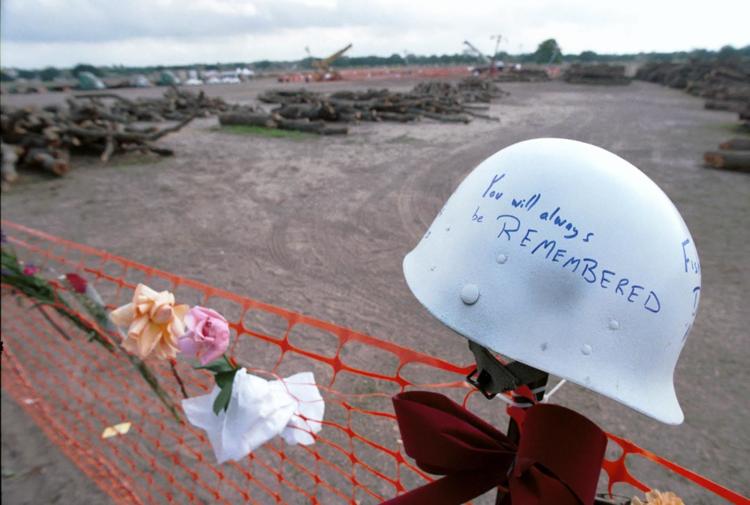 As the news spread throughout Bryan-College Station, the campus was in shock. The football team's scheduled practice was canceled. Slocum credits the players for wanting to go to the Bonfire site. McCown recalls stopping players at the athletic office's door and redirecting them to the site, where students were gathering to try to help, or just to pray.
Bowen: When I showed up a little bit after 3:30, there were already students there. They heard about it and came out of the dormitories. They were crying. They were on their knees, praying.
Hurd: It was pure pandemonium, pure chaos. I had gotten there before emergency management folks were able to cordon off the site, because it was an active, dangerous, unstable mess.
South: They had some sort of machinery that had a grabber on the end of it, a claw. The structural engineer was telling them which log to pick up next. They didn't want any further collapse. They had run some sound equipment in there. They could hear some of the young people that were pinned under there, either hear them breathing or they were talking.
Shane Lechler (A&M punter): [It was] eerily quiet, because they were still searching for people that were caught up in the logs. All the first responders and the paramedics and everybody needed to be able to hear, just in case they could hear someone.
Bumgardner: It was almost like what I would picture war being like. There was dust everywhere, there were medics everywhere. You're just sitting around and thinking, "Is this really happening?"
South: There came a point when I was out there, they asked everybody to quit moving. Wherever you were, sit down on the ground and don't say anything. Don't make any noise. At that time, one of the pieces of sound equipment was near one of the young people, and they couldn't hear breathing anymore. They got the idea that they were running out of time. At that point I remember that, still trying to be as cautious as possible, they just started picking up those logs. This machine would take them and [the operator] would throw it off to the left, away from the stack. They were trying to get down to all of those young people as quickly as possible.
Rick Rigsby (life skills coordinator and chaplain for the A&M football team): I went right into pastor mode. Nothing prepares you for this. Our young men, many of them had never experienced a tragedy before, and certainly not one of this magnitude. I spent my day just listening, letting our players talk, letting them share their feelings and just trying to offer some perspective. I remember the perspective I tried to offer is that we have to go on; that the essence of hope is found in moving forward.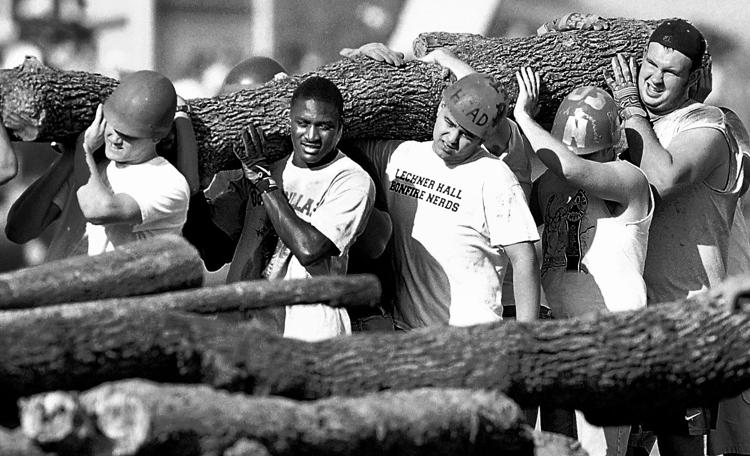 'Great big guys hauling logs'
Once the Aggie players were on site, they wanted to get involved. McCown recalls players saying, "We could help. Let us help." The players and Bonfire crew members were enlisted to clear logs that had been removed from the stack, but that needed to be taken farther away to give the emergency crews more space to work.
Bowen: I have this image of these great big guys hauling logs. To see those students, those athletes being there and doing that, was a significant experience. But there were students everywhere helping.
Ja'Mar Toombs (A&M running back): We had guys lined up all the way up and down the log, on both sides. We'd all get down, squat underneath, and lift it up and then get it waist high. Then we'd lift again and get it on our shoulders and carry it out.
Brian Gamble (A&M linebacker): I had no clue how massive those things were. It took everything that we had to haul some of those things out of the way.
Lechler: It would take 10 to 12 guys just to pick one up. If you didn't all do it at the same time and the same way, it wasn't going to work.
Chris Cole (A&M receiver): We moved as many as we could. I do remember how everyone pulled together. It was one of those moments, you saw the spirit of Aggieland. Of course everybody's proud to be an Aggie, but you would be extremely proud of the way everybody responded.
Slocum: I was proud to see, it was a great display of kids involved. You had the Corps members and the football players all just working, carrying these heavy logs on their shoulders and getting dirty. No one was concerned about anything except just trying to help. It really demonstrated the whole concept of the Bonfire, of all the A&M students being wired together and connected. That was one of the greatest displays, and I think it was so appropriate.
Toombs: After we left there, we all went back over to the locker room and sat around, looking at each other, just kind of coming to grips with what was happening.
'We needed to support each other'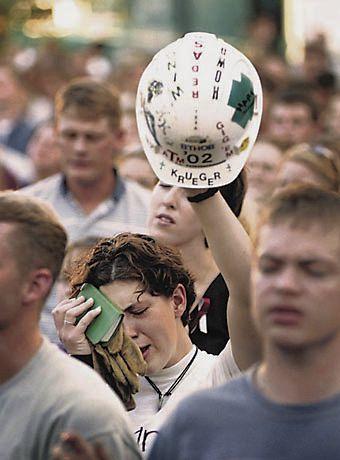 While rescue efforts continued, Aggies gathered at Rudder Fountain that afternoon for a vigil. A memorial service was held at Reed Arena that night. Bowen and Hurd spoke at the event, as did A&M graduate and Lt. Gov. Rick Perry, who said, "We will remember them as long as there is a Texas A&M and the Aggie spirit is alive. And that, my friends, is forever."
Hurd, who was seated next to former President George H.W. Bush, recalls the ceremony ending, and the crowd members sitting in silence. And then one person started singing Amazing Grace. "You could hear one voice, and then everybody joined in," he says. "When the singing stopped, you could hear a pin drop, and there wasn't a dry eye in the crowd."
The football game was eight days away, the morning after Thanksgiving. The focus remained on the Bonfire victims and their families. But a question loomed, and a discussion soon began among the A&M and Texas football programs: Should the game be played?
Brown: I would've been for not playing the game. Basically, being a parent of four, I just felt like it would be better, in better taste, to honor the families and the kids that have lost their lives. In retrospect, it wasn't our call, it was Texas A&M's call. R.C. Slocum and I are dear friends to this day. And obviously our university said, "It's your call. You tell us what you want us to do and what you need us to do to help, and we'll do it."
Slocum: I thought about it any way you could look at it. I thought the players would be better, I thought our students would be better, and their families, to go ahead and play the game. That we could draw some comfort from each other being together, rather than letting the kids go ahead and everybody leave for the holidays and be scattered everywhere. I wanted to keep our team together.
Rigsby: Throughout the week, it became clear that we were going to play. A number of our guys didn't want to play. My job was to share with them that the way that you can memorialize the 12 that have gone on home is to do your best, no matter what.
Mike Caruso (A&M assistant athletic director in charge of game operations): I think the overarching feeling there was that we needed to mourn for those that perished, but that we needed to support each other. And one of the things that I think eventually came out of that was that this game could be a unifying factor for both universities in light of the tragedy.
McCown: I don't know who made the final call, but the decision was made to go ahead and to play it, and I think it was a great decision. It was, in my opinion, such a part of the healing process. Looking back on it, if that didn't happen, you don't know how this thing would have transitioned. What would've been the next step? How would that have gone?
'Whatever it takes'
Preparation began for the athletes, coaches and for those involved in game presentation. What is normally a week of spirited anticipation for the rivalry game was thrown off course, with mourning and the inability for some to focus after the tragedy.
South: I think I did all my work at home that week. The thought on my mind more than anything else was the parents of those students. I just couldn't imagine what they were going through, to get a phone call like that in the middle of the night — not knowing, first of all, whether or not your child was on the stack at that time when it collapsed, or somewhere else. They had to wait. I'm sure there were a lot of phone calls being made to this campus — "Are you OK?" And until they answered the phone, they were probably holding their breath. I can only speak for myself — it took me a while to get ready to do that football broadcast, just in preparing it.
Slocum: We met with the team, and I told them we needed to go ahead and practice. I didn't expect them to have a bunch of rah-rah kind of emotion that you normally would expect in getting ready for that game. But that we did owe it to ourselves and owe it to the students that had been injured and died in that Bonfire, we owe it to them to be well prepared and go out and do a good job in the game.
Gamble: You hear it all the time: Any time something bad happens, somebody throws themselves into their work as a distraction to get away from it. I think that's what that week was. A lot of us bonded together. We threw ourselves into those practices and preparing for that game. It probably brought us together even more.
Toombs: Me personally, every day I dug in more and more as we got closer to the game, knowing that I was planning on playing my best. Mainly for the Aggie nation to feel better about what just happened, and to do my best to bring some kind of peace to the situation.
Bumgardner: It had a huge impact, especially on the older guys. Because we had been there before, we had experienced Bonfires before, so we got to experience what an amazing tradition it is. The older guys, we got together and said, "We gotta do whatever it takes to get the team as ready as possible to play the game. The community needs this, the university needs this."
Rigsby: What really blessed us is our community grew. A&M had a community called the United States of America, called the world. We could feel prayers and well wishes. I've never seen evidence of the Aggie spirit like I saw that week. Helping, encouraging, praying for one another, doing whatever we could to help the healing process.
'It was eerily calm'
Traditions at both universities changed in the wake of the tragedy. Texas' annual Hex Rally was turned into a memorial event that Hurd, Perry and A&M representatives attended, along with busloads of Aggies who made the trip to Austin. "We all got together and had a candlelight vigil," Brown says, "more than anything else for the kids that had lost their lives, and we prayed for the kids that were still injured."
An estimated 40,000 people gathered near the Bonfire site for a silent candlelight vigil the night before the game, including former President Bush and his wife, Barbara, and Gov. George W. Bush and his wife, Laura. The crowd then headed to Kyle Field for Yell Practice, which drew an estimated 65,000 people. The Aggie Band performed, and Slocum and the yell leaders addressed the crowd. A cannon fired 12 times in honor of the students who died. The traditional "Beat the hell outta t.u." yell was omitted from the event.
On Nov. 26, game day morning, 86,128 fans packed Kyle Field. At the time, it was the largest crowd to see a football game in the state's history. Pregame tributes included an opening prayer by Hurd, a moment of silence and the release of 12 doves. "You could hear the wings of those birds flapping," South says. A flyover of F-16s piloted by A&M graduates in the Air Force included the "missing man" formation.
Aggies and Longhorns describe a different kind of atmosphere as the 10 a.m. kickoff approached.
Bowen: There was this overcast of the tragedy. On the sidelines, near where the yell leaders stand in front of the student body, were a lot of the red pots [Bonfire leaders] and the kids that were injured during the collapse. So that was a very emotional deal.
Caruso: The one thing that struck me the most was how quiet 88,000 people could be, when we had the moment of silence and a couple of different times during halftime. It was amazing how quiet it was inside the stadium.
Gamble: Running out for pregame, it was almost eerie. Nobody really knew how to react. The stadium in general, it was quiet. I never heard Kyle Field that quiet.
Bumgardner: It was eerily calm. There was a heightness there. We knew the importance of the game, and I think that's what gave us a chance to win that game. Texas didn't know what they were getting into. We were around the talks of death and the 12 students that had been lost, and visiting with survivors. You feel like a community at A&M, as silly as that sounds, and people try to make fun of it. But we are a family.
Kwame Cavil (Texas receiver): It was Thanksgiving, so you knew everybody was watching. I felt like the whole nation was rooting against us. You almost felt an extra weight. We were almost like the bad guy. Even though we weren't, because we had nothing to do with the tragedy that happened. But you did feel that way. It was eerie.
I remember Coach Brown saying, "Have a heavy heart for the students that lost their lives doing the Bonfire. But try to block it out and focus on your job, because we can only control what we can control."
'I would take our chances'
Breaking news before kickoff: Texas quarterback Major Applewhite, who would go on to win Big 12 co-offensive player of the year honors that year, had food poisoning and would not start. The much-hyped freshman Chris Simms, who had been considered the No. 1 recruit in the nation, would get the first start of his college career. He had seen minor action in several games that season.
Brown: We didn't know whether Major would play until we actually walked out on the field. He was so sick, he couldn't. He was still throwing up. So you put a freshman in that environment, in a very difficult spot, in his first start.
Gamble: We knew it really wouldn't change their game plan much. They were going to rely on their run game. Kwame Cavil was their leading receiver, and they were going to try to get him the ball. If anything, we thought we might be able to rattle Simms a little bit more, being a young guy, being in that environment for the first time.
Cavil: Nothing changed as far as offense. I think the playbook was a little bit limited. But Chris was such a knowledgeable player and kind of ready for the moment. We stayed with the game plan.
Bumgardner: The defense, they were hyped up when they found that out.
Cole: At that point, Major Applewhite was playing some really good football. He was probably one of the better, smarter quarterbacks in the country. Not having him on the field definitely gave us an advantage.
Lechler: [Major] could possibly go down as one of the best quarterbacks to ever play at the University of Texas. Simms being a rookie, and us with the style of defense we played, I would take our chances over a freshman quarterback any day of the week.
Toombs: It didn't matter who was on the field. We had a different purpose of what we were playing for. You look back at it, that's a horrible situation for Chris Simms to get stuck in. He's going up against a very motivated team.
'We're rolling'
Texas (9-2) was ranked seventh in the AP poll, and A&M (7-3) was 24th. The Longhorns were favored. Texas got the ball to start the game and missed a field goal attempt. The teams traded punts on the next two possessions. The following Aggie drive was highlighted by a 25-yard reception by Cole and five runs by Toombs, including a 3-yard touchdown for the game's first score. Kyle Field was electric in Aggie fans' excitement at taking an early lead.
Bumgardner: It exploded, man. We had the lead. I remember the stadium went crazy. You could feel in the air how much [Aggies] wanted that game.
Cole: That was important for us, to set the tone of what it's gonna be. We knew what we wanted to do was use the run to set up the pass. We had to get big Ja'Mar Toombs going and Tiki Hardeman going in order for [Texas] to loosen up in the secondary. Aggie fans were going completely bananas.
Lechler: That kinda gave everybody that had been affected by the Bonfire, I don't want to say hope, but a boost. Something. It gave everybody something better than they were the play before, when we didn't have any points on the scoreboard.
Gamble: It was like, "All right, we've got some momentum. We're rolling. This is meant to be. We've been through a lot and we're going to lay it on the line."
'Not today'
The touchdown excitement was soon tempered by the extra point attempt. The ball was snapped but got past the hands of holder and backup quarterback Mark Farris. Lechler, who played both punter and kicker, scooped up the ball and made a desperate pass toward the end zone. Longhorn safety Lee Jackson intercepted at the 4-yard line and ran it all the way back, 96 yards, to deliver the 2-point conversion for Texas. The Aggies' promising drive ended with a 6-2 lead.
Lechler: I just picked it up and just tried to make a play. That's all it was. I should've just thrown it away. And once I threw an interception, I was like, "Oh, [expletive]. Not today. We don't need this happening today."
Gamble: That was clearly not how we drew that up. And Shane was an old high school quarterback. That was a poor attempt on his part. That was a joke, by the way, I'm just messing with Shane. Even at that point, it's, "OK, we're still in good shape."
Toombs: That was my good friend Lee Jackson returning it back for 2 points. Yeah, that sucked. He's from Longview, where I'm originally from. We've been friends since we were kids. Seeing that that's a friend of mine, I'm happy for him, but of course I'm mad because they just scored 2 points on us.
Cole: You know what was going through my mind? This is what happens when Texas A&M and Texas meet. I wasn't surprised. We all knew what kind of game it was going to be. It was very rare that it was blowouts between these two teams. We knew there were going to be ups and downs during the game.
McCown: Golly, I had totally forgotten about that, to be honest with you. Once we got out there and set the tone, you knew that, OK, this was just part of it. This is part of the game. You absorb the punches, stick to the game plan the coaches put together and we'll be fine.
Slocum: I kind of worried in the game a little bit about so much emotion going into it. I worried that we might have some letdowns. You just have to try to stay positive and keep going and not make a big deal out of it. Just keep playing.
'It's up to us'
The teams traded turnovers on consecutive drives. Texas' Hodges Mitchell ran for a 14-yard touchdown at the start of the second quarter, and Chris Robertson added a 1-yard score with 5:19 left in the half. The Aggies had an opportunity when Michael Jameson blocked a Longhorn punt and the ball was recovered at the Texas 31-yard line with 1:10 left. But the offense turned it over on downs. Texas took a knee to end the half, leading the Aggies 16-6.
Bumgardner: The locker room at halftime was one of the most powerful scenes of that game for me. We just couldn't get anything going on offense. I remember Chris Cole was sitting there, we were sitting around, with this confidence. He said, "If we're going to win the game, it's going to be because of us," talking about the skill position players. Chris was crying. Not like bawling, but with tears running down his face, saying, "We win this game, it's up to us. We've gotta do this." And everybody was shaking their heads, like, "Let's go."
Cole: We knew in the passing game, that was our edge. When we got together in our little short meeting, we knew it was going to be on us.
McCown: Everybody just kinda knew, "All right, we gotta bear down." Everybody had confidence that if we just took care of business, we would be OK.
Gamble: There was no panic. It was encouraging, and it was like, "We've got this."
Slocum: [It was] just business as usual. Let's talk about what we can do better, what we can do differently. We just said, "Hey, we gotta keep playing. This game is far from being over. Just keep playing, and we'll get some breaks."
Cavil: As Texas Longhorns, you always think that you're better than A&M anyway. After the previous year in '98, when they came to our place and we beat them, going down there was like, "Hey, we got the momentum. We're doing good. We should have a chance to really win." At halftime, we were confident.
Brown: We knew it was going to be a tough game. You're on the road, you're at Kyle Field. At that time, R.C. was winning all the games at Kyle Field. We felt like we were in a fight for the second half. We were trying to get Major ready and he still wasn't ready to play. He still didn't have any strength.
'It gives you chills'
While the teams were in the locker rooms, the Longhorn Band took the field. What followed was one of the most emotional moments of the day. Setting the longstanding rivalry aside, the band honored A&M by dedicating its performance to the students who died. "May the Longhorn spirit and the spirit of Aggieland never die," the announcer said. The band then performed Amazing Grace, and four band members lifted flags — two white flags that read "Texas," two maroon flags that read "Texas A&M." As the song ended, the UT flags came down, but the A&M flags remained raised. The band then played taps. At its conclusion, the Texas students removed their cowboy hats.
Kevin Sedatole (director of the Longhorn Band): The Longhorn Band members were very intent on presenting a show that signified their respect for A&M. We wanted somehow to comfort the student body and the A&M community.
Timothy Rhea (A&M associate director of bands): We did not know they were going to do this. They hadn't told us anything. I thought it was one of the classiest things that I'd ever had another university band do. You're so into the competition thing and the rivalry thing and all that kind of stuff. But what happened here transcended all that. It brought everybody together on a different level. I can't imagine anybody handling that any better than what they did.
Bowen: It was an emotional experience. The UT band director is a very kind person, and really felt a deep impact about what had happened at the university. I wrote him a letter later and thanked him for it.
South: It made me cry. I'm already kind of a blubbery guy anyway, but it made me cry. I can't imagine that there was a dry eye in that stadium that day when they started Amazing Grace.
Caruso: Very moving. Very emotional. Very somber.
Toombs: I saw that after the game. I thought that was really cool and very respectful. As much as they're our rivals, they've always been a class university. You gotta take your hat off to them for acknowledging us like that.
McCown: It gives you chills right now just to think about it. I didn't see it at the time, but years later, seeing it on video, it just speaks to the class that they showed.
Sedatole: This was one of my proudest moments as the director of the Longhorn Band. The students were very sensitive to the situation. All the rivalry stuff ceased to exist, which is what should have happened. It was truly caring about our fellow colleagues.
Hurd: I think it was probably the first time and the only time in history that every Aggie and Longhorn were friends, at that moment. It really was poignant. I never heard why they did that, whose idea was that, but it was a great way for those students and the University of Texas to show their solidarity with their fellow brothers and sisters at A&M.
'It was so quiet'
The Aggie Band's performance began with a tribute read by Col. Jay Brewer to the senior band members, and a dedication to the students killed and injured in the Bonfire collapse. The band went through a normal halftime performance routine, including playing When Johnny Comes Marching Home and The Noble Men of Kyle, and the intricate four-way cross maneuver in the middle of the field.
Brewer then asked the crowd to join the band in a silent tribute. The band created its trademark block-T formation that stretched across 60 yards. Rather than playing The Aggie War Hymn as per the usual routine, the band members marched in silence. And instead of making a mad dash off the field at the end of the formation, they continued quietly past the end zone.
Rhea: That's the only time we've ever done that in the time that I've been here. It's such a contrast to what we normally did. It showed that we made a change in what we do to recognize that something very significant had happened, and to pay tribute to those people. It was just very difficult to concentrate on the football game the whole time because of everything else that was going on. So I think this was a good way of kind of unifying everyone for those 15 minutes or 16 minutes, and remembering those that lost their lives.
Caruso: It was so quiet you could hear their footsteps.
Slocum: At halftime, after we went in and met, we were coming back out on the field. We started running in the stadium, and we stopped abruptly. I've never seen anything like it. There was a point at the end of halftime, a moment of silence kind of thing. You could've heard a pin drop in the whole stadium. I don't think in the history of time, there has never been a time in a stadium when you could absolutely not hear anything in the whole stadium. We stopped and waited. It was an eerie deal.
Rhea: That would've been right when that "T" was going off. The crowd, because you can hear them at the end, I don't think they really knew what to do. I don't think we expected them to do anything, we were just going to walk off. I think at the same time they were still trying to show appreciation for the band for what they had done, because they had done their normal thing and it was very impressive. But then, all of a sudden it just totally, 180 degrees, switched gears. The response, you can hear the applause coming from two or three brave people, and then finally everybody did it. And then the football team would've come out pretty quick after that.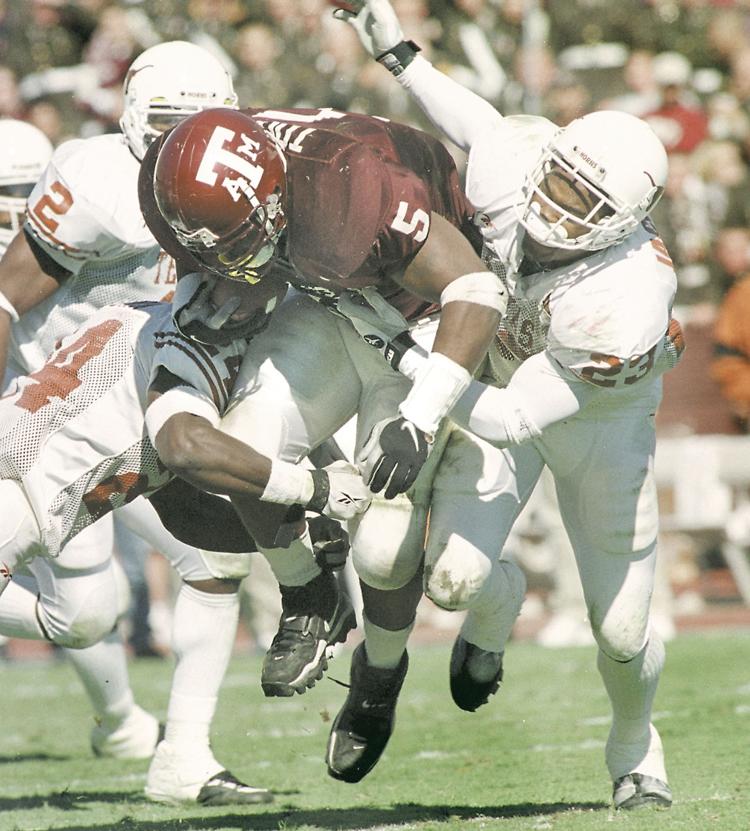 'That dude was a warrior'
The second half began with failed drives by both teams. The Aggies recovered a punt touched by Texas' Courtnee Garcia at the Longhorns' 28-yard line, but were unable to get points and turned the ball over on downs at the Texas 7. Texas went three-and-out and punted on its next drive. The offensive sputtering ended when Toombs ran in a 9-yard touchdown with 4:47 left in the third quarter. After the extra point, A&M trailed 16-13. It was Toombs' second touchdown of the day, and he would rush a career-high 37 times for a career-high 126 yards.
Rigsby: I remember Ja'Mar Toombs running like there was no tomorrow.
Slocum: Ja'Mar, when he was really rolling, he was a load to get down. He was a determined runner. He was a big guy with a lot of agility and a lot of determination.
Brown: He obviously was so powerful, and R.C. did a good job of handing it to him, and we couldn't tackle him. And I thought he was the difference in the ballgame.
Cole: Running him down their throats, they knew they had to buckle their chin straps for big Ja'Mar Toombs. At the end of the game you could see the running game started wearing on them a little bit.
Gamble: He could sidestep you and make you miss as well as run through you or run over you. He had a heck of a performance that day.
Bumgardner: That dude was a warrior. They would just hand it to him, he'd get hit by two or three dudes on every play. Really kept the defense honest. He did a great job, obviously. I know he was pretty tore up after the game. He was a workhorse for sure.
Toombs: I was very proud of my performance, that we won, and that I played good. That whole week I was really tuned in. I wanted to do more to help heal the pain for everyone. That was the best way I knew how.
'Heck of a quarterback'
The Aggie defense sacked Simms twice on Texas' following possession. A solid Aggie drive early in the fourth quarter ended with a fumbled snap at the Longhorn 22-yard line. Texas recovered. Major Applewhite replaced Simms with 13:31 left in the game.
Cavil: Major was a hell of a quarterback. He had been our guy all year. When he returned from battling food poisoning, we felt like, "OK, here we go. We're about to establish our dominance and start to get on a roll again."
Slocum: It didn't [change the plan] for us. It may have for them, probably gave them a spark. But in terms of what we were doing it didn't really affect us. We didn't change anything or say much about it, really.
McCown: I don't know how sick he was, but gosh, he was a heck of a quarterback. When he came in the game, eyes and ears had to perk up, because we knew what he did the year before and we knew what he was capable of doing.
Gamble: I can remember in the fourth quarter, when they were going toward the scoreboard … being on the line of scrimmage. Major comes up and he starts to check a play, and I'm 5, 6 feet from the guy, and I can't hear a word he's saying. The crowd was that loud, particularly on that Zone [north] end, they were that loud and fired up. The 12th Man was huge that day.
'He could change the field'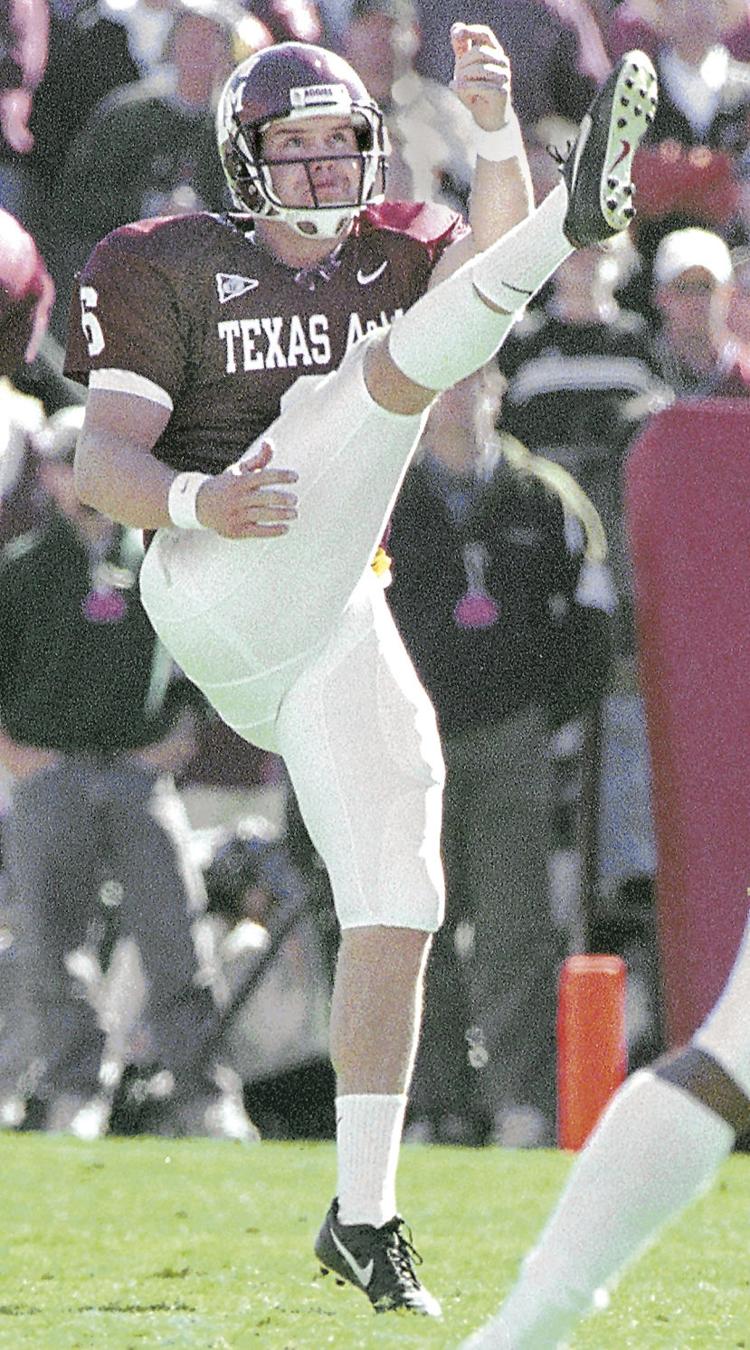 Applewhite completed his first pass, but the Longhorns couldn't get a first down and had to punt. The following Aggie drive stalled, and with 10:52 left in the game, Lechler boomed a 53-yard punt that was downed by Jason Webster, pinning the Longhorns at their own 2-yard line. The Longhorns went three-and-out, and had to punt from the 11-yard line.
McCown: Shane was as valuable as anybody we've had. He could change the field with one play.
Gamble: We don't win that game without Shane Lechler. Your ability to flip the field and make them go 80, 90 yards to score really sets up in your favor. Shane was precise. He's the best I've ever seen.
Cole: He did it the whole year. He would always kick us out of bad situations. You needed somebody to shift the momentum, and Shane Lechler of course was one of the best to do it.
Bumgardner: He was one of the MVPs of the game, no doubt. Had he not pinned them that deep, they would've had a shorter drive and maybe different things would've happened.
Slocum: One of the absolute best punters ever. One of the things that always impressed me about him is when you really needed him is when he was his best. He was really special that day.
Lechler: You put them on the 2, you expect for our defense to at least hold them before they have to punt back to us. It's kinda hard to go 98 on us at that time with that defense. Any time I could put them on the 2-yard line in that game, plus in the fourth quarter, it was one of those things where it was very satisfying doing my job at a high level at that point. That's what you're asked to do.
'A perfectly thrown ball'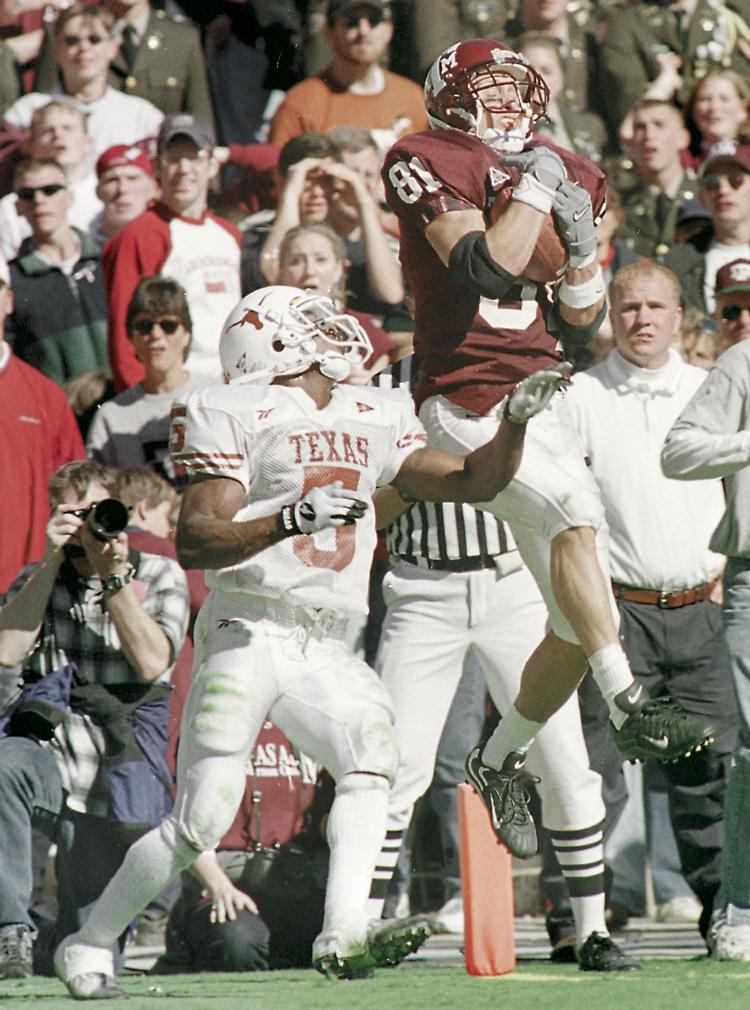 The Aggie drive began at Texas' 48-yard line with 8:29 remaining. Toombs converted a crucial 4th-and-1 play. McCown completed a 24-yard pass to Cole that took the Aggies to Texas' 13-yard line. "I just put it out there, and Chris went and got it," McCown said. "There weren't a whole lot of guys in the conference that could cover Chris, especially on that kind of route."
After a 1-yard loss on a Toombs run, McCown connected with his roommate, Bumgardner, who made a back-shoulder catch for a 14-yard touchdown. The Kyle Field crowd erupted as the Aggies took the lead, 20-16, with 5:02 remaining.
McCown: You can imagine some of the things the quarterback has to listen to: "Man, I'm always open." "Man, just throw it up there." "Dude, if you get in trouble …" That kind of thing. I can remember looking left and there's Chris Taylor, and I look right and there's Bum, and it's like I just hear, "All right man, just throw it up." If you go back and watch that tape, that wasn't one thing where you go, "Man, what an amazing pass." It was one of those where you're like, "Man, just throw it in his general direction and let the receiver make a play." That's what I did, and Bum made the play.
Bumgardner: It sounds weird and cheesy, but leaving the huddle, I remember making eyes with Randy and just nodding my head. In a game, especially catching the ball, when that ball is in the air, it is dead silent. You focus on it. I remember going outside of Ahmad Brooks and looking back, and seeing the ball coming out of Randy's arms. The sun was coming up, and the ball went into a shadow. This sounds stupid to be able to think about this, but I remember thinking, "This thing is going to hit me in the facemask without me seeing it." But at the last minute it came out of the shadows, and I just jumped up and saw it. He threw a great back-shoulder pass. The DB didn't have a chance. It was a perfectly thrown ball. I just jumped up and caught it and made sure I got two feet in.
Slocum: Every time I see [Bumgardner], I remind him of that play. He'll always be a hero of mine for that play that he made. He made others during his career, but that one stands out in my mind.
Lechler: I always thought that was cool because those guys connected from day one. We all redshirted as freshmen. And for them to end their whole career [at Kyle Field] with a touchdown against Texas, that was badass.
Cole: We still had time on the clock. So, of course, now the anxiety set in. We were up. We gotta hold them. It's all about the defense. That was our bread and butter. That was our identity.
Gamble: Any defensive player will tell you, those are the moments that you live for. It's the fourth quarter, you just went ahead, game's on the line. We gotta make the stop to win the game, in the biggest setting that you can possibly have it in. At least in my mind, this is what all those weights, all that extra time you put in, all that time has led up to this moment.
'That was his thing'
Texas started its next possession from the 27-yard line with 4:51 left, but failed to get a first down. The Longhorns punted, and A&M started at the 26-yard line with 3:35 left. The Aggies aimed to work the clock with three straight runs by Toombs, but on third down he fell a yard short of the first-down mark. Texas called timeout with 2 minutes left. Lechler nailed a 54-yard punt that put the Longhorns at their own 11.
Texas started moving the ball. A run by Mitchell brought them to the 37. Cavil gathered his 10th catch of the day and got it to the 41. Applewhite connected with Brandon Healy for a 13-yard gain to get past midfield. The Longhorns seemed to have momentum on their side.
With 31 seconds left, Applewhite dropped back to pass and was immediately under heavy pressure. A&M defensive back Jay Brooks, blitzing from the left side, closed in on Applewhite and knocked the ball out of his hands. "I've always wanted to make a big play against Texas, so it was a great feeling," Brooks said after the game.
Toombs: That's why his name was Big Play Jay. If he was on the field, you could guarantee that he was going to make a big play for us.
Slocum: He was a big-play guy. That didn't surprise me at all.
Gamble: That guy was one of the most amazing ball hawks. He had a feel for the ball. Some guys just have that knack.
Cole: That was his thing. He was known for making big plays in big moments. We loved to run him off the edge, cornerback blitz him, because he was a hard hitter. He pulled his arm down and the ball came loose.
'Thank you, Lord'
Applewhite fumbled, the ball hit the ground, and there was an instant pileup. As the Kyle Field crowd roared in anticipation of an Aggie recovery, almost 20 seconds passed before the referees signaled it was A&M's ball. Gamble emerged from the pile with the ball. He lifted his eyes and arms to the heavens, and then fell to his knees. Eagle photographer Butch Ireland captured the moment, as did the ABC broadcast. It has become an iconic image for Aggies everywhere.
Butch Ireland (Eagle photographer): I got Matt Bumgardner's catch, and I thought that was going to be the [lead] picture, because that was the go-ahead touchdown. This is back before digital, back before autofocus. You never knew until you saw your film. I remember the play happening, a fumble-sack, and then Brian Gamble came out of the pack, and when he went down, it was right there. I shot up whatever film I had left — we had rolls of film back then — and hoped I got it.
South: [Gamble] was a great competitor. Sometimes you see these guys show off when they go into the end zone and they score or whatever. But that, I can assure you, was from deep in his heart.
Rigsby: That photo freeze-frames a moment in my mind. I can smell the grass. I can hear the crowd. I can feel the tears running down my cheeks. I go right back to that beautiful afternoon. I get emotional. Brian represented the 12th Man at that moment in time. That's what we all wanted to say. "Thank you, God," and "God, give us strength to keep on going."
Toombs: When I see that, I see the culmination of the day. With his hands in the air, like he was saying, "Thank you," or looking up to the heavens to the 12 people that lost their lives. All that played into it. It makes me happy every time I see it.
Lechler: For him to celebrate like that, I think he was pretty much expressing the relief for the entire community and the team at the same time, and himself. That was a grind of a week, man. It wasn't a normal game. To have it end like that, that was awesome.
Brown: Brian was such a good player, and a great high school coach's son in the state of Texas. I thought it was fitting for him to win the game, and I thought it was good for all those young people, that they could say a little prayer at that time for the kids that had lost their lives and the kids that were struggling.
Slocum: I think it was an emotional moment for Brian and for our team. Just everybody had been under tremendous stress during that whole time. I don't know everything that was running through his mind, but I think it was a relief and it was a feeling for all those young people who were tragically injured and died in that accident. Being a believer myself, I think it was, "Thank you, Lord."
Gamble: It was like a release, a release of all the emotions, all the stress. Everything that I as an individual, we as a football team, us as a university, the whole Aggie family went through in the course of that week. It just happened. It was one of those things that, "We did it. Thank you, Lord."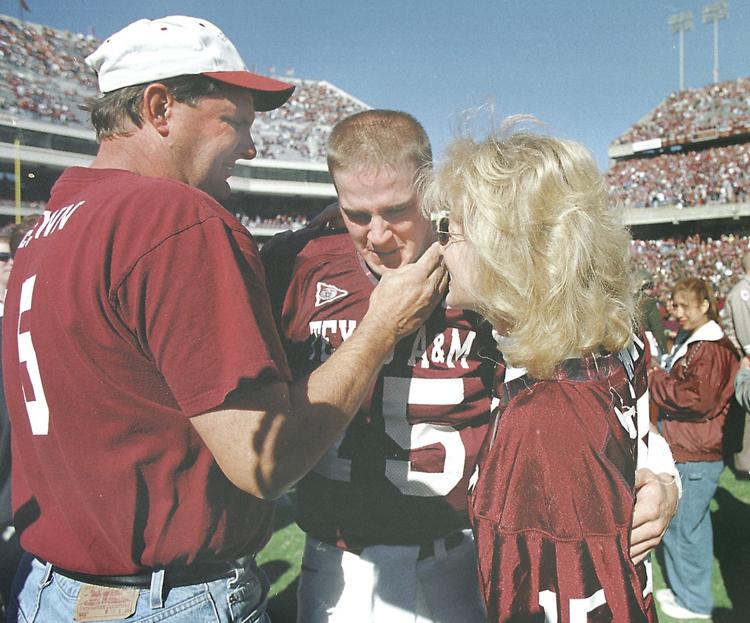 'We were all in tears'
McCown took a knee, and the Aggies ran out the clock, victorious. Eagle and ABC cameras captured McCown, who ended his Kyle Field career with a touchdown pass to his roommate, in tears. He wasn't the only one.
Toombs: I remember when Randy took the knee and turned around and raised his hands up, I think I was already crying. I cried from that point all the way to the postgame interviews. Emotionally, I was so into it, that we did it.
McCown: All that stuff leading into the game, it was like, "All right, it's done." And then it just exploded. Nobody wanted to speak it, like, "Hey man, we gotta win this thing." But everybody knew. We felt like we had to win it for these guys. It was a whirlwind of emotions, and once everything took place it just kind of all came out.
Cole: Randy was a fiery, very emotional guy. I wasn't surprised. But we were all in tears after the game. You didn't see a dry face in the stadium. Everybody was emotional.
Bumgardner: We made fun of Randy all the time for crying. He used to cry all the time, just because that's how his emotions came out. He was super passionate about that one. I don't think people understand what a tough guy he was. He willed that team as a leader. And I think that victory felt so good to him. Those were tears of joy.
Slocum: I think a lot of them had kind of suppressed their emotions a little bit because we knew we had a job to do to get ready for that game. They kind of internalized their feelings. We were quietly working through all those issues. I think when the game was over, it was the first time that they allowed themselves to really express the feelings that they were feeling. I totally understand the way he felt. I felt like doing that myself.
'The perfect man for that job'
Slocum was quickly corralled by the ABC crew when the game concluded. "It's been an emotional week here for everybody associated with the A&M family," he said on the broadcast. "We've got strong people involved in this university and our Aggie family. They all pulled together today, and we pulled this thing off. It's a great credit to the spirit of Aggieland." Slocum was widely praised for his leadership after the collapse and through the game.
Brown: The superstar in this whole thing is R.C. Slocum. He was the one. He took a crisis and he tried to make everybody understand how important honoring those students was, and how sad it was for those families that they lost those students. I thought he was probably the only one in that situation that could've helped both administrations, helped our staff and team and pulled his team back together and handled it. He handled it better than anybody that could've possibly done it.
Bowen: [He handled it in] a masterful way. He's a very thoughtful man. He's loyal in every dimension. He had the right perspective about the tragedy of the Bonfire affecting the preparation of the football game, and he managed that. He didn't diminish the importance of that, properly showing respect for the families and the injured. He and his coaches represented the university in a really fine way through that entire episode.
Rigsby: The thing I love about Coach Slocum is that, way before Bonfire, he's the kind of coach where it's always a bigger picture. Football is part of life, but there's family, there's faith, there's doing the best you can, being the best person you can become. We could not have asked for a better person as our head coach during that time, because he kept us looking toward that bigger picture, and helped us all to realize that we had a role to play in the healing and in the helping of everyone that's hurting.
McCown: Coach Slocum, he's a champ. When you're a player, you think about things like, "Why are we doing this?" You don't have a full appreciation until you step back from it and you see the character and the type of man Coach Slocum is. Just an all-around great guy. I couldn't see anybody else being in that position that could've done any better leading us.
Bumgardner: Slocum was amazing. At the time you don't realize that, you just expect your coach to handle things the right way. But looking back on it, he handled things amazingly. Initially he gave us time to mourn, and talked about the importance of what had happened. And once we got into it, he kind of kept us away from the media and kept things simple so we could focus on football. Because if we're going to play the game, we need to try and win it. That was his message: We need to win this for the university.
Toombs: Coach was always good at making sure the team stayed together, stayed focused. He understood the weight of what we were doing. We knew that the outcome of that game would affect people. He made sure that we were well aware of what the situation was, and he made sure that we were prepared to come out with a victory.
Lechler: R.C. is a very honest person and calm person. Those two things go together well in situations like that. Not only was he able to keep us all calm, but he was very honest with us, too. "This is what has happened, this is what we need to do, this is how we're going to handle this whole process." He took it step by step. He was the perfect man for that job.
'They did the right thing'
By all accounts, Texas handled its role in the game and the events leading up to it with class and grace. Any trace of animosity between the two rivals vanished, and goodwill emerged with Texas' prayers and messages of support and sympathy, and efforts including blood drives, the Hex Rally-turned-candlelight vigil and the memorable halftime performance.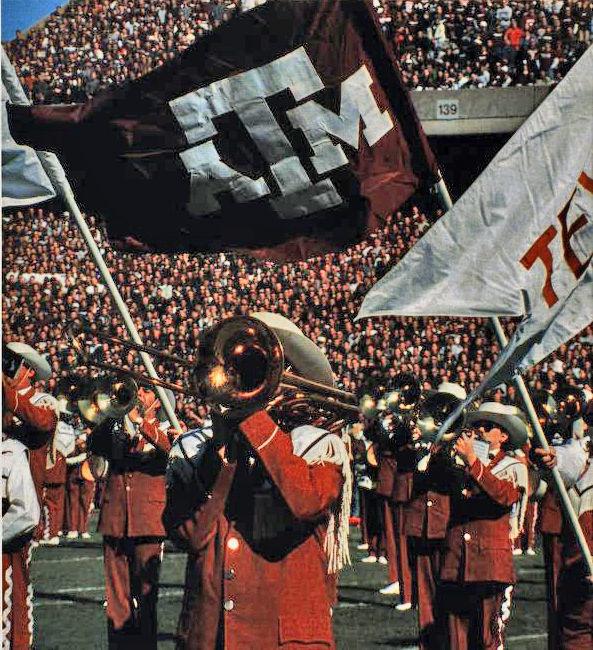 Brown: I thought that President [Larry] Faulkner and [athletic director DeLoss Dodds], who both have children, and myself, all responded to whatever we felt like was best for Texas A&M. I'm proud of our university. I'm proud that we didn't hold our pep rally for the game. It was all about Texas A&M, and it was all about what was right, and it was all about those young kids that had lost their lives. On the week of Thanksgiving and Thanksgiving games since that day, I always say a prayer for those parents. Because it's got to be such a horrible day for them to remember losing their children.
South: That was probably the last time that the two schools were that close, in that circumstance. I think they handled it very respectfully with a great deal of taste and a great deal of thought about what they were going to do.
Rigsby: Very classy, from Mack Brown all the way down. Mack Brown said, "We're all family. Families help each other in a time of great need." UT was so incredibly classy. We were so honored that they would help, and so moved by their compassion and moved by their heart.
Gamble: As big as the rivalry is, in a lot of areas between the two schools, there is that mutual respect there. If the roles were reversed, I don't think there would be any question that A&M would've responded the same way.
Toombs: Mack Brown's always been a class, Hall of Fame-type coach. He was very aware of how big the rivalry was, and how important it is for Texas fans to hate the Aggies and vice versa. But for them to put that on the back burner for us all to come together, and embrace life and mourn the loss of life, it shows a lot.
Lechler: You thought that they would do the right thing, and then they did the right thing. It was awesome.
McCown: You always look at your adversary and use that as a motivating factor to drive you. When I heard how they handled things, it kinda softened that a little bit. It was like, "You know what, that's 100 percent class."
Hurd: Aggies, we love to disparage the University of Texas by calling them "t.u." But ever since [the halftime performance] I refuse to do that because of the class that they showed at the time.
Slocum: Mack and I have been friends for many years. We were friends before either one of us were head coaches. We spoke several times during that week. He called early on to express his condolences and to offer whatever assistance, anything they could do. … I think that in the history of time, that was the most connected that A&M and Texas, in terms of athletics, has ever been. I don't think there has been a time where there was a more unified feeling, just in support of these families that were going through this tragedy.
Bowen: [Mack Brown] is a fine gentleman and had a deep, deep compassion for what was going on at A&M. … I think the university and all its people are wonderful, from Larry Faulkner, the president, right on down. The only impression that I wish more Aggies could've appreciated and understood everything that went on — not just the magnificent way they presented themselves at the football game. They donated money. There were funds set up to aid the families and the students. The UT folks donated money. So much so that one of our regents, Bob Allen, who has now passed away, created a scholarship at the University of Texas thanking them for that period of time. I wish more people knew and remembered that.
'So thankful'
There was an overwhelming feeling among Aggies that A&M needed that win, though football was secondary in that sentiment. A victory was a brief moment of joy in a time of overwhelming grief, and it served as a tribute to the Aggies who died and those who were injured. As the years have gone on, the Bonfire game remains a significant memory for those who played it and those who saw it.
Brown: I think Texas always needs to beat Texas A&M, and vice versa. But I actually felt like, in the dressing room, as disappointing as it was for us to lose, I felt like the Aggies needed it more than we did at that time. And it was a real healing process for them.
Cavil: The last thing I wanted to think was, "Hey, you know what, that's fitting for them." I wasn't thinking that. I'm a competitor. I want to win. But looking back at it now, being a coach and being an older individual, and understanding the significance of that game and what happened, it was fitting. It was fitting for them to have all that happen. When things like that happen, you understand it was kind of already written, and it's out of your hands. Like right now, even talking about it, those memories and those emotions come back. You understand it wasn't our time to win.
South: People ask me what game I remember more than any other, and I say it's the Bonfire game. I've said any number of times when I go out to speak, I don't think God cares who wins football games. When I would pray about a football game, I would pray that there would be no injury to any of the players, and that there would be good sportsmanship in the stands, no matter if we were playing on the road or at home. But I think that day, in my heart, I believe God cared who won that game. And the Aggies won it.
Rigsby: I can talk about [other memorable Aggie wins], and I love those other games. I don't cry. I might get a little emotional, but not to this extent. That Bonfire game impacted me like no other game, because it was clear that it was more than just a game. It was an opportunity that our players and coaches had to help the healing process, if just for a few minutes.
Gamble: I don't know how many times I've been at a function and met somebody and said, "Hi, I'm Brian Gamble," and they say, "Did you play linebacker at A&M?" "Yeah." "I was at the Texas game," or "When you recovered that fumble, I cried." You realize what that game and that moment signifies for people and how it helped them to move forward and start the healing process.
Bumgardner: It's head and shoulders above anything. It doesn't even qualify as a football game to me, in a way. It's a life experience.
Toombs: It meant a lot to me. Lives were lost in the support of a football game. It was something that had nothing to do with the outcome that's on the field, but just to show their love, passion and dedication for their school to defeat our rival. These people that built the Bonfire, they didn't get paid for it. It's a love thing. It's love for your school. It's love of tradition. All that resonated with me very deeply.
McCown: You think about it, you're like, "What would it have looked like if we wouldn't have played the game," or "What would it have looked like if we would've lost?" The healing would've taken place and everything, but as crazy as it sounds, that just helped things. Whenever you think about that game, you're so thankful it worked out the way that it did. You could never do anything to say thank you enough.
Cole: That's probably the greatest game ever played on Kyle Field. I can't think of a game that was more important to win than that. And I think every other Aggie in the world would probably agree with that.
Slocum: I've been asked many times what game stands out. And I say without a doubt, that game stands out above any game that I was ever involved in as a coach. It was the most significant win, but it was the most significant game, too. I'm glad we won. During the preparation time, I could not envision not winning that game. I felt more pressure, if you will, to win that game. I just couldn't stand the thought of not winning that game. We had to win it.
Be the first to know
Get local news delivered to your inbox!