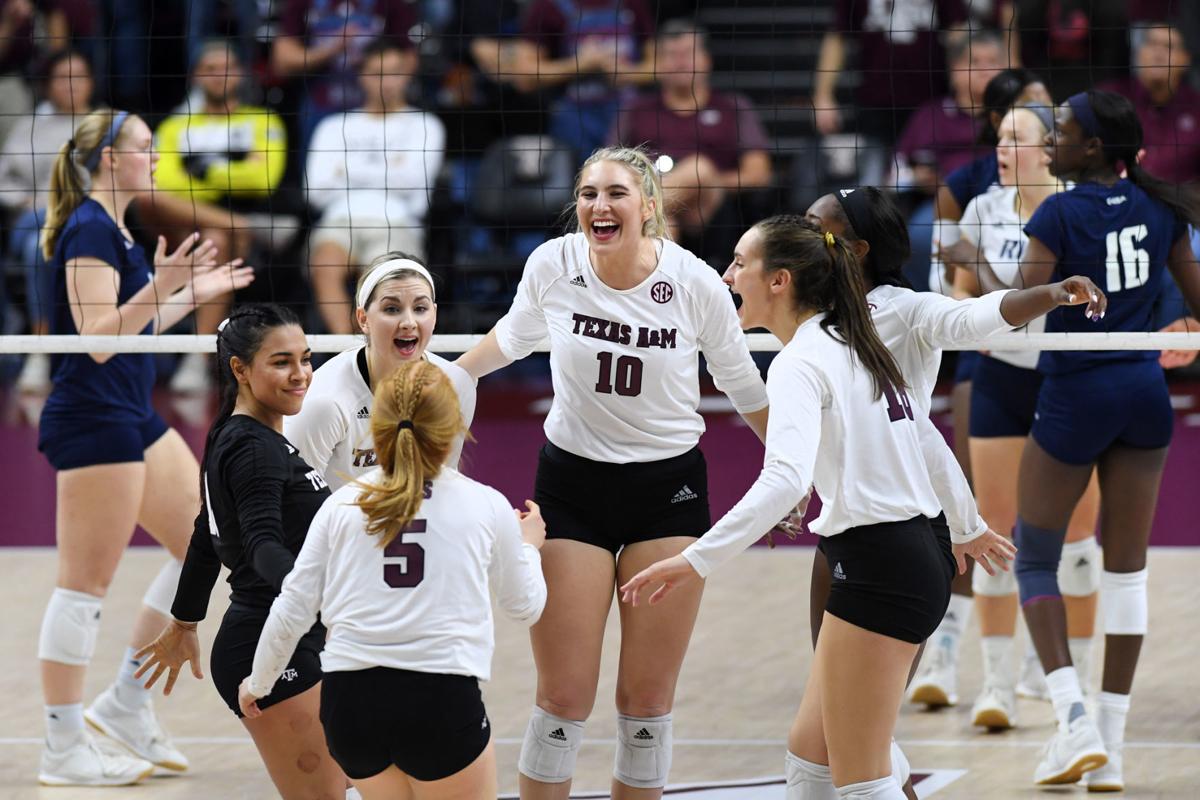 Rice head volleyball coach Genny Volpe has experienced a lot throughout her 16-year career at the helm of the Owl program.
What her alma mater did to her Friday night will go down as an all-timer.
No. 25 Texas A&M won a back-and-forth second set to square the match, then raced to its first Sweet 16 berth since 2009 with a 28-26, 32-30, 25-20, 25-15 victory over No. 21 Rice in the second round of the NCAA tournament at Reed Arena.
The teams spoiled eight set points in the second set, but the Aggies finally claimed it on an Owl attack error. The momentum-shifting win proved pivotal to extending A&M's season for another week.
"That second set, I don't even know if I've experienced something like that," said Volpe, who played for A&M from 1990-93. "I remember vividly a few matches that we were down by several points, came back and won the set. That one tops it."
After allowing Rice (27-4) to overcome a 12-point deficit in the first set to claim a 28-26 victory, A&M (23-7) had to bridge a five-point hole at the end of the second set to avoid going down 2-0 in the match. A&M appeared to take the set 26-24, but an official review proved the ball to be tipped by an Aggie player at the net, beginning a marathon of extra points.
During the review, Volpe heard a familiar Aggie yell and quickly realized it was aimed at her.
"I never thought I'd hear, 'Sit down, bus driver!' at me," Volpe said with a laugh. "I heard it a lot when I was a player."
Senior outside hitter Hollann Hans carried A&M's offense to victory, recording five kills in the extra points in the second set and finishing with a match-high 28.
"I told them, 'Welcome to the NCAA tournament,'" A&M head coach Bird Kuhn said. "This is how it's going to be. It's going to be a battle, and we knew it was going to be a battle. The fight at the end of set two, that finish is what gave them their composure."
Through the first two sets, A&M amassed 21 errors, leading to a .116 hit percentage. Even more of a hindrance was the Aggies' eight service errors to Rice's one. Through the next two sets, A&M cut attack errors to 10 and service errors to one.
"We just realized that we didn't have to do anything more than what we've been doing all season," A&M sophomore middle blocker Mallory Talbert said. "It's high pressure. It's really exciting, but we just go back to our baseline and play our game and we're successful every time."
Beyond the second-set win, A&M claimed small momentum shifts by holding an edge in long points. In points that saw the ball sent over the net multiple times, A&M won five points to Rice's three.
But no one play drew a larger roar from the 12th Man than libero Camila Gomez when she saved a ball that Hans eventually killed for a point. After a first touch by defensive specialist Taylor Voss that sent the ball heading for a Reed Arena tunnel, Gomez ran to the edge of the court to send a pass directly to the hand of Hans, who slammed down the kill.
"That was definitely a momentum shifter for us," Hans said. "We kind of let a few points go after that, but I think that was definitely a turning point in that set and got us on the right track."
Hans also had 17 digs for her 14th double-double of the season. A&M setter Camille Conner racked up 56 assists, one shy of her season high.
Rice's Nicole Lennon paced the Owls with 15 kills, while Grace Morgan had 12 and Anota Adekunle had 11.
A&M advances to its fourth Sweet Sixteen with a chance at the program's first Elite Eight appearance since 2001. The 13th-seeded Aggies will face the winner of fifth-ranked and fourth-seeded Wisconsin vs. No. 24 UCLA set for 6 p.m. Saturday in Madison, Wisconsin.
"It's the best feeling, honestly," Hans said. "Just the way we came together as a team — this was a complete team win. Just to experience that in the last time in Reed Arena with these amazing fans, it's the best feeling in the world."
Be the first to know
Get local news delivered to your inbox!