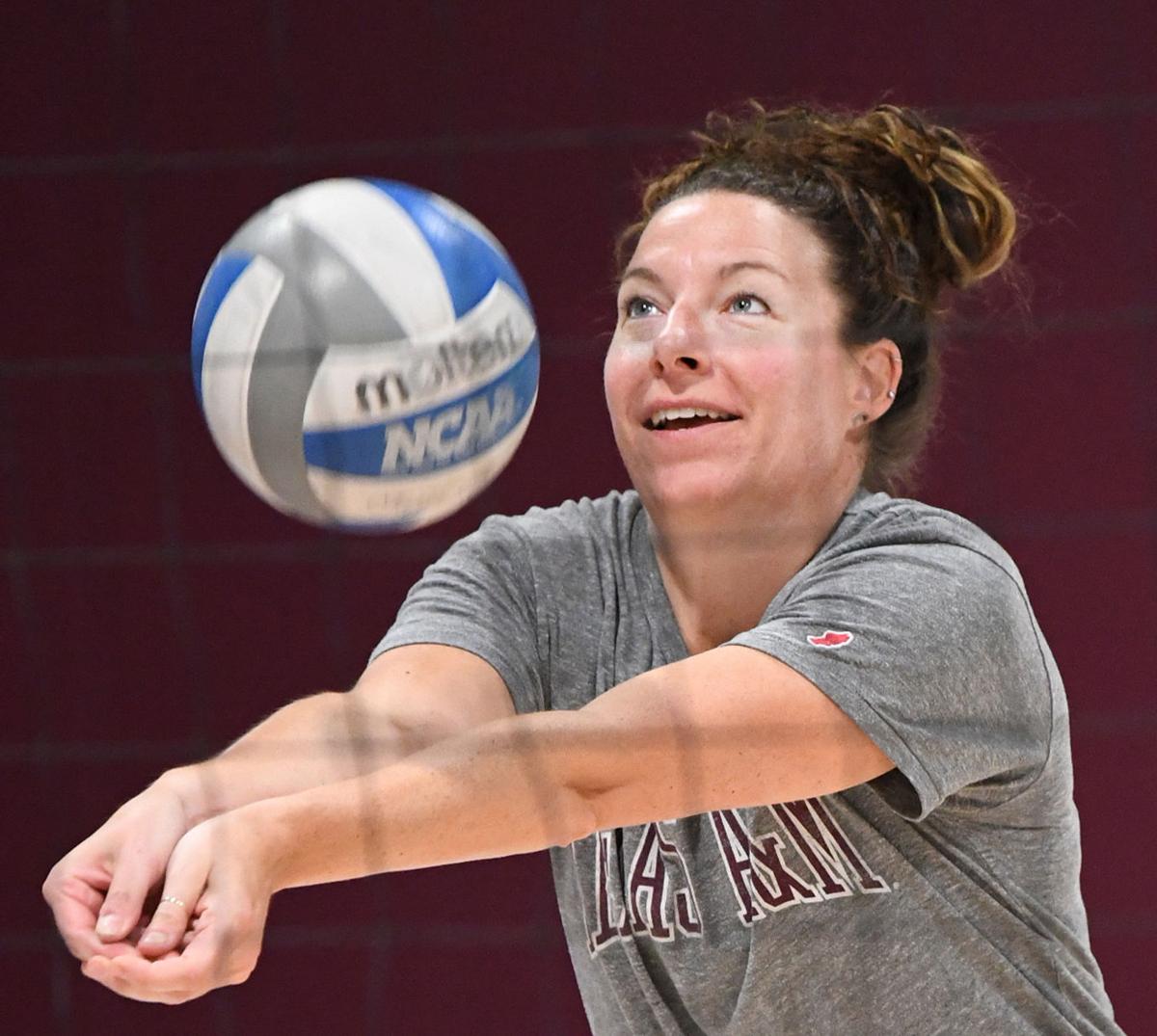 In the summer of 2018, newly hired Texas A&M volleyball coach Laura "Bird" Kuhn met outside hitter Hollann Hans for coffee at Sweet Eugene's in College Station.
By that time, not a lot of volleyball had been practiced under the new coaching staff and, frankly, the hour and a half long conversation between the program's new leader and its star player touched very little on the sport that brought them together, much to the surprise of Hans.
"I think that was the biggest moment that I was like, 'OK, she is really serious about building relationships,'" Hans said.
On Friday, the 13th-seeded Aggies will face fourth-seeded Wisconsin in the third round of the NCAA tournament in Kuhn's second year as a head coach. As so many who have worked with or played under Kuhn will tell you, those hours spent in coffee shops or on office couches have meant much more to her rapid rise to success than any drill or film study.
"She's not just a great coach and knows a lot about volleyball, but she also cares so much about us as humans on and off the court," Hans said. "I think that sets her apart, because it allows us to be so comfortable with each other and have that strong relationship that we can go to her."
When former Georgia Tech head coach Bond Shymansky recruited Kuhn to play volleyball for the Yellowjackets before the 2001 season, certain traits attracted the coaching staff to Kuhn as a player: demeanor, temperament, personality and competitiveness. Kuhn says Shymansky became like a second father to her in her four years in Atlanta.
Ironically, Shymansky said he never dreamed she would make the transition from player to coach.
"Heck no," Shymansky said with a laugh. "Bird is the least likely player I've ever had to [move into coaching]. I wasn't sure she was going to play, and then she started. I wasn't sure she was going to graduate, and then she did. I surely wasn't sure that she was going to get a job, let alone a coaching job, and then she did."
Surrounding Kuhn is a cadence of life unlike any her college coach and mentors had experienced prior. While mostly disorganized and not always punctual, Kuhn always makes time for those around her. She is most in her element around other energetic people and is always in a sweat suit with hair in a messy bun.
"She'll wear her hair like 10-feet tall, high on the top of her head, and it just doesn't matter," former Miami and current UC-Santa Barbara coach Nicole Lantagne Welch said with a laugh. "She'll just bun it right there and that is exactly it. She is who she is and you know it. She's very approachable, and she's very real, and she's a great person."
Her genuine nature helped her land her first coaching position as an assistant at Appalachian State under head coach Matt Ginipro. Her coaching bosses at Miami and Kansas to follow along with Ginipro all agreed: More than any tactical knowledge or knack for coaching, Kuhn's engaging personality made her a perfect fit for the profession.
"I didn't really know her personally," Ginipro said. "I just knew her as a player, but five minutes on the phone with her I knew that five minutes on the phone with a recruit she was going to be amazing and that energy in the gym was going to be fantastic."
It wasn't long before Shymansky found himself in recruiting battles with his former player — and then losing them. Shymansky said he believes Kuhn is the best recruiter in college volleyball, because she is honest and open from the start, including continuing to go by the nickname her late father gave her.
"She's still Bird," Shymansky said. "She is who she is, and it makes her super identifiable, very accessible and authentic enough to lead young people that are hungry for leadership. All young people are and they need role models and they need people around them who know they aren't perfect, who don't claim to be perfect all the time, but have the compassion to help kids work through their day-to-day problems and struggles, because they've all got them. Bird is really a ray of sunshine that way."
In her seven years as an assistant and then associate head coach at Kansas under veteran head coach Ray Bechard, Kuhn honed her technical philosophies in coaching volleyball. The Jayhawks posted a 152-38 record over her final six seasons on staff. After Kansas made a run to the Final Four in 2015, she was named the AVCA national assistant coach of the year.
"She's got a very good technical mind," Bechard said. "She sees things that are unique in that, and she can relay information. She's good for our profession, and she's a female who is highly respected already but is going to continue to grow as she goes through her opportunity there at A&M."
In her two seasons in Aggieland, Kuhn has managed to have conversations over coffee with most of her players. In an effort to emphasize her importance on team chemistry, Kuhn has started the training season with some kind of team bonding event, whether it be a traveling to Europe as a team before 2018 or spending the night at a ropes course. The extent with which this team has meshed is the biggest reason for its 23-7 record, return to the NCAA tournament after a two-year hiatus and first trip to the Sweet 16 since 2009, junior setter Camille Conner said.
"I have pushed myself to get out of my comfort zone, to build relationships with my teammates and even the people that I'm not as close to and reaching out to them, making sure they are OK, and that is something that has completely changed my life," Conner said.
This weekend as Kuhn embarks on her first Sweet 16 trip as a head coach, all of her coaching mentors said there is no surprise that she has found this level of success this quickly.
"She's lovable and funny, but that doesn't mean necessarily that she can win," Shymansky said. "And yet there she is, still lovable and funny and winning."
Kuhn said she'll allow herself a few moments to take in the sights and sounds of Friday's Sweet 16 environment. But true to her character, she said the most important thing about Friday's match will be the people with which she is traveling.
"It is special for me, and it means a lot," Kuhn said of A&M's NCAA tournament run. "I've told them multiple times: I'm so proud. Anything that has been accomplished is because of the group of people that have bought in, and it's everyone. To me, it makes me more proud of the team and staff and program."
Be the first to know
Get local news delivered to your inbox!