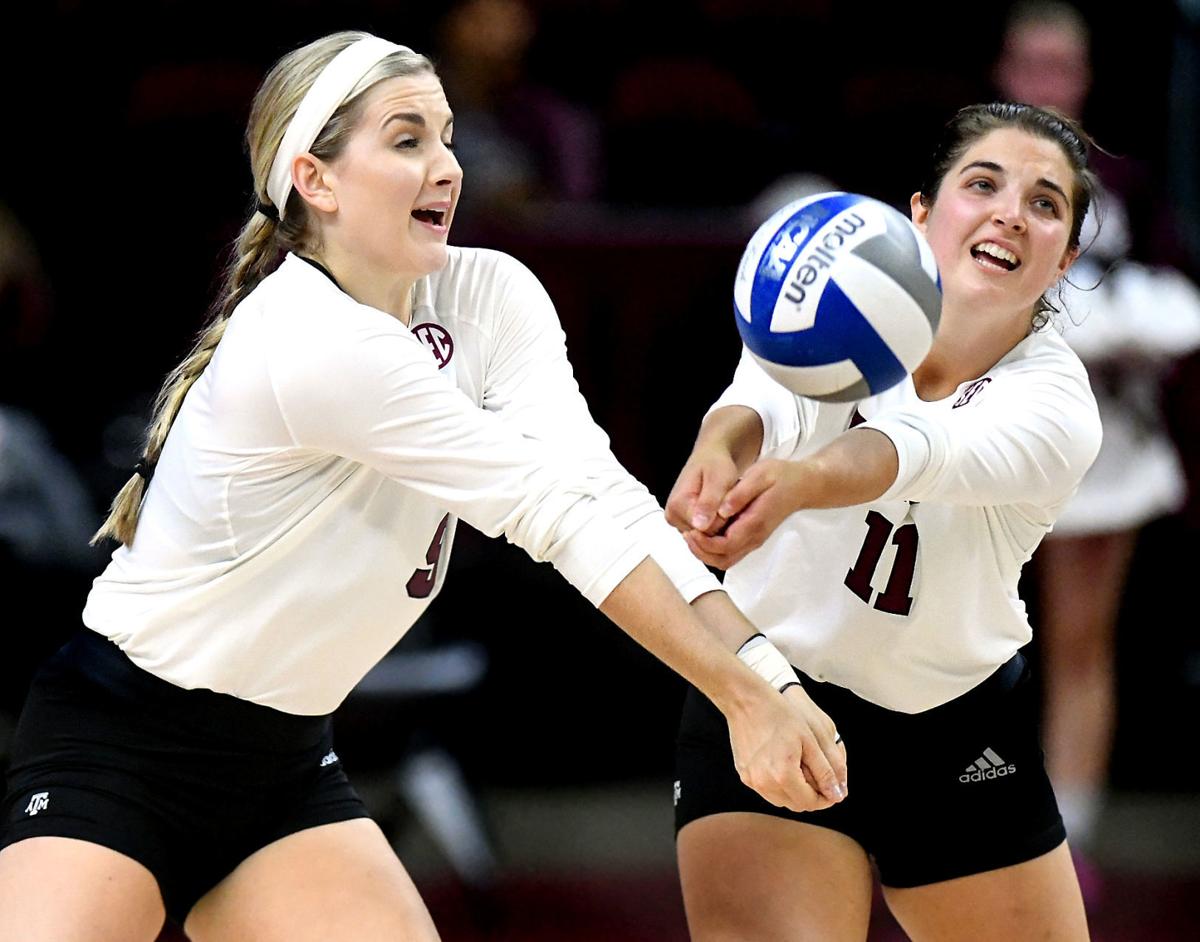 It's been two seasons since the Texas A&M volleyball team participated in the NCAA tournament, three seasons since the Aggies got to host the first and second rounds.
So in an effort to remind the student body of postseason volleyball, members of the Aggie squad hit the quads on campus armed with donuts and cookies in an effort to coax the student body into attending Thursday's first-round matchup against St. John's at 6:30 p.m. at Reed Arena.
To the team's surprise, bribes were not necessary — though welcomed.
"It was crazy how many people actually knew about the game already," freshman outside hitter Lauren Davis said. "They were like, 'Yeah, 6:30, I'll be there.' A bunch of other people were super excited to come."
There is also little shock among the players that in head coach Bird Kuhn's second season in Aggieland, A&M (21-7, 13-5 SEC) has not only returned to the postseason but earned the right to host the first two rounds as the No. 13 national seed.
"I don't think it takes us by surprise," junior setter Camille Conner said. "We really bought in to the coaches and trusted everything that they've put in front of us, and it's paying off. It's been awesome just to see everyone buy in and really just work hard and trust our training."
St. John's head coach Joanne Persico said she expects to get A&M's best shot — both from the team and the fan base.
"They are really strong at home," Persico said. "I've heard all about the 12th Man, so we know we're coming into a really tough environment to play."
Now with the regular season behind them, the Aggies will have to rely on their training to compensate for the lack of experience a two-year NCAA tournament hiatus brings. Only senior All-Southeastern Conference outside hitter Hollann Hans and senior defensive specialist Haley Slocum have any NCAA tournament experience from the 3-0 first-round exit the Aggies took against SMU in 2016.
Since that freshman season, Hans has collected over 40 school records and developed an appetite for a return.
"Nothing should really change with what we've been doing," Hans said. "Just continue to have the same focus going into each game and aggressiveness. Just keep being ourselves."
The bright lights of the NCAA tournament shouldn't phase Kuhn, though she is making her first appearance as a head coach. She says she has as much confidence in her team as they have in her process.
"It feels normal to me," Kuhn said. "When you have a great team and just the chemistry this team has, especially with the staff, it feels normal. It is special and it means a lot and I've told them multiple times that I'm so proud, but anything that has been accomplished is because of the group of people that have bought in."
The Aggies will face a St. John's team that has found its identity in the last week, toppling No. 10 Creighton and No. 12 Marquette in the Big East tournament to earn a Cinderella bid into the national tournament. Prior to those wins, the Red Storm (22-11, 12-6) had only collected one win over a top 25 team — a 3-0 sweep of No. 14 Oregon on Sept. 19.
Statistically, St. John's ranks in the top 50 nationally in several offensive categories, including assists per set (12.77), kills per set (13.60), team assists (1,468), team kills (1,564) and aces (179).
"We're going to have to manage their left sides and try to keep them out of system, and we, of course, have to pass," Kuhn said. "If we are in system and we can have balance, we'll be able to execute."
Should the Aggies earn their first bid to the second round since 2015, they will face the winner of Oklahoma vs. Rice set for 4:30 p.m. Thursday at Reed Arena. A&M beat Oklahoma 17-25, 25-20, 25-22, 20-25, 15-12 earlier this season, while Rice is coached by former Aggie setter Genny Volpe.
•
NOTES — Slocum made the SEC's volleyball community service team Wednesday. Slocum has participated in numerous volunteer activities on campus and within the community, including Dr. Seuss' Reading Night, Special Olympics, The Big Event, Aggies Read and Aggies Move.
Be the first to know
Get local news delivered to your inbox!