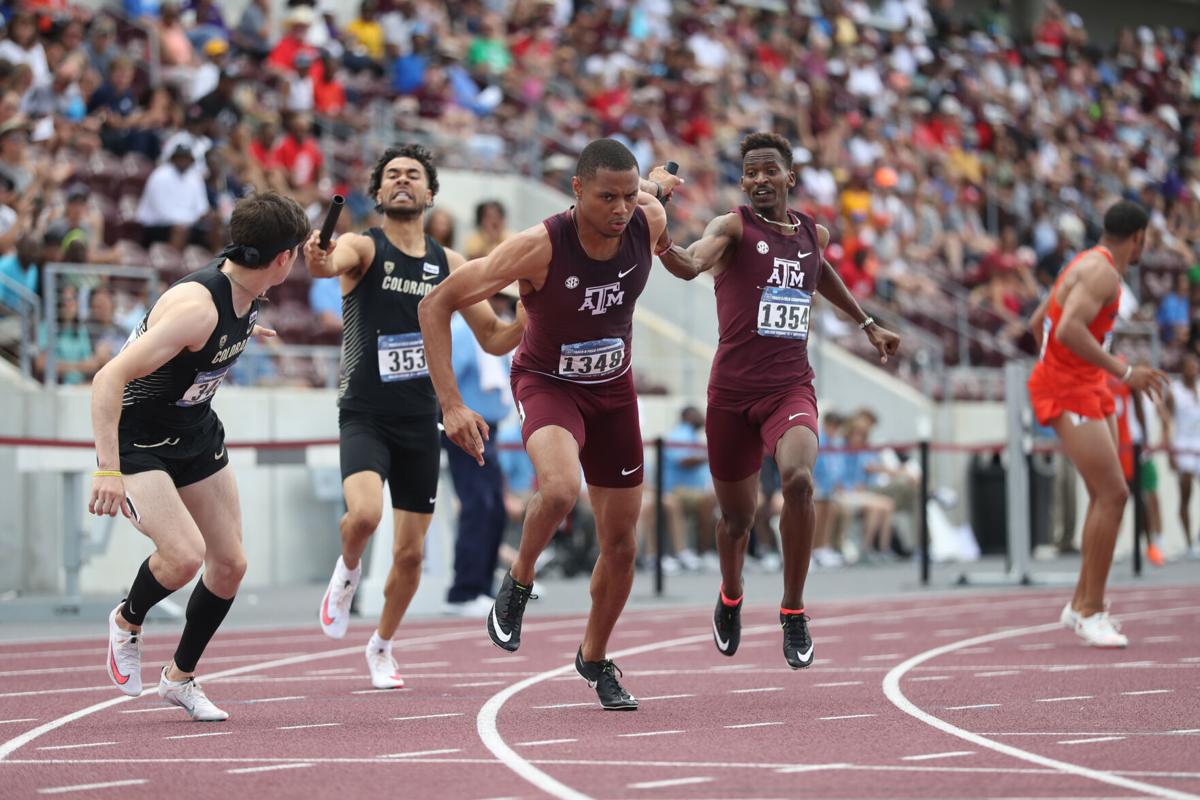 The newcomers highlighted Texas A&M's effort on the men's side of the action Saturday at the NCAA West Preliminary, but senior Devin Dixon proved to be the sentimental favorite among the crowd at E.B. Cushing Stadium.
Dixon, who returned for his senior year after COVID-19 canceled his 2020 season, helped the Aggies finish second in the 4x400-meter relay and placed fourth in the 800 to advance to the NCAA Championships in both events.
"They really wanted to see me be happy and win, and that really pushed me even more, because I wanted to give them a show and show I'm still here, not ending the season at just regionals," said Dixon, a nine-time, first-team All-American. "Me and the Texas A&M crowd have been through a lot of stuff this season, and they expect a little bit more from me, and when I don't perform that way, they wonder if I'm OK. It makes me feel good that there are people backing me up win or lose."
Dixon battled with three runners down the stretch to claim third in his heat and fourth overall in the 800, finishing in 1 minute, 47.65 seconds. Freshman teammate Brandon Miller won the heat and the overall event in a personal-best 1:45.57 with Southern California's Isaiah Jewett second at 1:45.60.
Dixon led their heat for the first 500 meters, dropped to fifth then rallied to earn an automatic berth into the NCAA Championships set for June 9-12 in Eugene, Oregon.
"In my mind they passed me by, but they are not going to have anything for the last stretch, and I always have something for the last stretch," Dixon said. "This season has helped me with appreciating small little victories and small progressions. I always overlooked that."
Dixon, a runner-up in the 800 at the 2019 NCAA Championships, has had trouble finding his form after missing the recent indoor season because he had completed his eligibility.
"This season has been very challenging mentally really," Dixon said. "Obviously I didn't get to compete indoor but also felt something missing and COVID-19 threw off my whole training schedule altogether, so I'm starting off slower than everyone else."
Dixon, Moitalel Mpoke, Omajuwa Etiwe and Bryce Deadmon powered A&M's 4x400 team to a second-place finish in 3:03.12 behind USC (3:02.85).
Deadmon also won the 400 in 44.57.
Aggie freshman sprinter Devon Achane, a running back on the football team and Orange Bowl MVP, made it through to Oregon in three events. He ran a 10.26 in the 100 for 10th, a 20.40 in the 200 for first in his heat and sixth overall and ran on the winning 4x100 team that crossed in 38.93. Emmanuel Yeboah led off the relay followed by Achane, Lance Broome and Jace Comick.
Broome also made it through in the 200, placing 11th with a personal-best 20.60.
"He gets better every time he's on the track, and he's going to be a guy people have to contend with," A&M head coach Pat Henry said. "Bryce in the 400, people just don't realize how fast 44.5 is sometimes."
Mpoke, a junior, won the third heat of the 400 hurdles and had the third-fastest time overall at 48.81, breaking his own school record. A&M's James Smith was 14th with a personal best 50.50, and Kirk Collins Jr. ran a 51.27 for 17th. Oklahoma's Isaiah Levingston won with a nation-leading 48.58.
•
NOTES — The top three qualifiers in each of the three heats and the next three best times advanced to the national meet. A&M earned national berths in eight individual events and both relays. ... Sam Houston State senior Joshua Smith finished seventh in the 400 hurdles to advance to Oregon with a personal-best 49.70. He was the second Bearkat to advance in an individual event — Bryan Henderson qualified in the 100 by placing third in 10.12. He was second in his heat behind Oregon's Micah Williams, who ran a stadium-record 10.0. Henderson and Smith also helped the Bearkats sneak into the 4x100 final at 39.674, claiming the last spot by six-thousandths of a second over Oklahoma.