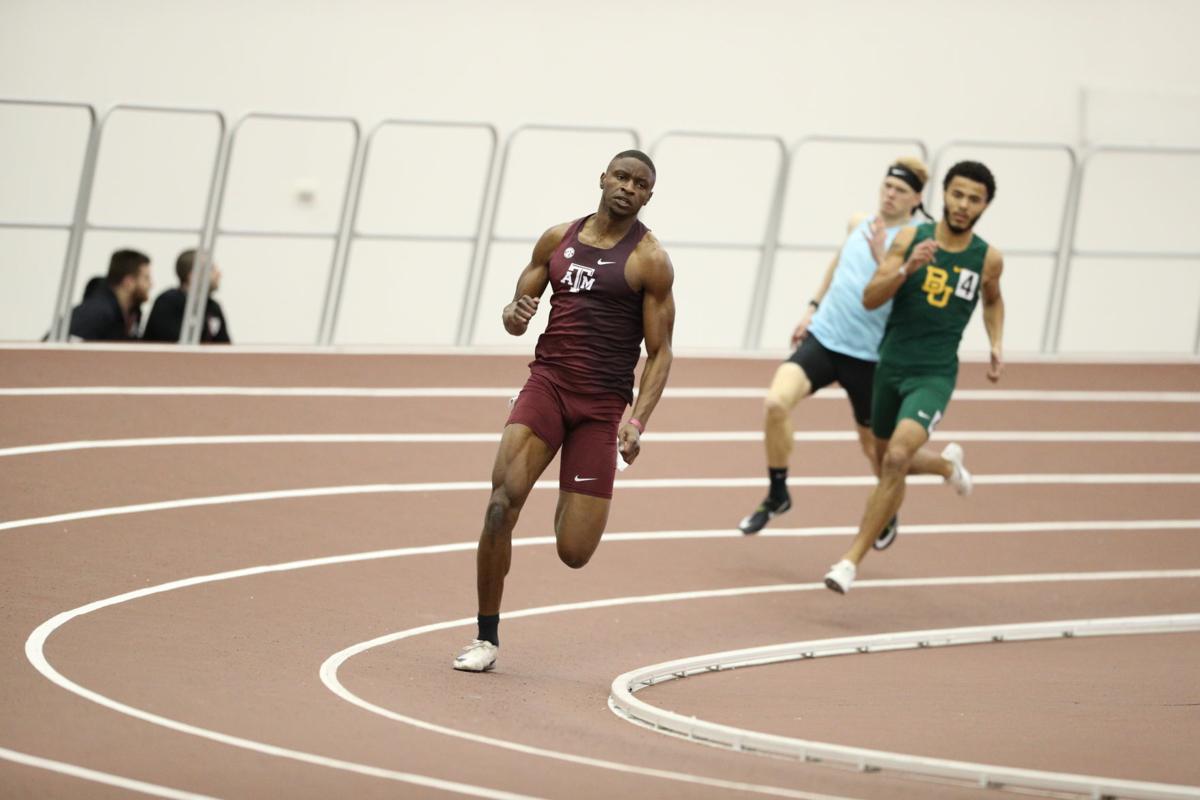 Texas A&M track and field head coach Pat Henry still has a bad taste in his mouth from the way last year's indoor track season ended.
His athletes sat at a hotel in Albuquerque, New Mexico, last March as the world, including the NCAA Indoor Championships they had traveled to compete in, shut down due to the COVID-19 pandemic.
"Last year was a really bad year for us, just because of the way it ended, and I still have some grief with the NCAA just because ... they're not giving indoor track athletes the season back," Henry said.
If there is a positive from such an abrupt halt to last season, it's the motivation to achieve new heights in 2021. That journey for A&M begins Saturday at the Ted Nelson Invitational inside the Gilliam Indoor Stadium.
"There's kind of a feeling something was taken away from you and now you get the opportunity, so let's go," Henry said. "Let's be ready to go. We've been training very consistently for a long time. Kind of tired of just training. We're ready to start competing."
The feeling resonates with sixth-year senior Bryce Deadmon of Missouri City, who was one of the athletes in Albuquerque to compete in last year's NCAA indoor meet.
"I just remember how crazy it was that it seemed like the whole world shut down almost at the snap of a finger," Deadmon said. "It was actually crazy how it all happened."
Deadmon qualified for the NCAA indoor meet in the 400 meters and was part of the Aggies' qualifying 4x400 relay team. He said for once he had arrived at an NCAA indoor meet without any injuries or fatigue and was excited to compete. Deadmon won the men's 400 in 45.51 seconds at the Southeastern Conference indoor meet, and his 4x400 relay team also won the SEC title in 3:04.86.
He is the only returning member of the 4x400 squad.
"I think he missed a great opportunity last year at the national meet to be the NCAA champion at 400 meters," Henry said. "He's had to sit for almost a whole year with the feeling that I could have won that meet and I could have been the NCAA champion. So he's ready to go."
Senior Tyra Gittens was the only athlete to qualify for last year's NCAA indoor meet in three events: high jump, long jump and pentathlon. She won the SEC pentathlon with 4,391 points.
A strong senior season could lead to her representing Trinidad and Tobago in the delayed summer Olympics this year.
"This is a big year for Tyra, and anybody who has ever watched Tyra knows she's an athlete that shows a lot of emotion," Henry said. "She's excited about being able to compete, and people watching her can buy into that."
While the Aggies' true freshman don't know the frustration of missing out on a NCAA championship, they do know how it feels to have their high school senior season altered because of the pandemic. Athing Mu of Trenton, New Jersey, is preparing for her first meet as an Aggie after finishing high school as the top-ranked recruit in the 2020 class. In 2019, the middle-distance runner set the American women's record in the 600 at 1:23.57 at the USATF Indoor Championships.
"She's excited about getting on the track, and I'm excited to about watching her, too, because she trains so well," Henry said. "It's going to be interesting to see how she competes."
Though the Gilliam Indoor Stadium will be a welcome home to run a competition at A&M again, the meet will look very different due to COVID-19 protections. Lanes that spread 10 meters wide will be formed inside the Aggie indoor football facility, so that each team has a socially distanced area to warm up. Interaction with athletes from other teams will be held to a minimum. When not competing, athletes will be relegated to a designated section of the stands.
The biggest difference to Deadmon will be the reduced capacity crowds throughout the season. Saturday there will be an estimated crowd of 350 spectators in a facility that has a capacity of 4,100.
"It's definitely not going to be the same, but I 100% wish that fans could still be in the stadium," Deadmon said. "I definitely don't think people realize how much of an impact that makes on people's performance."