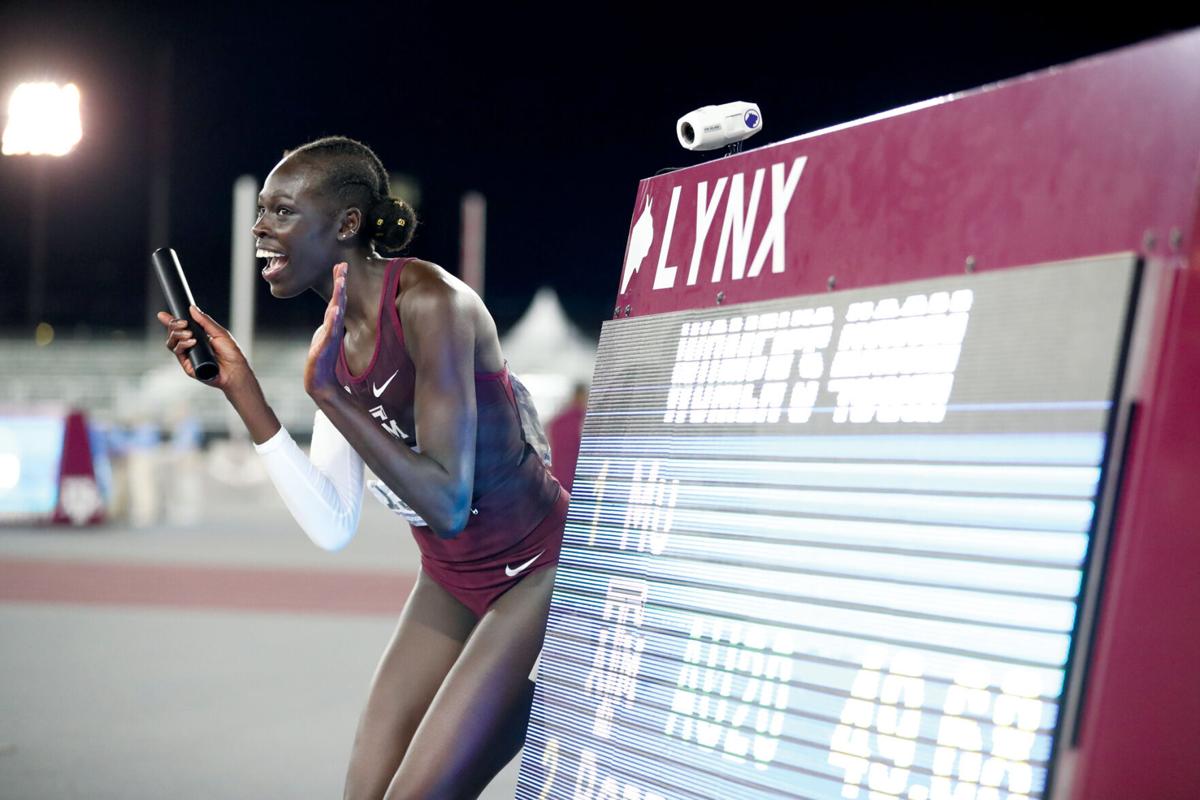 Texas A&M's Athing Mu stood at the starting block in lane 6 and listened to the PA announcer at E.B. Cushing Stadium rattle off her accomplishments for 49.54 seconds. She then nearly beat that time, crossing the finish line in the women's 400 meters in a college-record 49.68 at the NCAA West Preliminary on Saturday.
Mu made up the stagger within 200 yards and ran alone down the straightaway to break the mark set in 2016 by Texas' Courtney Okolo by three-hundredths of a second.
"Athing is just fantastic," A&M coach Pat Henry said. "For Mu, 49.68 is just a tremendous run. People say, 'Dang, this girl is something.' She's the best that has ever been."
The 400 proved to be the highlight of the day for the A&M women with freshman Charokee Young placing fourth with a personal-best time of 50.85 and Tierra Robinson-Jones taking seventh with her career-best run of 51.50.
"When you run 50.85 ... if it wasn't for Mu, we'd be saying Charokee is the next coming," Henry said.
The three Aggies, joined by Jaevin Reed, then won the 4x400 relay in a stadium-record 3:25.84 to conclude the meet, which sends the top 12 athletes in each event to the NCAA Championships set for June 9-12 in Eugene, Oregon.
The Aggie women also fared well in the high jump. Lamara Distin tied with two others for first with a leap of 5 feet, 11.5 inches. Tyra Gittens was fourth at the same height with one miss. Nine of the competitors, including Prairie View A&M's Ja'Sha Sloan, cleared 5-11.5. No one attempted anything more than 6-0 with the 12 who qualified for nationals already having been decided.
The Aggies had four competitors in the triple jump but only one advanced — winner Deborah Acquah with a jump of 45-0.25. Acquah also advanced in the long jump on Thursday.
"There aren't too many double jumpers better than [Acquah]," Henry said.
LaJarvia Brown (14th), Ciynamon Stevenson (16th) and Distin (41st) rounded out A&M's triple-jump foursome.
The Aggies will have two representatives at nationals in the 100 hurdles. Kaylah Robinson won her heat and finished sixth overall in 13.13, while Summer Thorpe placed fourth in the same heat and qualified on time at 13.22 for 10th overall.
A&M survived in the 4x100, claiming the 12th and final berth in 44.65, almost a second slower than the Aggies' season best. Two bad handoffs put A&M, which finished fourth in the opening heat, in the predicament of having to wait two more heats to see if it would qualify.
"We looked terrible. We weren't prepared," Henry said. "We were very fortunate to get to go. Laila Owens was the difference."
Owens made up ground on everyone down the stretch to help Zhane Smith, Kaylah Robinson and Rachel Hall advance.
•
NOTES — A&M's women advanced to the NCAA Championships in 11 individual events and both relays. ... Southern California senior Twanisha Terry set stadium marks in the 100 (10.89) and 200 (22.54). Oregon junior Kemba Nelson of Oregon first set the Cushing Stadium record in the 100 at 10.98, but it lasted only 3 minutes. ... Former A&M javelin thrower Maggie Malone, who won the NCAA title and Olympic team trials in 2016, set an American record with a toss of 219-3 at the Chula Vista Field Festival on Saturday in California. The throw qualified her for the Olympic team trials.