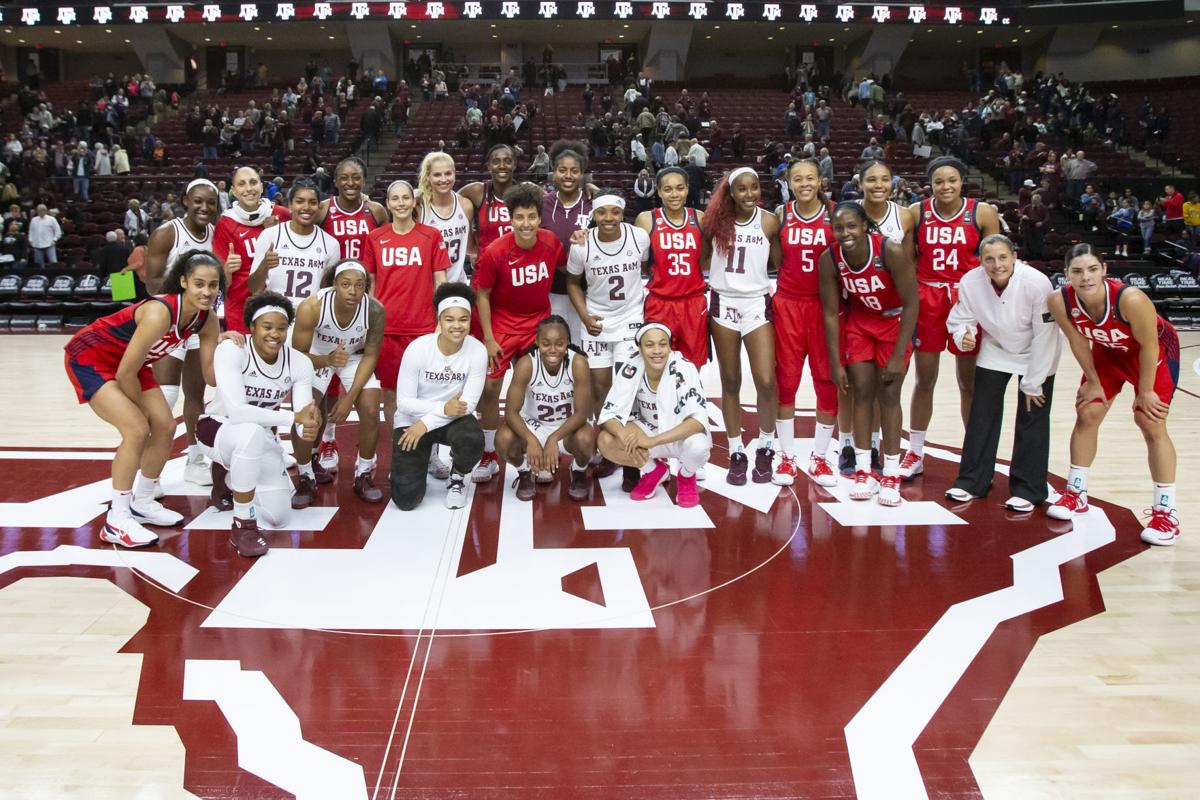 The USA women's basketball team showed why it should win an eighth straight gold medal in Tokyo in 2020, but Aggie guard Chennedy Carter also showed why sixth-ranked Texas A&M could bring home some hardware of its own this season.
The 5-foot-7 Carter scored a game-high 34 points in a scintillating effort Thursday at Reed Arena as the U.S. won the exhibition game 93-63. Carter hit 10 of 21 field goal attempts, including 5 of 10 on 3-pointers, most of them well behind the 20-foot, 9-inch line.
"We anticipated that Chennedy would be really geeked up and rise up in big moments," USA lead coach Cheryl Reeve said. "That's sort of what she does. She relishes these opportunities."
Carter set the tone early, hitting a pull-up 16-footer and a driving layup to give A&M a 7-2 lead that put a charge into the crowd of 3,785. She kept finding ways to score, including getting to the free-throw line where she made 9 of 9.
Carter had 20 points in the first half as the Aggies trailed by double digits only four times.
Team USA seemingly took total control of the game midway through the third quarter on a 9-1 run for a 63-45 lead, but Carter buried back-to-back 3-pointers as she broke the record for most points scored by an NCAA Division I player in 43 games against Team USA. The previous record was 32 points by Texas Tech's Michi Atkins on Feb. 3, 1996.
"My teammates were doing the best job they could to get me open and give me easy looks," Carter said. "So really my teammates make the game easier for me. It really was just by setting screens, finding me and looking for me. We all remain patient offensively, and now I just had to let the game come to me and take what the defense gave me."
Carter getting the record was her and A&M's last hurrah as Team USA outscored A&M 30-12 in the last 11:13.
Carter, who played a game-high 32 minutes, 3 seconds, hit only one of her last three shots as the Aggies missed 12 of their last 17. All of A&M's starters played at least 27 minutes, helping the Aggies to be competitive with Team USA, which had only one player play more than 25 minutes.
"It was a very entertaining ball game," A&M coach Gary Blair said. "We played very good. I loved the experience. I loved the play of Chennedy Carter."
Team USA had a 44-6 edge in bench points, which also was the case in its recent victories over No. 3 Stanford 95-80 and No. 7 Oregon State 81-58. Team USA also outrebounded A&M 54-30 as 6-foot-6 Sylvia Fowles had 13 rebounds, five of them on offense as the national squad had a 23-8 edge in offensive boards — the identical number in its advantage on second-chance points.
"The mindset for us was one player is not going to beat us," Reeve said. "We certainly don't want somebody to score as many as [Carter] did, but she's very crafty. She has the ability to break it down. We have five of our players that are returning from injuries, so to put them in those situations to guard a player like Chennedy was a big challenge."
Team USA's big edge inside was complemented by it hitting 13 of 27 from 3-point range. It had made only 11 of 27 combined against Stanford and Oregon State. Former Notre Dame All-American Skylar Diggins-Smith, who is getting back into shape after having her first child, hit 5 of 8. Sue Bird (Connecticut), Chelsea Gray (Duke) and Kelsey Plum (Washington) each added two treys.
Team USA also made A&M pay for every mistake. The Aggies had only 11 turnovers, but the national team turned them into a 24-0 edge in points off turnovers, including hitting four 3s. Team USA shared the ball well with 27 assists, six by Diggins-Smith and five each by Bird and Gray. Former Stanford All-American forward Nneka Ogwumike had 19 points as did Diggins-Smith as they combined to hit 13 of 21 shots.
A&M made 23 of 62 field goals for 37.1%, but sans Carter it hit only 13 of 41 (31.7%). Junior power forward N'dea Jones had a third of A&M's 30 rebounds, and senior point guard Shambria Washington had six assists and ignited A&M's 7-0 run for the early lead.
•
NOTES — As a freshman, Atkins helped Tech win the national title in 1993. She blossomed into a two-time All-American, who was the leading scorer in Southwest Conference with 2,134 points. ... Carter, who has 1,508 career points, was voted to the Associated Press preseason All-American team and named the Southeastern Conference preseason player of the year. ... Blair graduated from Tech. "Coach Blair had asked us to get a leg up on Texas Tech if we could let Chennedy get to the 34, so we said we would help him out, since we appreciated him letting us play [here]," Reeve said. ... In its only other game against Team USA, A&M lost 75-24 on Nov. 11, 2007. ... A&M will host Duke at 3 p.m. Sunday at Reed Arena.