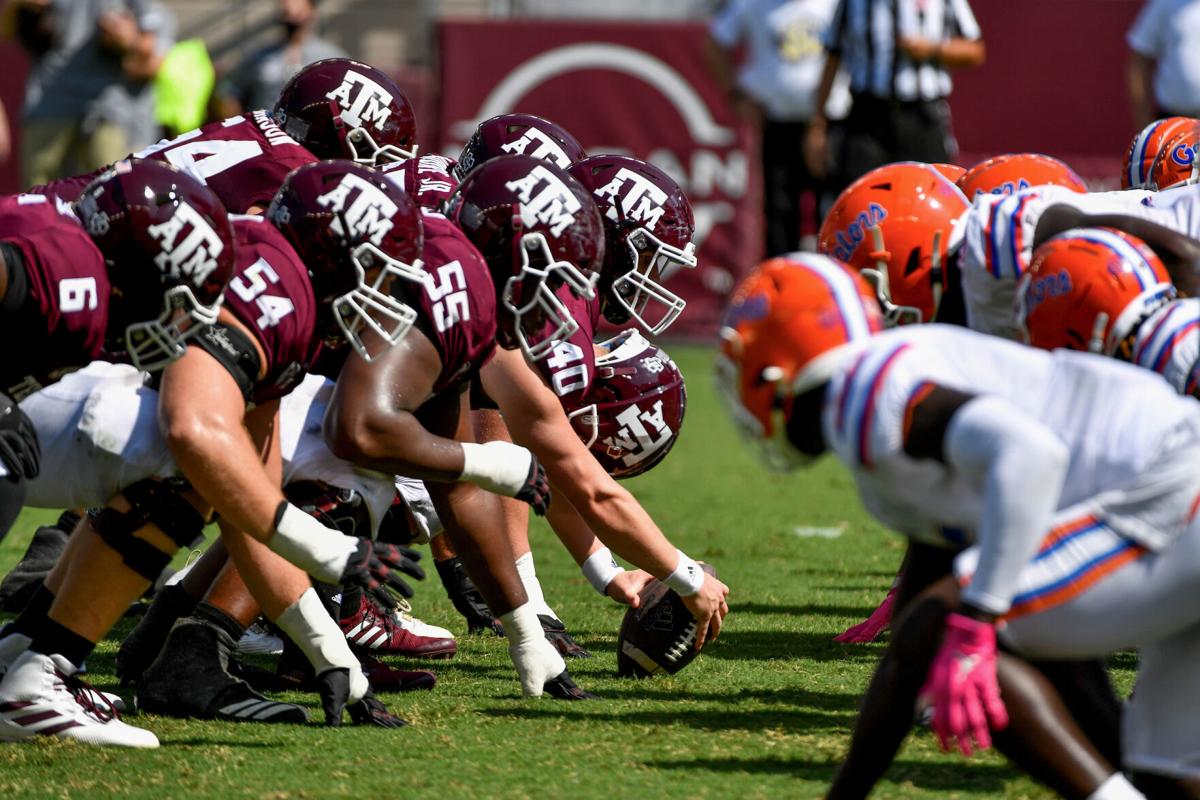 The Texas A&M football team more than held up against back-to-back top 10 teams because its offensive line held up.
The 11th-ranked Aggies (2-1) haven't allowed a sack in 95 pass attempts, their longest stretch since the end of the 2018 season and start of the '19 season when they went 104 snaps keeping the quarterback upright.
The improved offensive line play allowed quarterback Kellen Mond to have 300-yard passing games against both second-ranked Alabama and fourth-ranked Florida. Mond was at his best in the 41-38 victory over Florida on Saturday with 338 yards passing, three touchdowns and no interceptions in earning Southeastern Conference co-offensive player of the week honors.
In 10 games against ranked teams over the last two seasons, Mond had thrown eight interceptions and was sacked 34 times. On Saturday, A&M's veteran offensive line allowed Florida to pressure Mond only four times.
"It's amazing what maturity is, isn't it?" A&M coach Jimbo Fisher said. "You've got maturity [in the offensive line]. You got guys who know. They've played games. They recognize blitzes. They know how to pass them off. Guys can't always do it as freshmen. Plus, your quarterback is more experienced. He can read and get the ball out quicker."
Over the last two seasons, Mond often threw out of necessity because A&M was the SEC's worst at protecting the passer. Two years ago, A&M allowed 2.69 sacks per game to rank 102nd in the country, tying LSU for last in the SEC. A&M allowed 2.62 sacks per game last year to rank 107th in the country.
Fisher said placing blame on just the linemen on sacks is a fallacy, citing possible shortcomings by receivers, running backs or the quarterback.
"The obvious to everybody is not the obvious," Fisher said. "Sacks don't always go on the offensive line. But the big thing is their maturity, the number of starts, the number of times they've played."
Tackles Carson Green and Dan Moore Jr., guard Jared Hocker and center Ryan McCollum — all seniors — have combined for 105 starts. Green has made 32 straight starts, three more than Moore.
They line also is healthy. Green played hurt last season as did center Colton Prater, who filled in because a bad back limited McCollum. This season McCollum has made three straight starts after not being able to start a game last season.
"[I'm] feeling good," McCollum said. "I think a lot of it has to do with working out with our strength staff, getting a lot stronger. And I'm not having to rely on my back as much as just my overall strength to stop guys, whereas if I was weak, I had to rely on my back and just getting bent backwards on bull rushes or run blocking. I haven't had any problems."
A&M's offense had few problems against Florida. Running back Isaiah Spiller had 174 yards rushing and fellow sophomore Caleb Chapman had nine receptions for 151 yards with both scoring two touchdowns. It was the first time in school history A&M had a 150-yard rusher and receiver in the same game.
"It's just our whole offense clicking together,"said McCollum, who was named to the Rimington Trophy watch list Wednesday. "If one of us messes up, the other one picks up the slack, whether it's the offensive line missing a blitz and a receiver makes a great play and he's open or Kellen makes one guy miss and then gets his eyes back downfield and makes a play. I don't think it's anything to do with just us up front. I think it's a whole offensive effort focusing on the little things and small details."
A&M's offense faces a stiff test Saturday at Mississippi State. The Bulldogs (1-2) have been struggling on offense after opening the season with a 44-34 win at LSU, but the defense has been solid. MSU ranks 12th in total defense nationally, allowing 285.7 yards per game. The Bulldogs average four sacks per game to rank seventh.
•
NOTES — The A&M-MSU television broadcast has been moved to ESPN (Suddenlink Ch. 35). The game originally was scheduled to be televised by the SEC Network.
Be the first to know
Get local news delivered to your inbox!