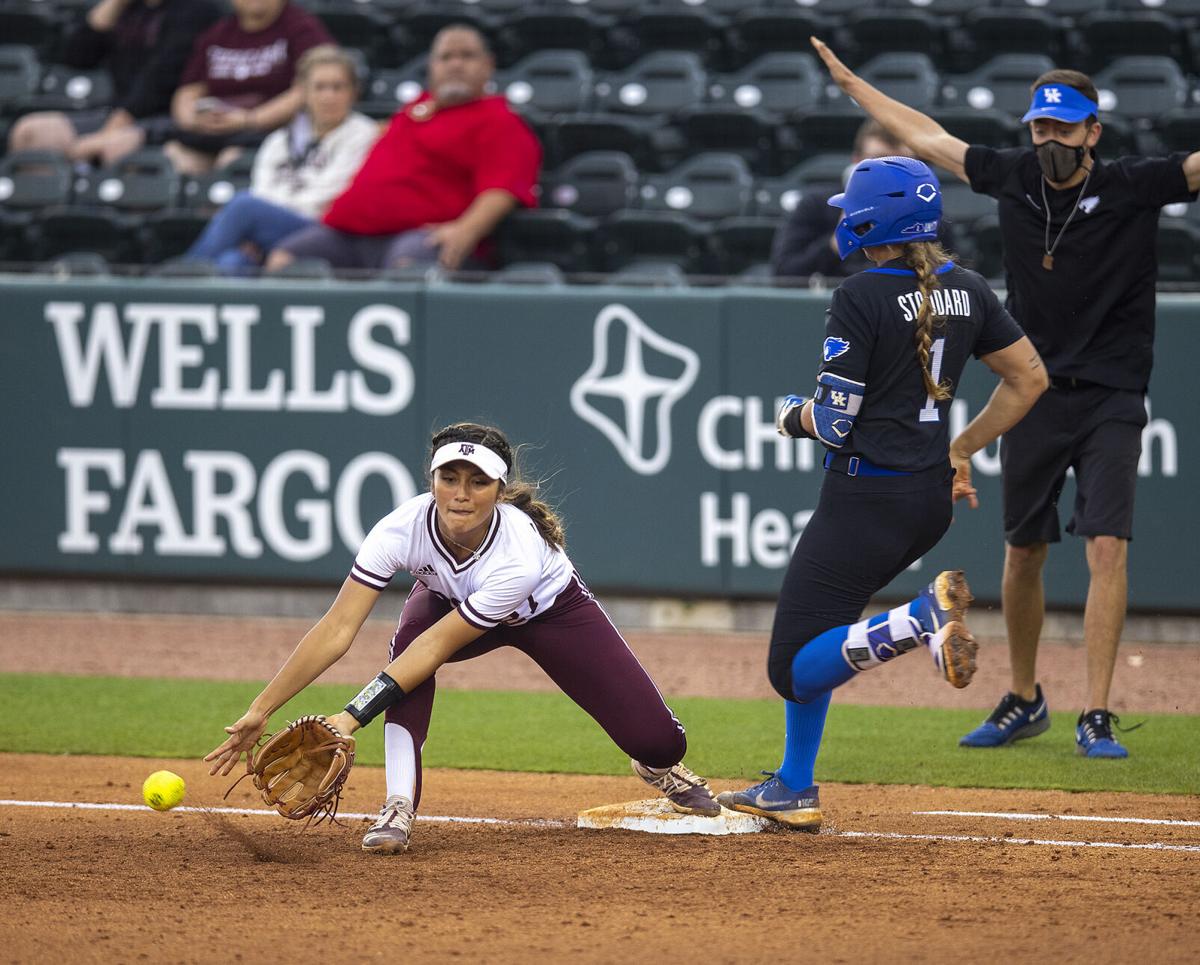 The rain stopped long enough Friday night to allow the Texas A&M softball team to play Kentucky, but the Aggies' offense never left the batting cages.
Kentucky's Autumn Humes pitched and batted the Wildcats to a 5-1 victory in the opener of their pivotal Southeastern Conference series. Humes struck out a career-high 11, and the fifth-year senior hit a home run as the 17th-ranked Wildcats (33-12, 8-11) moved into a tie for eighth place in the SEC standings with the Aggies (31-15, 8-11).
A slugfest was anticipated for teams that had combined for 129 homers, but the game's only extra-base hit was an opposite-field homer by Humes that barely cleared the right-field fence. It was her first extra-base hit in 26 games and only her fifth homer of the season. She also had an infield hit, but her best work came in the circle as she scattered six singles.
Humes (16-6) was at her best in the first inning after A&M's Haley Lee and Makinzy Herzog hit back-to-back singles when she retired the next three batters. The right-hander dominated the middle innings at one point striking out six straight.
"Offensively, we just did a poor job with the strike zone," A&M coach Jo Evans said. "I mean, we were swinging at balls clearly out of the zone. You've got to have a plan and stick to the plan. We've got to be better than that."
Four A&M batters took called third strikes, a couple of them after swinging at pitches outside the zone.
"We were just flat from that and couldn't generate any sort of emotion and energy," Evans said. "We just didn't put ourselves in the situation to rally and get the crowd in it."
Kentucky, which averages 7.3 runs per game, didn't knock the ball all over Davis Diamond, but it consistently put the ball in play with only four strikeouts. Renee Abernathy's two-run single in the first gave Kentucky the lead. The Wildcats set the table for Abernathy with a walk, single and hit batsman. The walk was by leadoff batter Kayla Kowalik, who seemingly grounded out on a 3-1 pitch but got a reprieve when the pitch was ruled illegal, allowing her to take first base.
The Wildcats added single runs in the next three innings. Bunt singles helped Kentucky score its runs in the second and fourth innings sandwiched around Humes' homer.
"They did a good job of taking advantage of their opportunities when they got them," Evans said.
A&M wasn't able to get the big hit to put pressure on Humes and the Wildcats. Herzog flew out to end the fifth with two runners on based. A&M converted a leadoff walk by Morgan Smith in the sixth into a run on back-to-back singles by seniors Kelbi Fortenberry and Dani Elder, but Rylen Wiggins popped up to end the inning.
Humes, who threw 138 pitches, retired A&M in order in the seventh.
A&M freshman right-hander Grace Uribe allowed only three hits and one run in four innings and was the team's bright spot.
"I thought she went in and did a terrific job in relief," Evans said.
Herzog (12-4) started and labored through three innings, throwing 79 pitches.
Evans told the team afterward everything other than Uribe's effort didn't cut it, especially playing flat.
"That's unacceptable coming off the road, playing really well and winning a series [at Mississippi State]," she said. "Our fans deserve better than that. The stadium deserves better than that. The game deserves better than that."
A&M's bottom part of the batting order was missing left-handed hitting senior Ashlynn Walls, who was ill. Walls is hitting .278 with two homers and 14 RBIs.
"Her bat has been real consistent for us all year," Evans said. "We missed her bat in the lineup for sure."
•
NOTES — Humes improved to 4-1 against A&M. She was the winner in Kentucky's 11-9 and 9-8 victories over A&M last hear in the lone SEC series the Aggies played. Elder hit a pair of homers off Humes last season. ... Both teams' catchers batted leadoff. Lee went 2 for 3 with a walk, and Kowalik went 1 for 2 with two runs scored, two walks and a stolen base. ... The second game of A&M's final home series of the season will be at 1 p.m. Saturday. ... Kentucky is one of eight SEC teams among 20 named Friday by the NCAA to possibly host regionals in the 64-team NCAA tournament. The NCAA is going to use predetermined sites this season because of COVID-19. The committee will choose 16 to host regionals with eight of them in contention to host super regionals. A&M made a bid, but all of the teams selected are ranked in this week's Top 25. The other SEC teams picked are Alabama, Arkansas, Florida, Georgia, LSU, Missouri and Tennessee, while Arizona, Arizona State, Clemson, Florida State, Michigan, Oklahoma, Oklahoma State, Oregon, Texas, UCLA, Virginia Tech and Washington also made the list. The 64-team field and the 16 host sites will be announced at 8 p.m. May 16 on ESPN2.