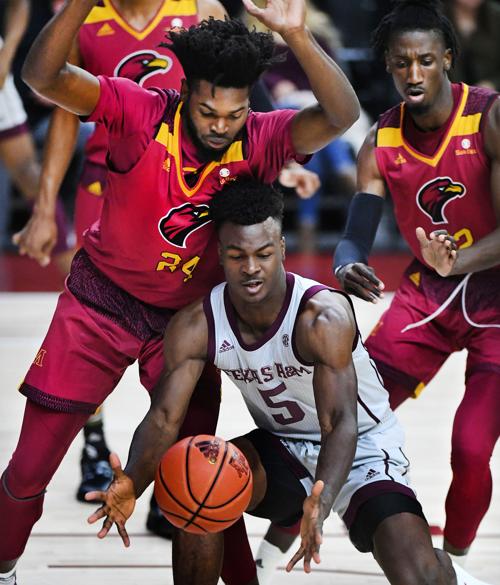 As winter made its grand introduction in College Station on Monday, with temperatures dropping from 75 degrees to 30 within six hours, the small crowd that ventured out into the elements to watch Texas A&M basketball take on Louisiana-Monroe left their voices on ice for the majority of the game.
It took the introduction of Texas A&M senior forward Josh Nebo to finally thaw the 12th Man, as well as the Aggie men's basketball team in a 63-57 win.
"I thought it was the loudest Reed has been since I've been here," A&M coach Buzz Williams said. 
After Nebo made his first entrance of the season with 17:50 left in the second half, the Aggies (2-0) mounted a 28-11 run, erasing a 10-point Warhawk (2-1) lead. He would play the remainder of the game, tallying seven points, four rebounds and three blocks. 
"It meant a lot, just seeing them have my back like that," Nebo said of the crowd. "It meant a lot for me to just go out there and play and to play well for them."
During his first sprint of A&M's preseason conditioning "boot camp," Nebo suffered a hamstring injury, forcing him to the sideline for 19 practices and A&M's season opening win over Northwestern State. Under Williams' rules, a player must complete boot camp to earn his practice uniform, which must be obtained to participate in practice. Nebo completed the boot camp individually, which included a setback in early October, and earned the right to participate in A&M's last five practices. 
Without a full understanding of A&M's offensive and defensive system, Williams relied on the most simplistic forms of their plays to allow Nebo the chance to play at full speed, without burden of processing more complicated sets, Williams said. 
"I feel pretty comfortable," Nebo said of the system. "As all players right now, it's kind of an adjustment but overall I feel comfortable. It's not gonna be perfect just every day we're getting better."
Nebo formally announced his presence with just fewer than 10 minutes remaining, grabbing a Savion Flagg pass with his elbows above the rim and slamming the alley-oop dunk home to tie the game at 45. A minute later, he blocked a JD Williams shot, which produced a transition pass and then a dunk for Aggie guard Jay Jay Chandler. 
"It's always great to have Nebo come back in, or have anybody come back in from injury and have their first game," Chandler said. "Nebo is a big force down low with blocking shots and catching lobs towards the rim. Having him on both ends doing what Nebo does is a big plus." 
Nebo finished with a plus-16 rating, highest of any Aggie who played Monday. 
Chandler paced the Aggies in scoring with 17, but most importantly, Williams said, the junior guard limited his turnovers to one. Chandler opened the season with five against Northwestern State. 
Along with Nebo's energy, freshman guard Andre Gordan found his touch from behind the arc to push the Aggies across the finish line. Gordon accounted for eight of the Aggies' final 10 points. 
A&M's offensive start resembled the weather outside Reed Arena, shooting 34 % from the field in the first half, which included a 7-of-14 clip on layups. The high pick-and-roll with Nebo in the second half helped produce a 52 % shooting percentage and opened up the outside, where the Aggies were 5-of-12 in the second 20 minutes.
"[Jay Jay] was initiating the eighth grade play that we were running," Williams said, "and we got a shot every time. And many of those possessions that we didn't get a shot led to the foul. And that was, that was beneficial."
With plenty of empty seats in Reed, the arena drew shockingly quiet as the Aggies shot free throws, which produced just a 12-of-21 performance from the stripe. 
"It was very quiet," Chandler agreed. "But like my parents and coaches always told me, just stay focused on the game, don't pay attention to the fans or whoever is in the crowd, and go out there and knock them down."
Williams and his teammates hope their junior big man continues to give the 12th Man something which is worth coming out and getting loud.
"We appreciate those that did that and that were here," Williams said. "I think everybody wants good players to be on the team and everybody wants to play with guys that help you win."