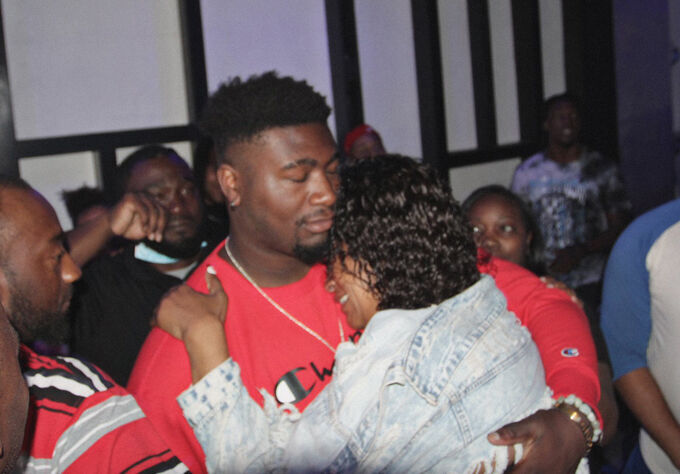 There was little doubt that Texas A&M defensive tackle Bobby Brown III would be selected in the 2021 NFL draft. But when his name was called early in the fourth round, it turned into a surprisingly emotional experience for Brown and his biggest fan, mother Erica Kelly. 
"It was everything I dreamed of," Brown said. "To see my momma cry over something like this, I could never explain that feeling."
Brown headlined the three Aggies picked Saturday as the 12th pick of the fourth round and 118th overall by the Los Angeles Rams. He was followed by a pair of A&M teammates taken by the Pittsburgh Steelers later in fourth round: offensive tackle Dan Moore Jr. (128th overall) and linebacker Buddy Johnson (140th).
Four total Aggies were selected in this year's draft, including quarterback Kellen Mond as the second pick of the third round (66th) by the Minnesota Vikings on Friday. 
Brown made the All-Southeastern Conference first team in 2020 after leading A&M in sacks with 5.5 and finishing seventh in the SEC at 0.61 sacks per game. Over his three seasons with the Aggies, Brown had 57 tackles, 10.5 tackles for loss and six sacks in 35 games, including 19 starts. He also made the All-SEC freshman team in 2018.
Brown said he talked with coaches from the Rams three or four times before the draft. Now he gets to learn from three-time NFL defensive player of the year Aaron Donald.
"That's one of my favorite players," Brown said. "I will definitely take any advice he gives me. Any of it. I don't care what it is. He can tell me how to write on a piece of paper, and I'm going to take it."
At 6-foot-4 and 325 pounds, Brown turned heads during A&M's Pro Day when he ran the 40-yard dash in 4.98 seconds. He expects the hard work of preparing for the draft to continue now that he has a professional home.
"Whatever I'm asked to do, I'm going to do," Brown said. "It's that simple. If they tell me to get coach some water and in every game I have to stand beside him with some water, I'm going to do that to the best of my ability. I'm just ready to do whatever the team needs."
Moore said he learned the Steelers might take him when he first signed with agent Joby Branion. As a fan of the game, the former Beaumont West Brook lineman knows the football history that surrounds his new home.
"It means everything, honestly, growing up and watching them win Super Bowls and playing in Super Bowls," Moore said. "Obviously, I know the history of the black and yellow. Being a football fan myself, the tradition runs deep up there with football. I know people are serious about the NFL team that they have and look forward to continuing that." 
Moore made the All-SEC second team after starting all 10 games last season. He played in 44 games overall for A&M and started 36 games the last three seasons.
"He's a very mature player," Steelers' offensive line coach Adrian Klemm said. "He spent a long time starting in the SEC competing at a high level. It's just very exciting to get someone who has some position flexibility in terms of playing on the right and left."
The 6-2, 240-pound Johnson led the Aggies in tackles (86), tackles for loss (8.5) and forced fumbles (two) during his senior season last season. He started all 10 games, served as a team captain in six games and was named a Butkus Award finalist. 
"He's a good player," Steelers' inside linebackers coach Jerry Olsavsky said. "He's a good inside linebacker. I think it's appropriate that the first defensive player we got in the 2021 draft was an inside linebacker."
In four years with the Aggies, Johnson recorded 210 tackles, 24.5 tackles for loss, 6.5 sacks, three forced fumbles, two fumble recoveries and an interception. He forced a late fumble that set the stage for the game-winning drive in the Aggies' 41-38 win over No. 4 Florida last season. 
Johnson said he hopes he can work his way up to playing alongside middle linebacker Devin Bush soon. Doing it with a friendly face in Moore in the locker room makes it even more special.
"Dan Moore, that's my dude," he said. "We're close friends. We hang out a lot. I tried to stay in contact with everyone when COVID was going on, and Dan was one of the guys that was a leader on the team to help us keep this team together. Extremely blessed that the Steelers got two of our great leaders."
Five Aggies who weren't drafted signed as free agents within minutes of the final pick. 
Center Ryan McCollum signed with his hometown team the Houston Texans alongside linemate Carson Green. McCollum will make a guaranteed $100,000 with a $25,000 signing bonus, he confirmed. 
"Absolutely amazing," McCollum said. "I can't wait to come back home and play for the team I've watched my whole life." 
A&M guard Jared Hocker confirmed that he signed with the Seattle Seahawks. 
Two of the Aggies who opted not to play in 2020 also signed Saturday as wide receiver Jhamon Ausbon joined the Philadelphia Eagles and linebacker Anthony Hines III signed with the Dallas Cowboys. Ausbon's agent Erik Burkhardt confirmed his signing with the Eagles. Hines, a Plano native, announced his signing on Twitter.
•
NOTES — Six Aggie defensive linemen have been taken in the draft since 2017, including No. 1 overall pick Myles Garrett to the Cleveland Browns in 2017. Last year, Justin Madubuike was the first Aggie selected in the 2020 draft when the Baltimore Ravens took him in the third round. ... Moore is the eighth Aggie offensive lineman drafted since 2013. ... Moore said he already was familiar with the Steelers' third-round pick, Illinois center Kendrick Green, from workouts together during the offseason. ... Johnson wore No. 1 at A&M and could continue playing in that number in the NFL, which is changing its jersey number rules this season. Johnson, however, said he's not concerned about his number at Pittsburgh. "Shoot, for me it was all about getting a number first," Johnson said. "It didn't matter what number it was. We'll see when we get there. For me, it ain't even about the number. It's about getting on the field, making plays and helping the team." ... The SEC set the record for most players taken from one conference in a single draft with 65, breaking the old mark by one.