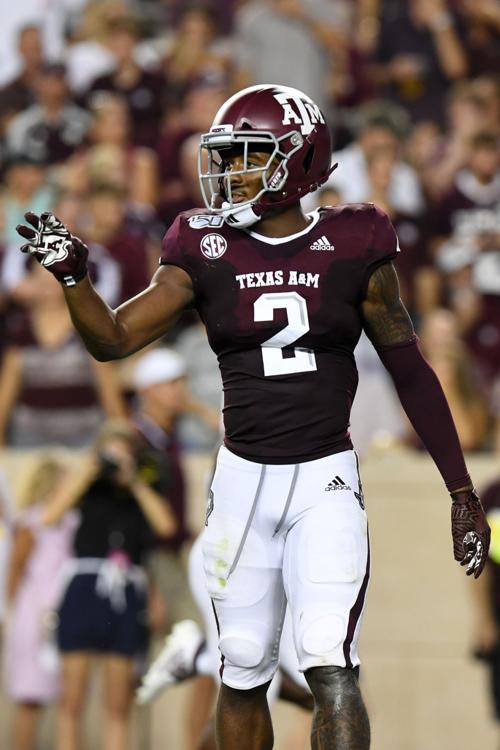 The Texas A&M football team and quarterback Kellen Mond suffered a huge setback Sunday with senior wide receiver Jhamon Ausbon opting out of the season to prepare for the NFL Draft.
Ausbon was the team's most experienced player with 35 career starts, one more than Mond. Ausbon has 147 career receptions for 1,818 yards with eight touchdowns. He also has been Mond's sounding board, having been his teammate for four years, starting at IMG Academy in Bradenton, Florida, when they were high school seniors.
"This was not an easy decision at all," Ausbon tweeted. "Sounds cliché, but, when I decided to come back for my fourth year I would've never imagined not playing this season with the guys I love and call brothers. These are bonds I will hold for a lifetime and I mean that wholeheartedly."
September 13, 2020
This was a surprise considering how upbeat Ausbon was early in fall camp. Ausbon during a Zoom conference on Aug. 20 said he and the players he'd come in with as freshmen in 2017 had been coming together in the last month and half and "it's been fun to have a bunch of guys on the same mindset," he said.
Ausbon said he was looking forward to the season and leading the team.
"If you're a leader on this team and you want guys to buy into what you do and what this team is trying to do I think you yourself have to be very sure in what you want to do and believe in it," Ausbon said.
Ausbon's status became a hot topic Thursday after A&M head coach Jimbo Fisher said during a Zoom conference Ausbon was still with the team, but other than that was vague.
"We've had guys miss practices for different reasons and different things, but Aus is still with our team," Fisher said.
Fisher added that players sometimes take time to reflect on different things, "but Aus is still on our team and on our roster."
Ausbon changed that Sunday.
"I've made a decision to use my last year to opt out of the 2020-21 season and prepare for my future in the NFL," Ausbon tweeted. "Finishing this fall semester, I will complete/receive my Bachelor's Degree from Texas A&M University, for that I am very grateful. I am blessed and thankful for everyone that has helped me get to this point and I will represent Texas A&M forever."
Ausbon, who was a team captain last year and won the unit's offensive leadership award, leaves a huge void at wide receiver.
He had a team-best 66 receptions last season for 872 yards with five touchdowns. The only wide receivers remaining on the roster who had receptions last season are senior Camron Buckley (11 receptions-121 yards), sophomore Jalen Preston (3-36), freshman Kam Brown (2-19) and sophomore Caleb Chapman (1-6). Buckley suffered a season-ending injury.
Ausbon is the fourth A&M receiver who opted not to return after the 2019 season. Quartney Davis (54 receptions-616 yards, 4 TDs) and Kendrick Rogers (30-351, 2 TDs) decided to declare for the NFL Draft and sophomore Roshauud Paul transferred to Arkansas State. A&M could move sophomore running back Ainias Smith back to wide receiver. He caught 29 receptions for 203 yards last season but was moved into the backfield after rushing for 54 yards on seven carries in the 24-21 Texas Bowl victory over Oklahoma State.
The Aggies will have to replace 96.8% of its receptions by wide receivers and 97.3% of their yardage if they keep Smith at running back. A&M will have to use underclassmen from its back-to-back sixth-ranked recruiting classes — true freshmen Demond Demas, Moose Muhammad III and Devin Price from 2020 and redshirt freshmen Brown, Kenyon Jackson, Chase Lane and Dylan Wright from last year. Ausbon raved about the group last month.
"These guys have been so much fun," Ausbon said. "It's probably the most fun I've had since I've been here, and I don't know if it's because I'm a senior, but I've had a bunch of fun with these guys."
It was the second setback for A&M's offense in the last two weeks.
At tight end, which had been expected to be one the team's deepest positions, A&M lost redshirt freshman Baylor Cupp and true freshman Blake Smith to season-ending injuries, leaving that unit with sophomore returning starter Jalen Wydermyer, senior walk-on Ryan Renick and sophomore Max Wright, who had been at defensive end. Wydermyer had 32 receptions for 447 yards with six touchdowns last year, but Renick had only three for 31 yards.
Ausbon is the fourth A&M player to opt out of the 2020 season, joining senior cornerback Elijah Blades, sophomore quarterback James Foster and junior safety Derrick Tucker. Blades and Foster did not give a reason for opting out, but Tucker cited supporting the Black Lives Matter movement. Several players around the country have opted out due to COVID-19.
•
NOTES — Texas A&M is ranked 10th by both the Associated Press and Coaches. A&M trails Texas by 50 points in the AP poll and is 55 points behind Auburn in the Coaches Poll. A&M moved up three spots from the preseason polls, which included the teams that opted not to play this fall.
Be the first to know
Get local news delivered to your inbox!