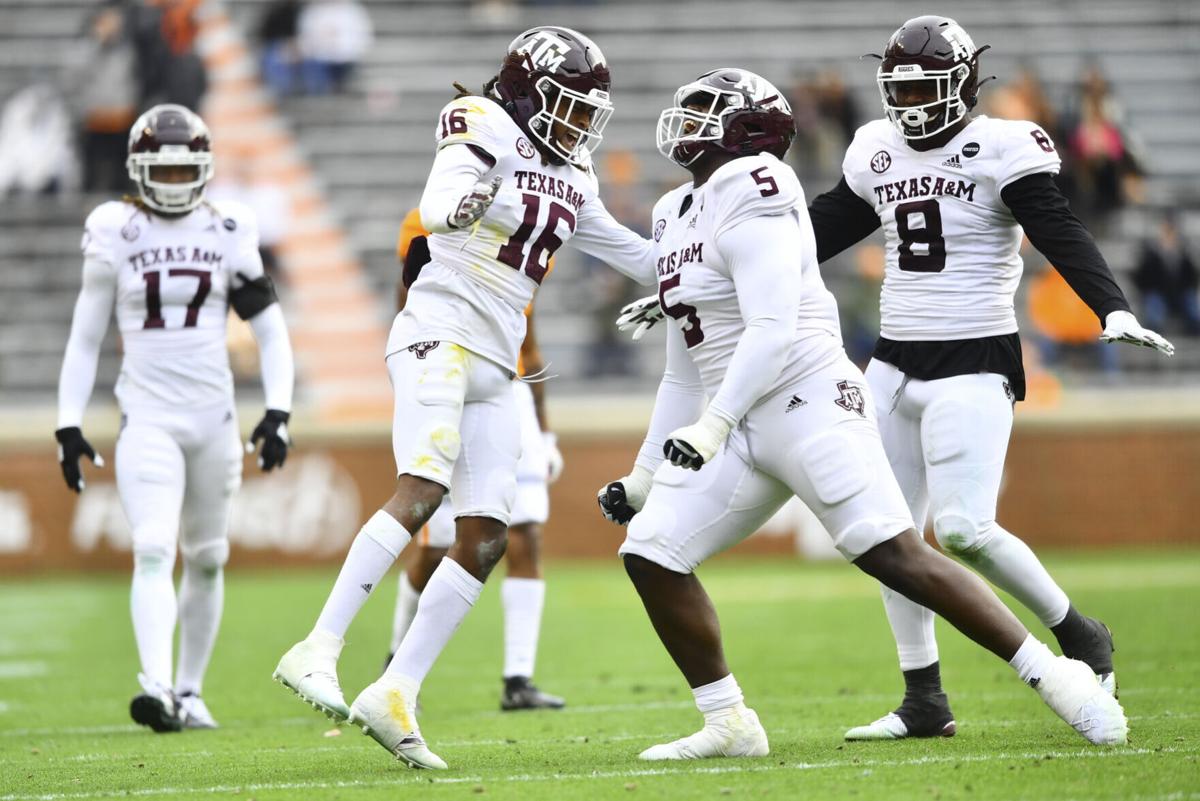 Texas A&M defensive lineman DeMarvin Leal is not motivated because he didn't win any postseason honors. His focus is on playing for a defense that turns heads.
"Beyond the sky," is the ceiling Leal puts on the potential for A&M's defense in 2021. The unit returns nine starters after allowing only 317.3 yards per game to rank ninth in the country.
Leal was a big reason A&M improved 20 spots in the national rankings last season. He had 37 tackles to lead the team's linemen. He had seven tackles for loss and eight quarterback pressures, twice as many as anyone else on the team.
The 6-foot-4, 290-pounder is a tough matchup because he can play tackle or end.
"I feel very comfortable at playing both positions," Leal said Tuesday on a Zoom conference. "We have our packages, and certain packages require me to be in the inside. We've been working on every single thing honestly, so it's been good, and I've loved it, since I first started playing in and out."
Teams started to pay extra attention to Leal last season, a trend he's hopeful continues.
"Of course, I would love it," he said. "Being that person that [opponents say], 'Oh, watch out for him. You gotta make sure you're on. You're working every single play' ... because I promise you, I'm going to bring it every single play."
Leal had a career-high seven tackles in three different games last season, including the 41-27 victory over North Carolina in the Orange Bowl.
"The guy's talented," A&M head coach Jimbo Fisher said late last season. "Inside, outside, pass-rush, play the run ... he is a talented, talented young football player, and he's only getting better and better."
Leal's breakthrough season wasn't enough to earn him All-Southeastern Conference honors by the coaches or the media, which didn't bother him.
"I've always been kind of [that] counted-out person," Leal said. "I always had some kind of question mark on myself, so I really don't pay attention to all that. I really don't. I just keep doing me, and I know what I can do. I know who I am, and I'm very confident in myself. I just stick to that honestly."
•
NOTES — A&M ended the 2020 season with an eight-game winning streak to finish 9-1 overall and ranked fourth in the final Top 25. The loss was to eventual national champion Alabama, which will visit Kyle Field on Oct. 9 — 185 days away. "All I can say is I can't wait for that game," said Leal when asked if A&M's program had caught Alabama or had work to do. "We're going to see this season," A&M senior defensive tackle Jayden Peevy said. "I feel like this program is making steps toward being a big-time program. We're going to see this season if we can beat Alabama." Alabama has beaten A&M eight straight times, including 52-24 last year. ... A&M had its fourth spring practice Monday, which was in pads. A&M's next practice is Wednesday. Spring drills will conclude with the Maroon & White Game on April 24. ... Peevy said "a lot of guys" have signed up for COVID-19 vaccine shots, and he's hopeful the team won't have any issues with the virus this fall. ... Former Florida State defensive back Antonio Cromartie, who played for Fisher, has joined the Aggie coaching staff as a graduate assistant. Cromartie was a first-round pick of the San Diego Chargers in 2006 and made four Pro Bowls, playing until the 2016 season. ... A&M recently lost defensive analyst Ishmael Aristide, who was hired as an outside linebackers coach at Miami. The Miami native, who was at A&M two years, had been at Ole Miss two seasons as a player personnel analyst in 2017 and then senior player personnel analyst in 2018.