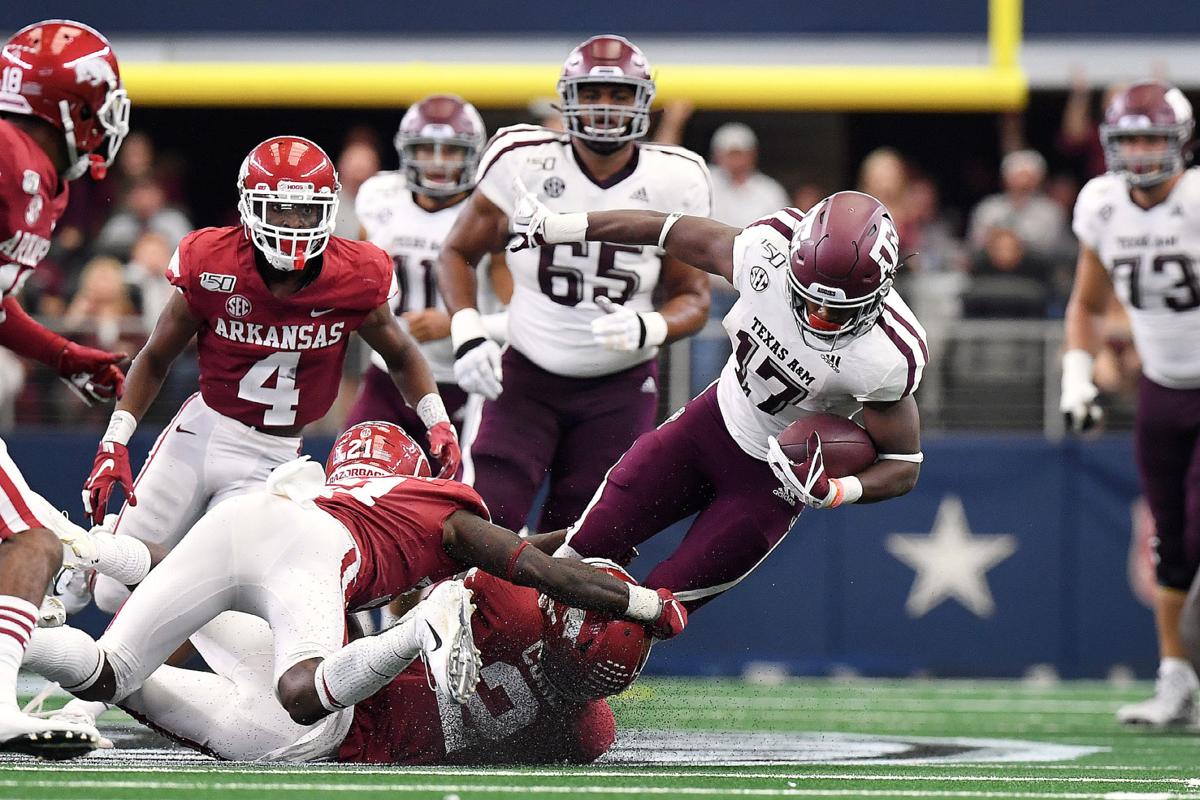 As Texas A&M running back Ainias Smith stood at the podium for his first press conference in Aggieland, he couldn't help but wrap his arm around a water bottle while explaining his summer training, pulling it in high and tight. He caught himself with a laugh, realizing that football just seems to come second nature to him.
With a father and brother who both played professionally, football is genetically infused into the Smith family and has become an integral part of the family business.
"When we're out there working out, it's about everybody getting as big, fast and as strong as they could," Maurice Smith Sr. said. "We enjoy it when we're out together."
Over the summer when A&M's football players began to trickle back to College Station for voluntary workouts, Ainias elected to stay home in Houston to train.
"I felt safe at home," Ainias said. "I was working out with my Pops, and we literally had workouts right outside in the front yard. We had ladders, box jumps and all types of stuff right there in the street. I felt comfortable working out with my Pops. I always work out with my Pops."
His father, a personal trainer, formulated daily workouts for the Aggie sophomore to do in the front driveway of their Sugar Land home. Working out alongside Ainias was his brother, Maurice Smith Jr., who is currently an NFL free agent after two seasons with the Miami Dolphins and the Washington football team. The cornerback was signed by the Cincinnati Bengals in June but waived in early September.
"Actually, they don't compete with each other. What they do is they complete each other," Maurice Smith Sr. said. "Maurice [Jr.] always wants the best for him, and Ainias always wants the best for Maurice, so they push each other. It's a good, friendly type of thing, because they love to work out together."
The eldest Smith played for Texas A&I — now Texas A&M-Kingsville — followed by a stint in the Canadian Football League with the British Columbia Lions. He finished his career playing in arena football in Arizona, Albany, New York and Houston.
"He's in crazy shape," Ainias said of his father. "He probably weighs about 185 at like 53 right now. He's bench-pressing 315 easy. He's in crazy shape, and my Pops has been getting me right all the time."
Since 1999, Maurice Smith Sr. and his wife, Samyra, have owned and operated the Heavenbound Christian League, which provides resources for young athletes to develop physically in their given sport as well as academically and spiritually. Ainias and his brother grew up in HCL's workout rooms among other older athletes.
"They had no choice," Maurice Smith Sr. said with a laugh.
Ainias showed an aptitude for football, baseball and band at a young age. It wasn't until he neared high school that the now 5-foot-10, 190-pound athlete honed in on football, his father said.
Now Smith is entering his second season in Aggieland with a fairly new assignment, having made a permanent move from wide receiver to running back. He was first called into backfield duty for the 2019 Texas Bowl to aid in a depleted running back corps. He rushed for 54 yards on seven carries and caught two passes for 13 yards in the Aggies' 24-21 victory over Oklahoma State.
Smith said playing running back for A&M was always in the cards based on his earliest conversations with head coach Jimbo Fisher. The 247Sports.com three-star recruit from Fort Bend Dulles played both wide receiver and running back in high school.
"I knew it was a possibility that I was actually going to get moved, that I was going to get to play a little bit of running back," Smith said. "That was really the original plan for me coming to A&M."
His father said more so than an actual position, Fisher's plan for his son was to create mismatches for the offense. Ainias said his favorite position is wide receiver, but his new role has grown on him.
"I think he was kind of torn," Maurice Smith Sr. said of the position move. "I think we all were. But once he grabbed it, it was like, 'Boom,' he's going to go and he loves [running backs coach Tommie Robinson]."
So those summer workouts in the Houston heat were built to build up A&M's newest back for the beating his body would take this season.
"When you move to running back, you have got to get him stronger and bigger," Maurice Smith Sr. said. "We were doing a lot of weights and then a lot of speed work. By the time we ended up doing a test again, he actually ran a 4.41 [40-yard dash] and in the shuttle he ran a 3.9."
Ainias will fill the backfield with fellow sophomore Isaiah Spiller, who rushed for 946 yards in his first season in Aggieland. Never short on swagger — as his mother agreed — Smith said the pair could make quite the tandem in 2020.
"I believe we're going to be the best duo that's in college football. Period," he said.
His father, who has spent the summer and his life training him for this moment, would have to agree.
"One thing about the kid is he is going to excel in anything he has done," Maurice Smith Sr. said. "If he puts his mind to it and he puts his hand on it, he's going to do well."
Be the first to know
Get local news delivered to your inbox!