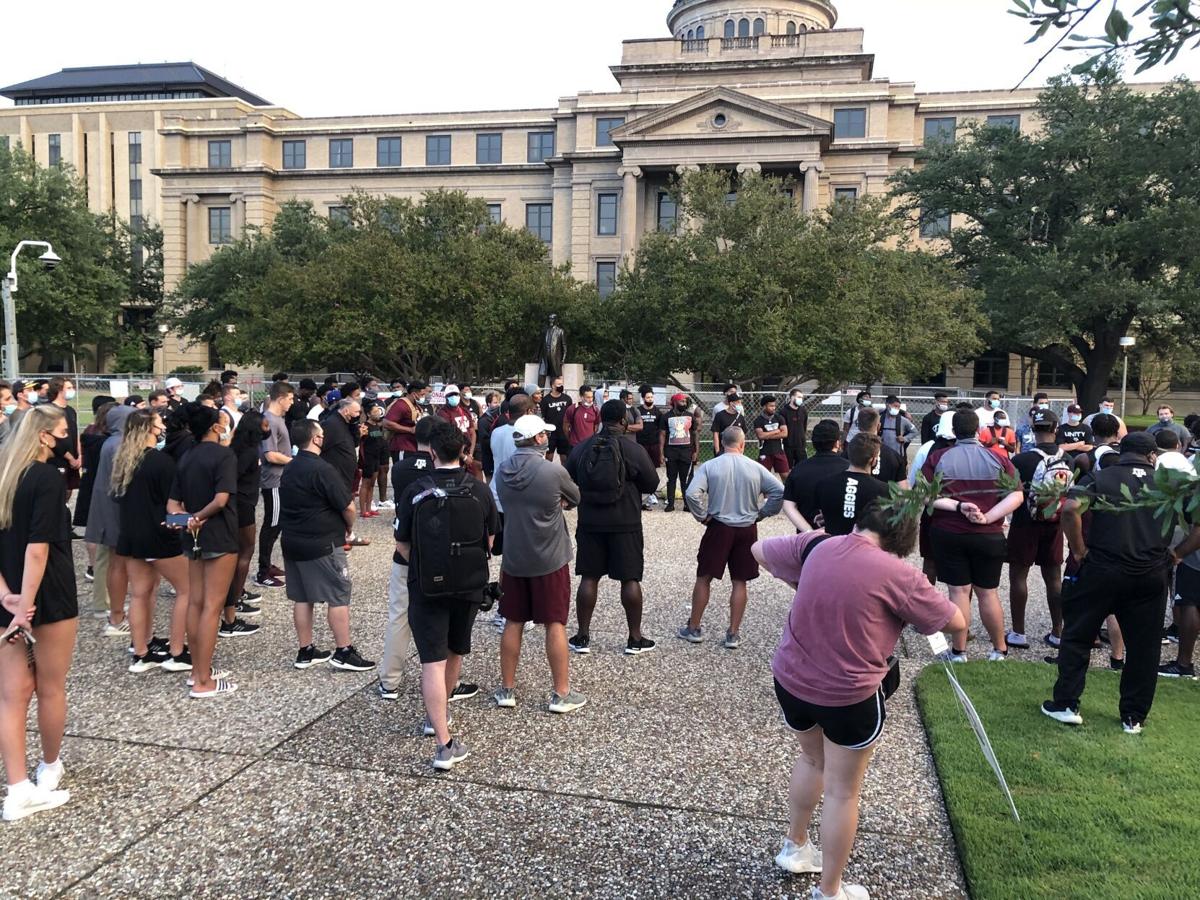 The Texas A&M football team canceled practice Friday, so players could participate in a multi-team march through campus as a demonstration against racial injustices that have occurred in the United States.
The march began at approximately 7:30 p.m. when warmups were scheduled to take place for the football team's seventh practice of fall camp. The practice was canceled after a Friday afternoon team meeting, which was a discussion on racial injustices. The break in practice was a chance to pause and reflect, according to a statement from the athletics department.
Student-athletes from A&M's volleyball, basketball, soccer and track and field teams, among others, joined the football players. They walked quietly from the Bright Football Complex to the Lawrence Sullivan Ross statue a few blocks away.
Once there, the group of about 100 masked athletes, coaches and athletics department administrators formed a circle with discussions led by senior wide receiver Jhamon Ausbon, senior quarterback Kellen Mond, linebacker senior Keith Magee and head football coach Jimbo Fisher.
The demonstration followed suit with other programs around the country, including Baylor, Oklahoma, Duke, Ole Miss and Mississippi State. The NBA sparked the latest wave of athlete activism by postponing games Wednesday in protest of the shooting of Jacob Blake by a police officer in Kenosha, Wisconsin. The WNBA, NHL and MLS also postponed games, and several MLB teams postponed games, including the Astros and Athletics on Friday night in Houston.
During the meeting in front of the fenced-off Ross statue, Ausbon said Friday's march was more than a demonstration but a safe space to talk. Several other athletes took to the center of the circle to speak during the approximately 20-minute gathering.
"We're all observing things and we all want equality for everybody," Fisher said Thursday during a Zoom press conference. "That's what this world is, when this world is, when everybody is looked at equally and treated equally and treated fairly. That's what we all want for ourselves, our players, for our children, for everybody in this world. That's the thing this fight is for, and they've got to continue that fight, and we've got to continue that fight."
Mond, Ausbon and other A&M athletes had previously participated in protests next to the Ross statue, which has become a point of contention between persons of color on A&M's campus and Aggie traditionalists. Ross was a Confederate general and a governor of Texas who is lauded for saving a financially unstable A&M university in the late 1800s. To those protesting for the removal of the statue, Ross represents slavery and the killing of Native Americans while he served as a Texas Ranger.
Mond also serves on A&M President Michael K. Young's committee on diversity, equity and inclusion, which will spend the fall studying the school's awareness and activity concerning those three qualities.
"I'm a Black man," Mond said during a protest earlier this summer. "I'm a human before I'm a football player. I want to express myself and help this university be the best university and the most inclusive university."
Shortly after Friday's march, the Texas A&M women's basketball team posted a statement on racial injustices on Twitter with the caption, "This is us, and we're uninterested in being quiet."
The statement references several historical instances of violence against Black individuals and asks for leaders to instill change.
"As a team, we feel it necessary to break our silence in light of both recent and past fatal interactions between people of color and people in power," the statement read. "We as a team agree that enough is enough. We should not have to prove our humanity. We should not have to convince the same people who love the culture we create, the sport we play, or the patriotism we display that we are hurting."