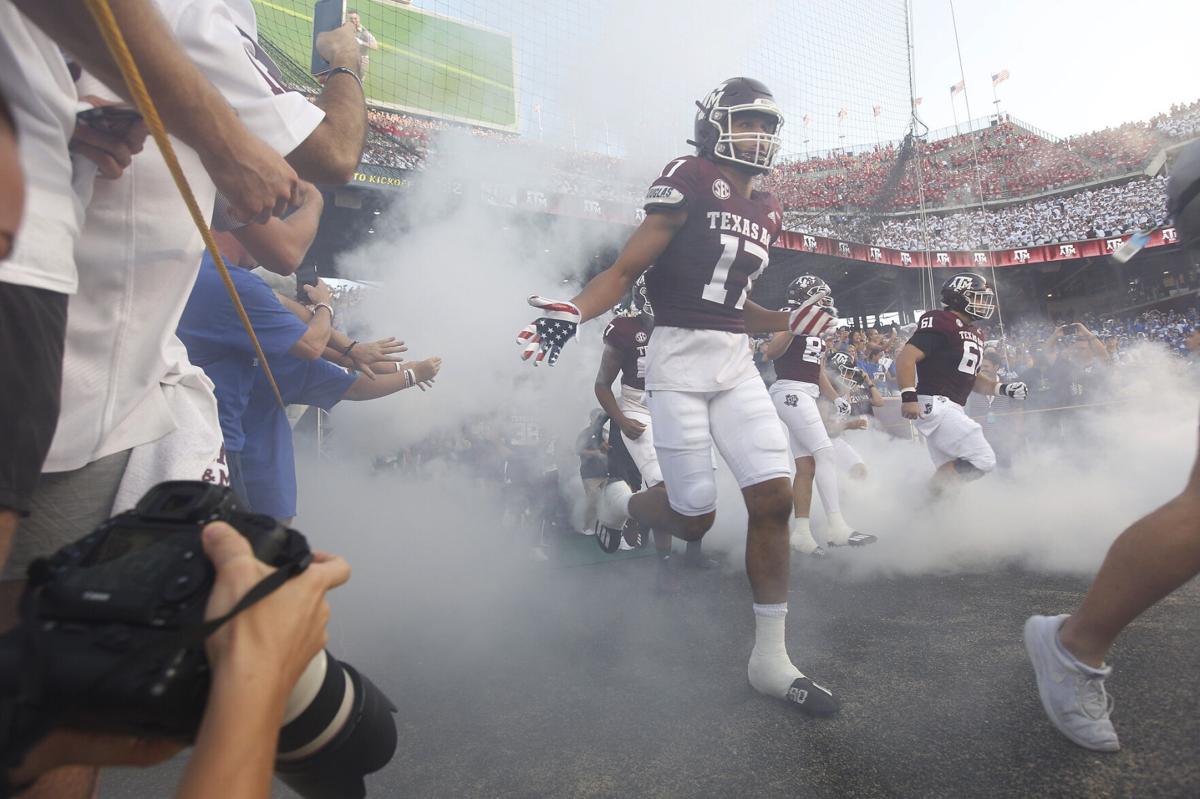 Here's how Texas A&M stacks up against Colorado:
When the Aggies run
Texas A&M's running backs rushed for 271 yards last week on 35 carries for a 7.7 average, losing only 3 yards. The revamped offensive line with four newcomers allowed only two sacks and drew two holding calls. Colorado gets defensive tackle Mustafa Johnson back this week to join 325-pound nose tackle Jalen Sami and 285-pound end Terrance Long for a formable front. Still, Colorado's veteran linebackers Nate Landrum and Nate Landman need to have a big game to slow A&M's ground game. EDGE: TEXAS A&M
When the Aggies pass
A&M should be able to build on last week's gunslinger approach by redshirt freshman Haynes King. A&M had four receivers with at least a trio of catches led by Ainias Smith with eight for 100 yards and two touchdowns. What was disturbing was four interceptions — one by backup Zach Calzada — but Colorado isn't good at forcing turnovers. EDGE: TEXAS A&M
When the Buffaloes run
Colorado's Brendon Lewis is a mobile quarterback working behind a veteran offensive line with above average running backs. Lewis' scrambling ability is a concern for A&M after Kent State QB Dustin Crum rushed for 60 yards. Last week A&M missed linebacker Buddy Johnson, who led the team in tackles the last two years. EDGE: EVEN
When the Buffaloes pass
Colorado didn't need to do much in the passing game to beat FCS Northern Colorado 35-7. The Buffaloes will have to take more chances against an experienced Aggie secondary that had two interceptions last week. Senior defensive end Micheal Clemons also returns to give the unit a boost. EDGE: TEXAS A&M
Special teams
A&M punter Nik Constantinou probably felt lonely on the sideline last week as the Aggies didn't punt, but place-kicker Seth Small hit two field goals. Colorado's Brenden Rice, son of Jerry Rice, had a 44-yard kickoff return last week. The Buffs netted only 33 yards a punt last week — good thing they weren't playing at sea level. EDGE: TEXAS A&M
Intangibles
A&M head coach Jimbo Fisher isn't concerned about the altitude, but the Aggies historically haven't played well in Colorado. Saturday also will mark the first road start for King, and the Buffs will be ready to come after him. If the Buffaloes cover the 17-point spread, it'll be improvement for them, but you can bet they want more. The chance to take down a Southeastern Conference opponent? That's a big opportunity for just about everybody in the country. EDGE: COLORADO
TEXAS A&M MUST
• Finish drives: The Aggies left too many points on the scoreboard last week.
• Clean up mistakes: A&M threw four interceptions and a muffed punt last week.
• Shore up run defense: Kent State stayed in the game for a half with its running attack.
COLORADO MUST
• Start fast: Kent State scored on its first possession, which kept the Golden Flashes in the game for 35 minutes.
• Protect the football: A&M finally has the quick-strike ability to convert every turnover into a quick seven points.