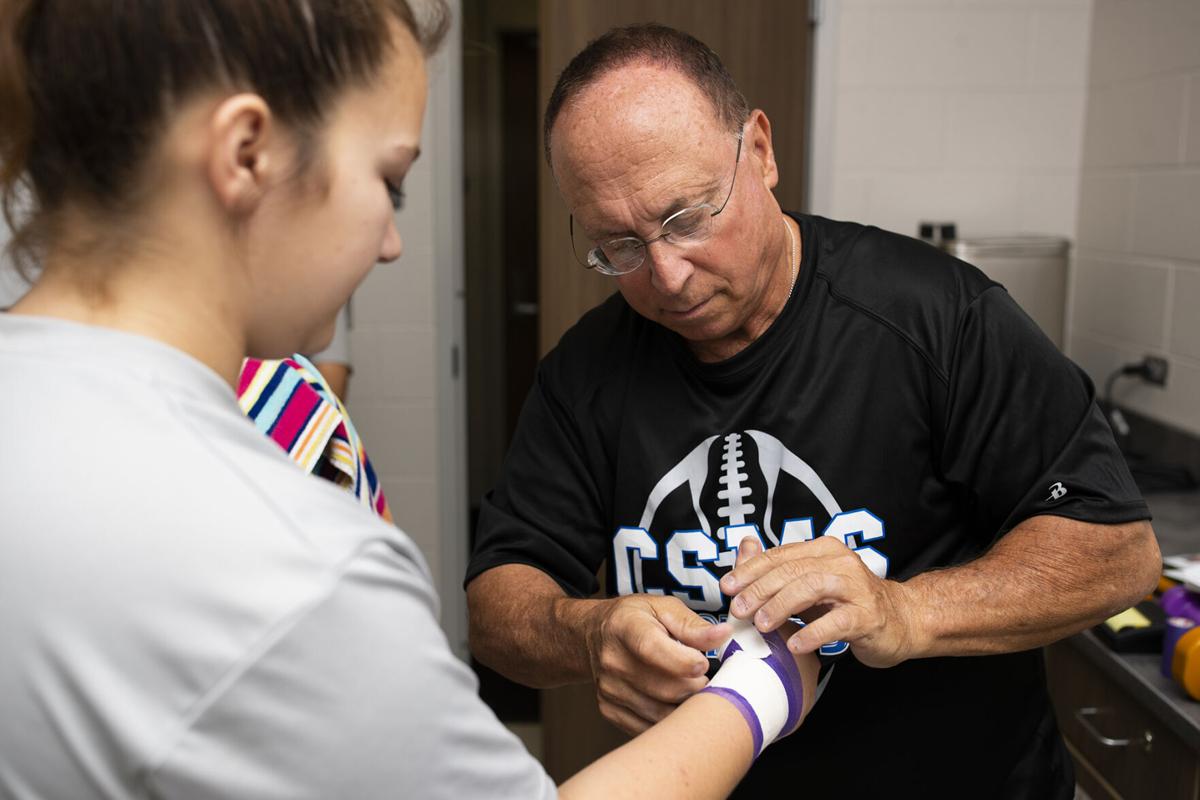 Mike "Radar" Ricke earned his nickname because he was a dead ringer for Radar O'Reilly in the M*A*S*H* television series, but little did his eighth-grade classmate in La Marque know Ricke's life would mirror the loveable, caring, thoughtful fictional character.
Ricke recently retired from Texas A&M after serving as an athletics trainer for four decades, helping injured athletes get back into competition by providing physical and mental support, always going above and beyond expectations, said those whom he worked with.
Longtime A&M associate athletics director Alan Cannon said Ricke "epitomizes the core values of Texas A&M."
Integrity, loyalty, respect and selfless service were his calling cards along with being an excellent athletics trainer, Cannon said.
"Rooming with him on the road with baseball and basketball travel and as roommates at Cain Hall for a couple of years, I have a greater appreciation for the job athletic trainers undertake," Cannon said. "Calls coming from athletes at all hours of the night and day when they were sick. He was always on call."
Working as a trainer since the early 1980s, the 61-year-old Ricke decided it was time to retire from A&M in May. He wanted to spend more time with wife Dee Dee and children Allison, Amanda, JT and Bridget.
But he didn't want to walk completely away from training. He planned to possibly do some work with the Physicians Center then landed a 10-month contract as the trainer at College Station Middle School with help from good friend Karl Kapchinski, also a former A&M trainer. CSMS' athletics coordinator Charlie Burton went to school with Ricke at A&M, and the girls coordinator is former A&M women's basketball player Adrienne Pratcher.
"It was a real good fit for me," Ricke said.
So was his gig at A&M.
Ricke's four-decade career allowed him to work with just about every one of the school's major sports. He spent the longest time with both basketball programs. He worked with men's coach Shelby Metcalf for 16 years along with Kermit Davis Jr., John Thornton, Tony Barone and Melvin Watkins. Ricke spent the last 18 years with women's coach Gary Blair. He also worked with the football program for almost two decades, spanning head coaches Tom Wilson, Jackie Sherrill and R.C. Slocum. And he worked for baseball coaches Tom Chandler and Mark Johnson.
"Those are all coaches who treated my really well," Ricke said. "Mark Johnson was a classy guy. Tom Chandler was so old school."
Metcalf kept Ricke laughing and on his toes.
"You never knew what Shelby might say," Ricke said. "He would tell his players at a banquet that the wine bottles on the table were taller than them."
Cannon said Ricke and Blair were a perfect match.
"Radar is really passionate about what he does," Blair said. "Being a father of three daughters, Radar brings that extra care and compassion to our program. He treats our players like his very own and truly cares about their health and well-being at all times."
Ricke was hired full time by Sherrill on recommendations from longtime A&M administrator Wally Groff, Metcalf and longtime athletics trainer Billy Pickard.
"They all helped me a bunch back in the day," Ricke said.
Ricke got a chance to be a part of many programs that turned the corner, starting with the baseball team winning conference championships, making regional tournaments with regularity and returning to the College World Series.
"In football, Jackie got us over the hump in 1985, taking us to that first Cotton Bowl. And Shelby even took the day off on New Year's Day, so I could drive up there and work the game."
The 1986-87 men's basketball team that won the Southwest Conference tournament as the eighth seed remains special for Ricke.
"He had some really good teams," Ricke said. "[Metcalf] could really motivate old-schoolwise. Tony and Melvin also had some great players. We just couldn't win enough."
Ricke watched the women's basketball team rise from the Big 12 Conference's worst into a national champion.
"We get to the Elite Eight with Aqua [Franklin], Danielle Gant and those kids and lose to Candace Parker [and Tennessee], and then you get to the Final Four and win a national championship," Ricke said. "People don't realize it's so hard to get there, then it's hard to win it."
Ricke estimates he has more than 20 championship rings, which includes time spent with the golf and tennis teams.
"[Coach] Tim Cass treated me very well in tennis. That's when the [Mitchell Tennis Center] first opened," Ricke said.
Ricke was more just a trainer.
"No. 1, he's a lot of fun to be around," Johnson said. "He's enjoyable, and he's very reliable. He's very responsible. I enjoyed having him out there, and the players enjoyed having him out there.
"We enjoyed a lot of good times together. He's been a loyal person to this community and to the university and to the athletic department."
Ricke discovered early in life he wouldn't be able to play competitive sports in high school.
"I was really a bad athlete, no natural ability," Ricke said. "I played seventh grade football and was just getting beat up and bruised."
His parents made him finish the season but told him to find something else, so he became a student manager the next season. Ricke got a huge break at the end of his freshman season when La Marque hired a full-time trainer. Ricke worked for a year each under Marshall Priest, Jim Kotch and Tommy Patrey, who all become collegiate trainers at Houston, A&M and TCU, respectively.
"You learn three different ways to do things," Ricke said.
Kotch invited Ricke to join him on the sideline at Kyle Field for the 1976 season opener against Virginia Tech.
"That's it," Ricke said. "That's where I was going to go to school. I owe a lot to Jim Kotch for helping me get here. I really do."
Ricke worked with the baseball team while still a student, spending two years under Chandler before graduating in 1982, then later working for Johnson. He also worked track and field for Charlie Thomas and Ted Nelson.
"I think about the coaches he worked with and the people who influenced him beginning with Jim Kotch and Billy Pickard," Cannon said. "Anyone who knew Mr. Pickard knew he would not put up with people who did not work hard and were not loyal. He worked with Karl Kapchinski for so many years and tutored many student assistants who have gone on to excel in their profession like David Weir."
Ricke said he was blessed to work with great players and coaches, but the administration and alumni have allowed A&M to expand from two to more than 20 trainers, including student trainers.
"You talk about from Marvin Tate to Ross [Bjork] and everybody in between, they've all given us everything we needed," Ricke said. "Not everything we wanted, but everything we needed to stay on the cutting edge."
Ricke said the advancement in sports training also has made the job easier and more satisfying, especially in the last five years.
Ricke said it was a blessing to work in A&M's state-of-the-art facilities for more than two decades after starting in G. Rollie White Coliseum, where his workroom was a closest with a taping table and a phone on the wall.
"Everybody doesn't get to the opportunity I did to work where he went to school," Ricke said. "And that's a big deal. People doesn't realize how special this place is. When you go work somewhere else, it's different, but when you work where you went to school, it means a lot more ... the emotional ties. Those things are huge. I always thought I was very fortunate to get to work with the coaches and the players, getting to see them every day."
Ricke's glasses are as much his trademark as they were to M*A*S*H's Radar. Cannon said the Aggieland version of Radar has questionable eyesight at best if he's not wearing his glasses.
"On one occasion in Cain Hall, we were rooming in the far room on the first floor of a wing," Cannon said. "Right outside of our door were the outer doors to the back parking lot. One morning I hear him get up. I glance at the clock and it reads 3 a.m. I hear Radar get up, shower, get dressed and walk out of the door and I hear the outer doors. Just a few minutes later our dorm room door opens, and I hear him say dad gummit. He misread the clock. He thought it was 8 a.m."