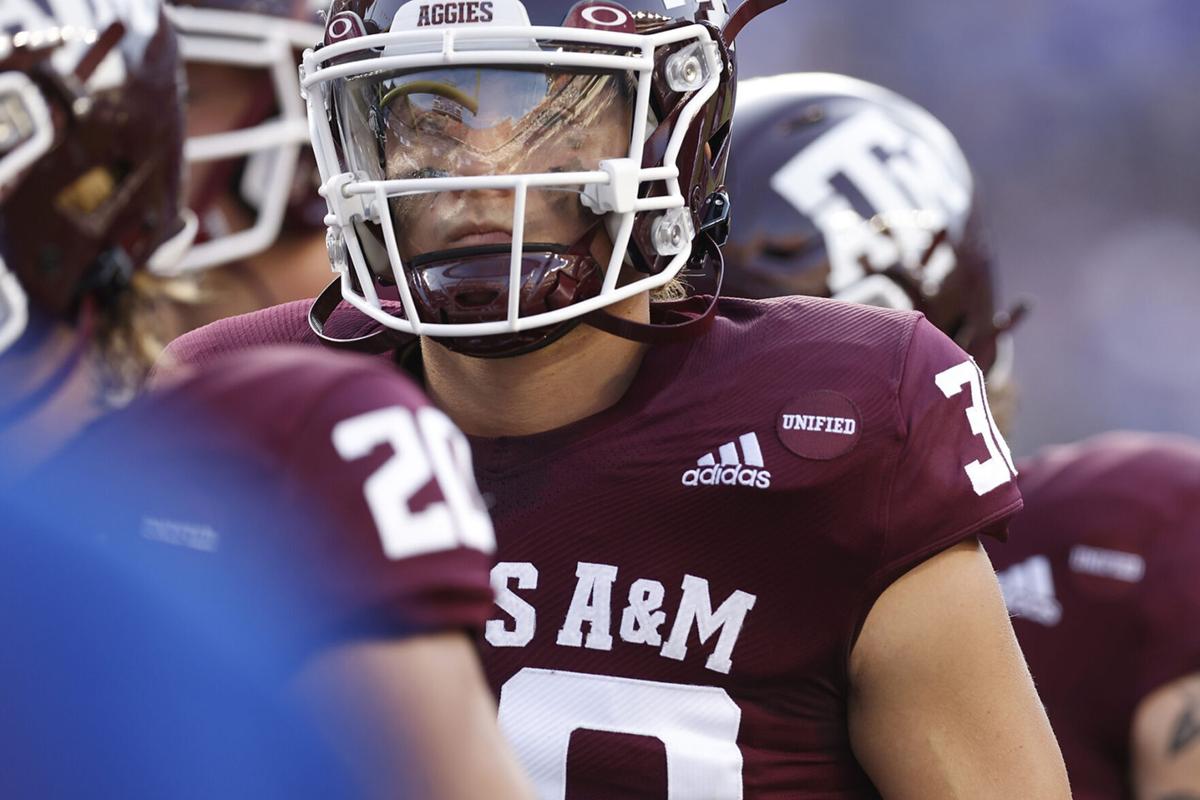 Nothing quite moves the needle on Texas A&M athletics director Ross Bjork's Twitter account like uniform and merchandise talk.
Fans want to see their team sharply suited out and in turn want to purchase matching on-field and sideline gear of their own. Coaches want top-of-the-line and trendy equipment to lure high-caliber recruits to their programs. Administrators like Bjork want to keep their athletes safe and happy, while also pulling in the financial perks of lucrative contracts.
Since 2007, Adidas has checked all of these boxes and will continue to do so for the Aggies, Bjork said.
A&M has informed Adidas of its intent to extend the endorsement and sponsorship agreement, which will run out on June 30, 2022, Bjork told The Eagle. The terms of the new contract are still in negotiation.
"The clock was ticking this summer to say, OK, we tested the market. Is there any viability there?," said Bjork, who is in his third year at A&M. "Obviously, we love our relationship with Adidas, and we both decided, hey, let's extend it. Let's add terms. Let's add value. All those things are still kind of being worked out."
Bjork said there are many facets to what he looks for in an equipment provider, beginning with cash value.
Over 15 years, Adidas has paid A&M approximately $22.4 million in base compensation for the Aggies exclusive endorsement of their equipment, spanning over two contracts. Base compensation began at $805,000 for the 2007-08 season and has grown to a $2.05 million for this academic year.
By comparison, Ole Miss, which publishes its annual operating budget on its athletics website, pulled in $3.85 million last year for its apparel deal with Nike. That sum made up 3.42% of its department budget. Bjork left the same position at Ole Miss for A&M in the summer of 2019.
Over the course of the partnership, Adidas has supplied A&M athletics with approximately $25.5 million in equipment and products for team, camp and coach use.
Alternate universe
One of Adidas' first ventures into alternate uniforms came at A&M's request for a trip to Starkville, Mississippi, to face Mississippi State. The Bulldogs decided to wear all white that game, so Adidas produced an all-black uniform for the Aggies on short notice.
It is that kind of perk in the relationship that has endeared Adidas to Matt Watson, A&M's assistant athletics director for equipment and apparel.
"We've been a good partner for each other and helped each other evolve as the game has evolved and the recruiting needs have evolved in a mutually beneficial way for both Adidas and Texas A&M," Watson said.
A&M is one of two Adidas schools in the Southeastern Conference along with Mississippi State and is the only Adidas school in Texas, Bjork pointed out, which remains a point of pride for the Aggies.
"How do you be different in the marketplace?" Bjork said. "Can you separate yourself in your geographic footprint? I think we've been able to do that by having the affiliation with Adidas."
In the 1980s and 1990s when these kinds of deals were in their infancy, the equipment providers worked directly with head coaches and often provided benefits to the coaching staff based on performance. While the athletics departments now negotiate the contracts, performance bonuses are still included for teams in the contract. Those either help pay for performance bonuses written into coaches' contracts or go back into the overall budget.
Bjork includes his coaches and players in discussions about the gear, and teams can go to Adidas with any feedback they want to offer.
"Our equipment guys bring it to me, and I say I want the best of the best in the things we have," A&M head football coach Jimbo Fisher said. "I want the top of the line, and I want the safest things we have."
Tight market
Throughout the summer, A&M tested an equipment market that is still struggling to recover from the pandemic and has experienced troubles due to a subsequent global supply chain disruption. Under that stress, Under Armor has garnered the most attention among college sports providers after announcing it would end sponsorship deals with California, UCLA and Cincinnati. According to reports, UCLA has sued Under Armor for backing out of a 15-year, $280 million deal which began in June 2020.
After A&M shopped other brands, according to the current contract the Aggies had to present any offers made by other companies to Adidas, giving it the first right of refusal to match or better the deal. Should Adidas opt to match or make a better deal, A&M would be locked into extending the contract.
Despite the uncertainty of the economy, Adidas has committed to adding more value to the base compensation in its next contract with A&M, according to Bjork, though that number has not yet been finalized. All of the compensation, including some performance bonuses, go back into the overall athletics department budget, Bjork said.
The pitch from A&M to Adidas has always relied on the size of A&M's alumni and fan base and the expansive pool of Aggie-related retailers in the Bryan-College Station area alone who carry Adidas products.
A&M recently signed deals with online retail company Fanatics and the clothing company Hanes, who both have their own partnerships with Adidas, in order to speed up production and distribution of fan gear — for instance, the internet crowd's favorite hooded sweatshirt with the script "Aggies" embroidered on the front.
"You might have a product that maybe is unique to the team, and you want to try to get that out to retail as fast as you can, and sometimes it just doesn't match up, whether that's supply chain or whether that's proprieties on the Adidas side," Bjork said. "So we're trying to be proactive ... and try to think ahead on the retail side."
The only A&M sport opted out of the Adidas contract is track and field, which has its own contract with Nike under head coach Pat Henry. That will continue to be the case under the new contract, Bjork said.
Over the 15-year partnership, Adidas has told A&M it would be a flagship of its company and has backed up that claim with its actions, Watson said.
"They have related over and over that we are one of their top four properties, if not the top property, along with Washington, Miami and Arizona State," Watson said. "We're in great company with those schools. It's great to be treated in that elite category, and you know that you're going to get the best of the best from the manufacturer. They've been great with that."