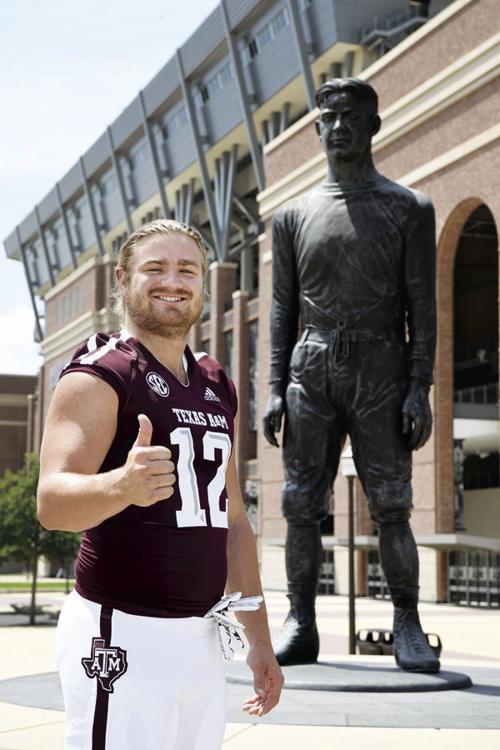 Cullen Gillaspia is a 21st century 12th Man, answering multiple needs for the Texas A&M football team.
E. King Gill, the original 12th Man, was ready to enter the 1922 Dixie Classic against Centre College, but didn't play. Gillaspia has now made the switch from linebacker and special teams to fullback, a vital position in first-year head coach Jimbo Fisher's offense.
"Gilly does a good job," Fisher said. "Gilly's got a chance to be a good fullback if he'll develop into it, because he's got really good running skills, he catches the ball very well, he's really good with the ball in his hands and he's physical."
The 12th Man tradition started with Gill, a former football player who was playing basketball at the time the Aggies prepared to play unbeaten Centre College. After multiple injuries during the game, A&M coach Dana X. Bible was worried about having enough players to finish. He called Gill from the stands to suit up and be ready. Gill didn't enter the game, but was the last healthy man on the sideline when it ended. And the spirit of the 12th Man was born.
Former coach Jackie Sherrill took the 12th Man to a different level in 1983, starting a 12th Man Kickoff Team comprised of all walk-ons, except for the kicker. The unit was exceptional, allowing only 13.1 yards per return, the first of five straight seasons the Aggies ranked in the Top 5. But when the unit gave up its first touchdown in 1990, and with the NCAA moving kickoffs back, Sherrill's successor, R.C. Slocum, opted in 1991 to have the kickoff team include one walk-on who would wear No. 12 and represent the student body.
Gillaspia has served as the 12th Man for 26 straight games, and earned a scholarship for his work on special teams and at linebacker. He's in position to break the record for games by a 12th Man of 38, set by Sam Moeller from 2013 to 2015.
"Actually, when I joined the football team my freshman year, I watched Sam Moeller — the way he represented the 12th Man," Gillaspia said. "It kind of led me to research what it was about, more into the actual depth and history of it. Really, the way he represented the number, I knew that's something I wanted to be able to do for this university."
Moeller set a high standard, becoming the first 12th Man to block a punt. He did it twice, in a 51-41 victory over Mississippi State in 2013 and again in a 25-0 victory over Vanderbilt in 2015.
"Me and Sam are still good buddies," Gillaspia said. "We have friendly banter back and forth about who's the better 12th Man and whatnot. For our friends, we still say he's the GOAT ["greatest of all time"] 12th Man, the best one of all time."
Gillaspia has built a similar resume. As a sophomore he had six tackles on special teams, forced a fumble and recovered a fumble. Last year, he blocked a punt against Alabama for a safety and he blocked a second punt against Florida. He added eight tackles on special teams. He could make an even bigger impact at fullback.
"Gillaspia is a guy who can make things happen with the ball, so I'm excited to see what he can do for us," said junior running back Trayveon Williams. "He's carrying the energy over to the offensive side. Throughout the spring he was a big first-down converter for us, whether it was running out in the flat making a catch or running the fullback dive. It's him being a leader. He brings so much not just to this offense, but to this team."
Gillaspia might be the most recognizable 12th Man because of his energy and long hair. He said "everything's changed" for him on campus.
"You start on as a walk-on, nobody knows you," he said. "Now, you walk across campus and people say hi to you all the time. It's very humbling, and very cool just to see the impact you can have on people and this university."
He said it's gratifying to see young people wearing No. 12.
"There's a kid who came all the way down from Alaska to see me," Gillaspia said. "And he had grown his hair out just like me. I went and saw him after the spring game. It's stuff like that you can't really explain, but it kind of gives you a sense of pride that you get to wear that number."
Because of the walk-on origin of the 12th Man, there are some who believe Gillaspia shouldn't wear No. 12 because he's on scholarship.
"You know, no one's actually came to me personally and said that, [but] I've seen that on the message boards and online," Gillaspia said. "I don't think it necessarily matters if you've earned a scholarship or not. When you come in as a walk-on, you're always a walk-on."
This will be the fifth consecutive season that the 12th Man will be on scholarship.
Sherrill recalled offering scholarships to two players on the first 12th Man Kickoff Team.
"And they both asked the same question," he said. "'Does that mean I can still be on the 12th Man Kickoff Team?' And, I said, 'No. If you're on scholarship, you can't be on the 12th Man Kickoff Team.' So they declined the scholarship. It was more important to them to be on the 12th Man Kickoff Team."
Though Sherrill doesn't think the 12th Man should be a scholarship player, he says it's up to the coach. "That's their prerogative to do what they want," he said.
Fisher wants Gillaspia wearing No. 12.
"He was the 12th Man, that's how he earned it," Fisher said. "And he's still the 12th Man, even though he earned the scholarship. In my mind he's still an original 12th Man for what goes on and what we have."