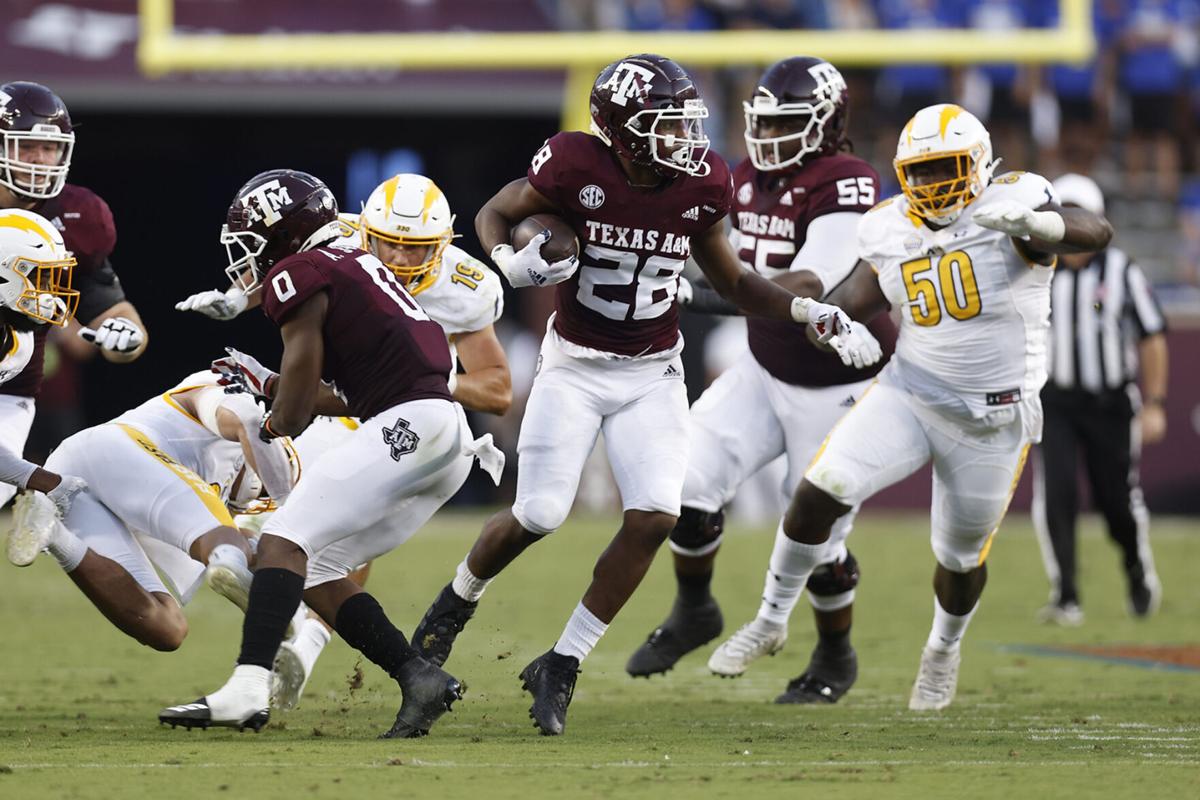 It took a half for the Texas A&M football team to get rolling in the season opener, something that can't become habit forming for a squad with national championship aspirations.
"That's our whole mentality this year, to dominate, because I know last year that was part of the problem," A&M junior safety Demani Richardson said. "We didn't get in the playoffs, because we didn't dominate enough."
A&M dominated the second half last week against Kent State, scoring 24 straight points en route to a 41-10 victory. A&M never punted but threw four interceptions, muffed a punt and couldn't convert a fourth-and-1. Kent State also rushed for 226 yards and controlled more of the action than the Aggies no doubt preferred.
"We've got to play a lot cleaner game," A&M head coach Jimbo Fisher said. "We'll get it fixed."
The fifth-ranked Aggies will get to measure their improvement against Colorado (1-0) at 2:30 p.m. Saturday at Enpower Field at Mile High in Denver. A&M is a 17-point favorite for the neutral-site game that's only 25 miles from Colorado campus and Folsom Field, which has been a house of horrors for the Aggies. A&M is 1-4 in Boulder, Colorado, with its lone victory in 1997.
Colorado is coming off a surprising 4-2 season under first-year head coach Karl Dorrell and looking at the game as a barometer for his program.
"It's a great opportunity," Dorrell said. "It's a highly ranked team that's been successful for several years. It's a great measuring stick for us to compete with a ranked opponent, and those are really great challenges you want to have your team face. Those are the opportunities we want to get ourselves to be in, so we're embracing the challenge of what this is going to be."
Coming off a 35-7 victory over FCS Northern Colorado, Colorado was projected by most to finish fifth in the Pac-12 Conference South ahead of only Arizona. The Buffaloes are considered in the bottom third of the league that includes Washington State and Oregon State from the North.
"There's that added big-game feeling, playing in the Broncos' stadium and a top 10 team," Colorado linebacker Nate Landman said. "The biggest thing for us is just to treat it like a game that can put us back on the map and this program back where it used to be."
The Aggies say they're hoping their first game of the season away from Kyle Field will help them form their 2021 identity.
"It better show up quick, because you're going to [play] a very good Colorado team," Fisher said. "You're going on the road in a hostile environment — you better find out. You're going to find out really quick. We need to find out, and we need to have a great week of practice."
Despite the hiccups against Kent State, A&M piled up 595 yards, while breaking in four new offensive linemen and a new starting quarterback in redshirt freshman Haynes King. But the Aggies led just 10-3 at halftime and needed a 17-point third quarter to finally seize control of the game.
"I feel there's always going to be points left out on the board, because we're a young team," said tight end Jalen Wydermyer, one of three junior All-Americans on A&M's offense along with right guard Kenyon Green and running back Isaiah Spiller. "We're still getting into our stride, but when we get our stride, I feel like we're going to take advantage of every opportunity we get, and we're going to put up a lot more points in the next games to come."
A&M started last season ranked 13th in the country and worked its way up to fifth in the initial College Football Playoff poll on the strength of a four-game winning streak that included a 41-38 victory over Florida. The Aggies ended the regular season with another four-game winning streak but couldn't edge out Notre Dame for the final spot in the CFP.
What likely cost the Aggies was their inability to put away teams earlier and with a bit more authority.
A&M had just one halftime lead bigger than 14 points last year during the regular season. The Aggies led South Carolina 21-0 at halftime en route to a 48-3 victory.
Alabama, by comparison, led by more than 14 points in eight games in the regular season. The Crimson Tide was tied at 21 with Ole Miss en route to a 63-48 victory, and they trailed Georgia 24-20 before scoring 21 unanswered points for a 41-24 victory. They controlled every other game by more than two touchdowns at the half, a run that included a 27-3 halftime lead over 14th-ranked Miami in the opener that led to a 44-13 victory.