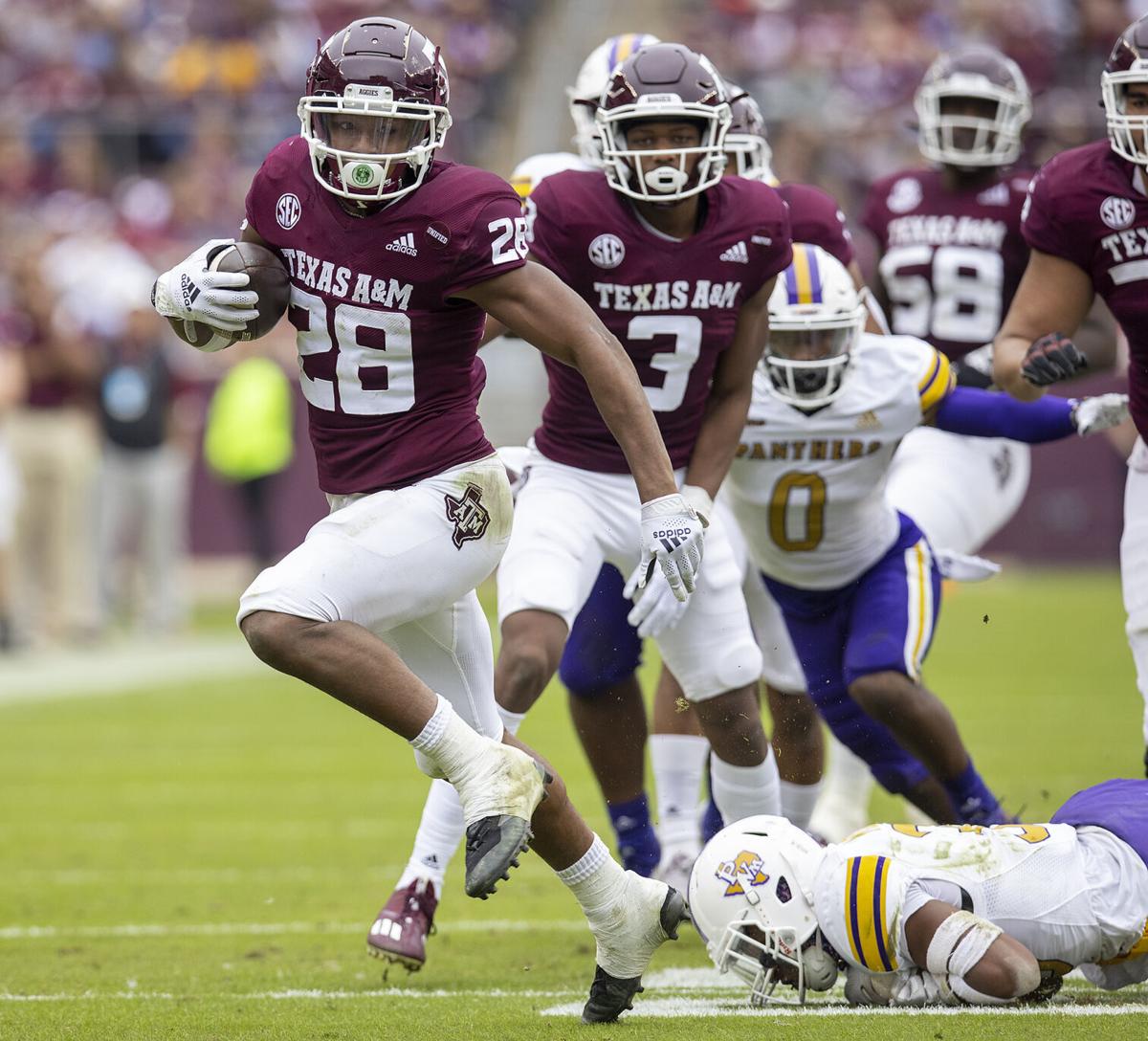 OFFENSE: A-
What went right: Texas A&M rushed for 279 yards with five players running for at least 45 yards. Quarterback Zach Calzada had an efficient day, completing 10 of 14 passes for 150 yards and two touchdowns with no interceptions.
What went wrong: A botched handoff made A&M settle for a field goal instead of a touchdown that would've give the Aggies a 28-0 lead. Backup quarterback Blake Bost threw an interception in garbage time.
Bottom line: The unit played a clean game, churning out 447 yards without a penalty. Freshman wide receiver Moose Muhammad III was a pleasant surprise with five receptions for 77 yards and two scores.
DEFENSE: A
What went right: The Aggie defense outscored Prairie View with linebacker Aaron Hansford getting a gift touchdown on a 17-yard fumble return after a highlight sack by nickelback Antonio Johnson.
What went wrong: Prairie View's Jaden Stewart rushed for 100 yards, 40 coming on a draw. Prairie View's elusive backup quarterback Trazon Connley had six carries for 41 yards.
Bottom line: Four sacks in the first quarter totally disrupted Prairie View's passing game that managed only 7 yards on 2-of-12 passing.
SPECIAL TEAMS: A
What went right: Muhammad had punt returns of 18 and 23 yards. A&M's Fadil Diggs blocked a punt, and Prairie View failed to return two kickoffs past its own 20-yard line.
What went wrong: Nothing.
Bottom line: Seth Small made his only field-goal attempt, and Nik Constantinou had a 48-yard punt on his lone kick. Small finished the day with the school record for career points, eclipsing Randy Bullock's 365 and finishing the day at 371.
COACHING: A
What went right: A&M's second- and third-string players were sharp, which wasn't the case when they played against New Mexico as A&M tried to nurse home that big lead.
What went wrong: A draw play for 40 yards on third-and-11 put the Panthers in position to score their only points.
Bottom line: A&M had only one penalty and that came in the fourth quarter.
OVERALL: A
What went right: A&M scored on seven straight possessions with great execution.
What went wrong: Not enough worth mentioning in a 49-point victory.
Bottom line: A&M ran roughshod over an inferior team, the way the 16th-ranked team in the nation should play against an FCS team.