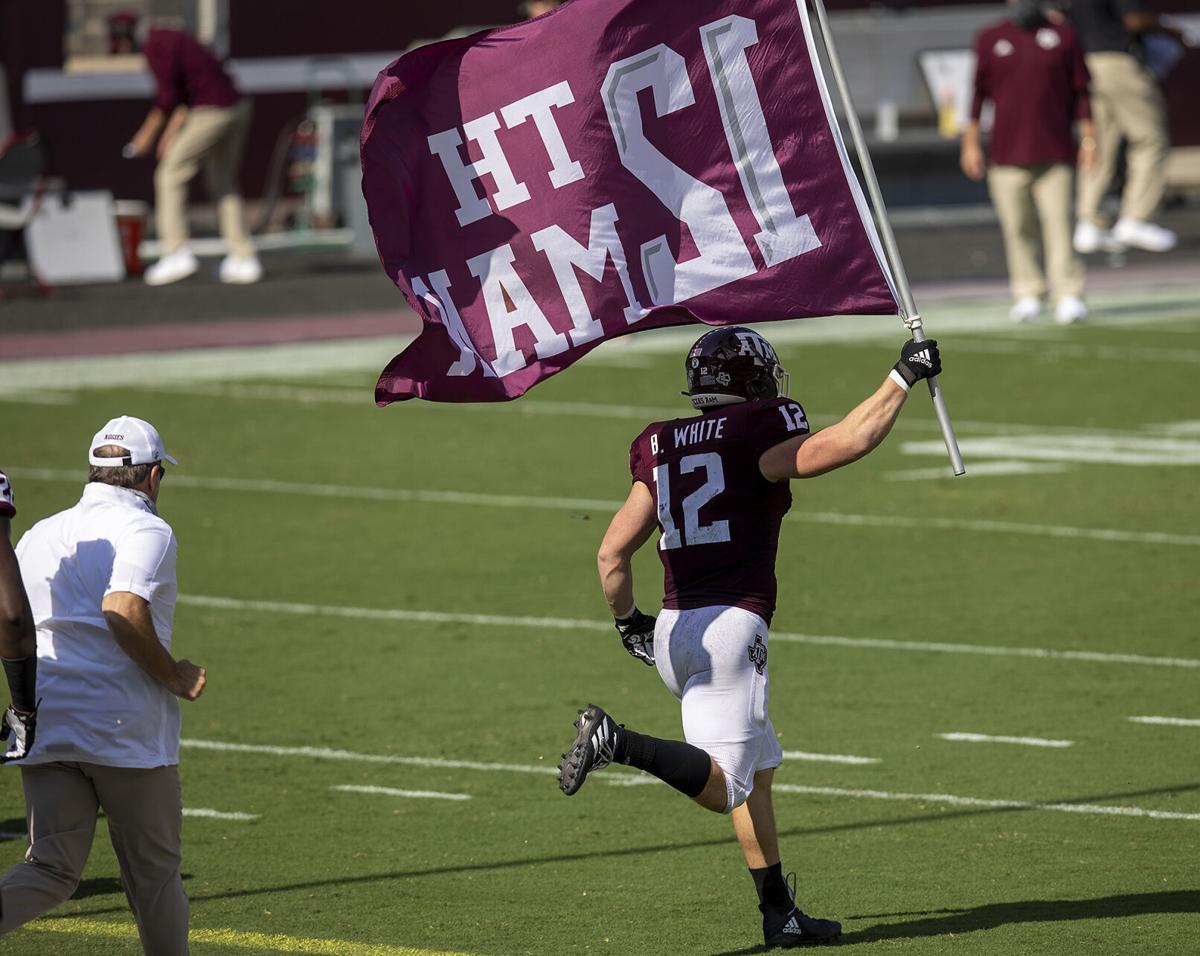 Texas A&M's victory over Florida was big, but what happens now is just as big if not bigger.
Jimbo Fisher has done a great job beating teams he should. He's lost only twice to unranked teams as A&M's head coach, suffering back-to-back losses to Mississippi State and Auburn in 2018. Those were games A&M should have won, especially the 28-24 loss to Auburn, which scored two touchdowns in the last six minutes. They were bad losses, but the oddsmakers had picked the Aggies to lose both because they were on the road. Fisher, who was in his first season, hadn't proven he should and could win those games at A&M. And you could argue he still hasn't.
That 41-38 victory over the fourth-ranked Gators made him 4-8 against Associated Press Top 25 teams. It was by far his most important victory. A 20-14 overtime victory over 13th-ranked Kentucky in 2018 was Fisher's first Top 25 victory at Kyle Field. That's memorable, but the only defining victories over Kentucky are by basketball coaches. It didn't really change anything, because A&M promptly lost to Mississippi State and Auburn. Last season's 24-21 Texas Bowl victory over 25th-ranked Oklahoma State was a positive ending to a trying season — five losses to Top 10 teams — but you don't brag about beating a 25th-ranked team.
Now A&M's seven-overtime 74-72 victory over eighth-ranked LSU two years ago was as good as it gets. A&M's first victory over LSU since joining the Southeastern Conference will live in Aggie lore forever. Because of rule changes there probably never will be another seven-OT game. What an accomplishment, but Fisher and A&M weren't able to build on it.
Now they've got another chance to build on a big victory, a much better chance. The Aggies are a six-point favorite at Mississippi State. That might be more because of Mississippi State's shortcomings than A&M's prowess, but the key will be for the Aggies to take advantage of the opportunity. Win at Mississippi State, enjoy an open week, then beat Arkansas at home and the Aggies would be 4-1 and ranked in the Top 10 heading into November with probably only two ranked teams left on the schedule.
That's why the Florida game was a must-win game for Fisher. Yeah, he'll face at least one or two top five teams next year and the year after that. But eventually he had to beat a top five team and follow that up with solid victories to be one of the SEC's best. Could he really wait until the fourth or fifth year to do that? Some fans already are nervous.
Fisher said he didn't feel vindicated by the victory, saying everybody looks at the obvious but that there's other indicators of "where your program is going, how it's going, where it's going and what's going to be in the future. Sometimes it is in wins and losses. Sometimes it isn't."
Around here, it's been all about the wins or lack of them with the last conference title in 1998. The frustrating losses have outweighed the big victories, which is why A&M was willing to pay $75 million for Fisher — a price tag that comes with expectations.
There's more pressure on Fisher because the three coaches before him all failed, though each had what they hoped at the time were signature victories. Dennis Franchione beat 11th-ranked Texas in his fourth season, then laid an egg against California in the Holiday Bowl. Mike Sherman beat ninth-ranked Nebraska, 11th-ranked Oklahoma and Texas during a six-game winning streak in his third season, but things fell apart the following season with five losses to ranked teams in one second-half meltdown after another. Kevin Sumlin beat top-ranked Alabama and 12th-ranked Oklahoma in his first season and he even beat ninth-ranked Tennessee in a 6-0 start in 2016, but by the end of the 2017 season he was gone, having lost his last five Top 25 matchups.
Along with not winning a championship, they all had brutal losses. Franchione had the 77-0 loss to Oklahoma and was the first coach to lose to Baylor since 1985. Sherman lost to Arkansas State. Sumlin squandered a 35-point lead in a 45-44 loss to UCLA, a team that didn't even finish with a winning record and lost to a bad Ole Miss team that burned the redshirt of a freshman quarterback and won at Kyle Field.
You have to give each of those coaches credit, though, because the program overall has gotten better.
Things are more promising under Fisher, because he's a better recruiter as evidenced by back-to-back top six recruiting classes. He's also won conference championships and a national championship. Now he's got a top five victory and a manageable schedule left in pursuit of his first major bowl game at A&M.
"I love where we're going," he said. "I love where we're at. We have tons of work to do. We're nowhere close to where we need to be, but we're heading in the right direction."
If you're looking for an omen, he's following a similar path to Jackie Sherrill, the last A&M head coach who turned things around. Sherrill had his signature victory in his 32nd game, a 35-21 victory over TCU. He followed that by beating 17th-ranked Texas 37-12 at home. A&M was able to end the season 6-5. The back-to-back victories to end the season was followed by three straight SWC championships.
Fans were certainly nervous about Sherrill back then. He had been 0-6 against ranked teams. A&M had dipped to 1-5 in SWC play after a 28-0 loss at Arkansas, but then he turned it around in a big way.
The Florida game was Fisher's 29th at A&M, so maybe he's three games ahead of schedule. Aggie fans sure hope so.
Be the first to know
Get local news delivered to your inbox!