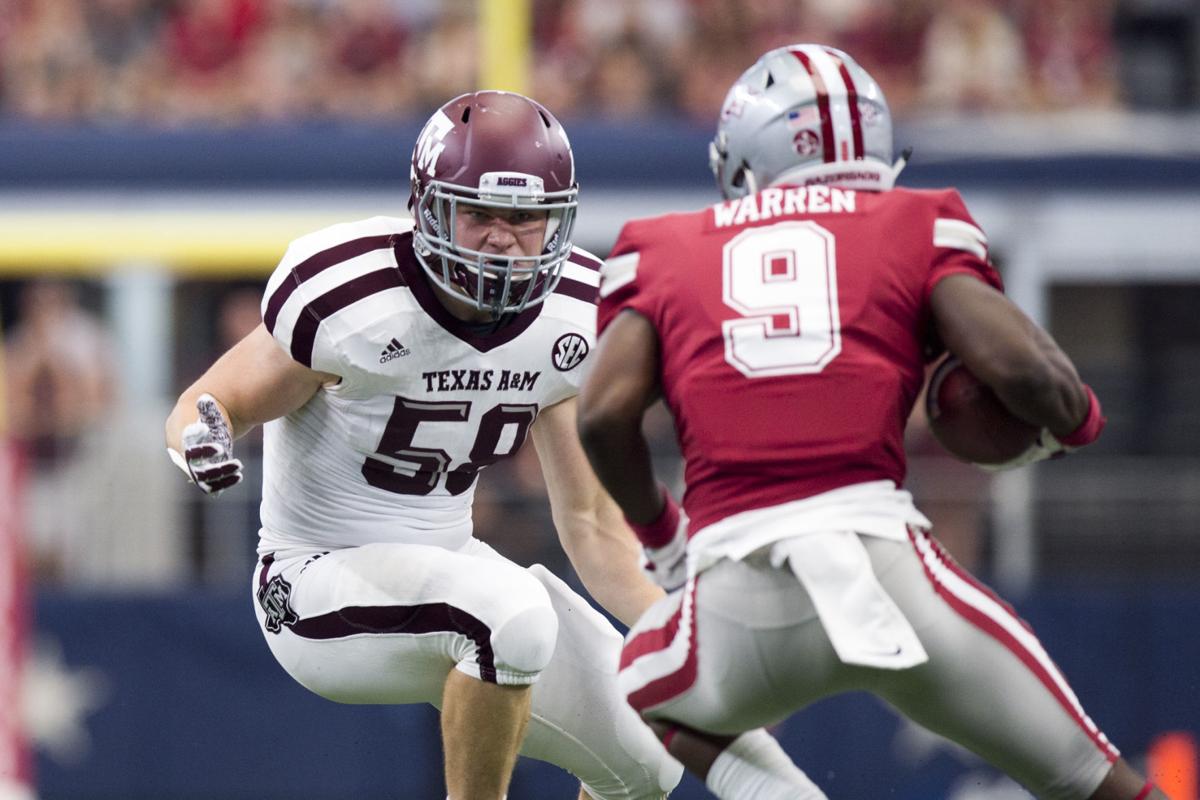 Former Texas A&M linebacker Tyrel Dodson has always had a hunch his buddy Braden White was destined for high honors.
"I truly believe one day he'll be the President of the United States," said Dodson, who is now with the NFL's Buffalo Bills.
White is too young to run for president, but he earned one of Aggieland's highest honors Tuesday when head football coach Jimbo Fisher named him this season's 12th Man.
Dodson exited afternoon meetings during Bills' training camp Tuesday and said he went crazy when he saw the first post to load on his Instagram app, the official news that his best friend will be the Aggies' newest No. 12.
White, a junior linebacker, replaces Cullen Gillaspia, who wore No. 12 for 38 straight games before he was drafted by the Houston Texans this summer.
"Anyone would tell you if Cullen wasn't there, Braden would be the 12th Man," Dodson said. "Ever since Cullen left and the new 12th Man has been up for questions, this is no surprise to anyone."
White has seen action in 18 games for the Aggies, primarily on special teams, over the past two seasons. He recently earned his undergraduate degree in business, which was as much of a focus to White as his work on the field, Dodson said. In fact, the only time Dodson ever saw White angry came when the walk-on earned the first B of his life, Dodson said.
White is native of Florence, Alabama, where he racked up 102 tackles, 11 tackles for loss and 1.5 sacks during his senior season in high school before walking on at A&M.
The friendship between White and Dodson began under former A&M defensive coordinator John Chavis, who believed the two were kindred spirits, Dodson said. Chavis played alongside White's father, Brad White, at Tennessee. The elder White went on to play seven years in the NFL as a defensive lineman for the Tampa Bay Buccaneers, the Indianapolis Colts and the Minnesota Vikings.
Though Braden White was an introvert and Dodson outgoing, the two clicked on and off the football field. The relationship racked up a pricey sushi bill between the two over the years but also gave Dodson a different set of eyes to see his own game with.
"I can't say enough about the guy, because if I didn't have him my three years at A&M, I wouldn't have been half the player that I was," Dodson said, adding that a little bit of crazy comes with White, a characteristic A&M fans have come to love in their 12th Man.
Once while the team did conditioning drills in 100-degree heat, Dodson remembered White simply laughing and smiling through the workout while most of his teammates bent over gasping for breath.
"He's probably the most disciplined guy ever," Dodson said.
White's predecessor, Gillaspia, brought the 12th Man position back into the spotlight. Gillaspia walked on as a linebacker, eventually earned a scholarship and finally moved to offense, culminating his career with a 13-yard touchdown run to close out a 52-13 Aggie win over North Carolina State in last season's Gator Bowl. The fullback became the first 12th Man to score a touchdown.
As the 12th Man torch was handed down Tuesday, White earned Gillaspia's praise.
"He's a very hard worker, and it's much deserved," Gillaspia said.
The record for most games in the 12th Man jersey belongs to Sam Moeller, who donned the number for 39 games from 2013-15.
The A&M tradition dates back to the 1922 Dixie Classic, when coaches summoned student E. King Gill from the stands to suit up should the injury depleted Aggies need him. The 12th Man originally referred to Gill, but now the moniker also refers to the entire Aggie student body, former and current students alike.
Earlier this training camp, Fisher laid out the qualifications he looked for in his 12th Man, who will serve as the captain of the special teams.
"It's consistency and performance over a long period of time," Fisher said. "When you take that on, it's not an up-and-down thing. It's not a rah, rah thing. It's how you perform and what you do consistently day in and day out."
Dodson said White's humility kept him from ever saying aloud that he was gunning for the 12th Man role, but the former A&M linebacker said he believed White had his heart set on it. He earned it with his behind-the-scenes determination.
"If you can make a perfect guy, he would be the perfect guy," Dodson said.