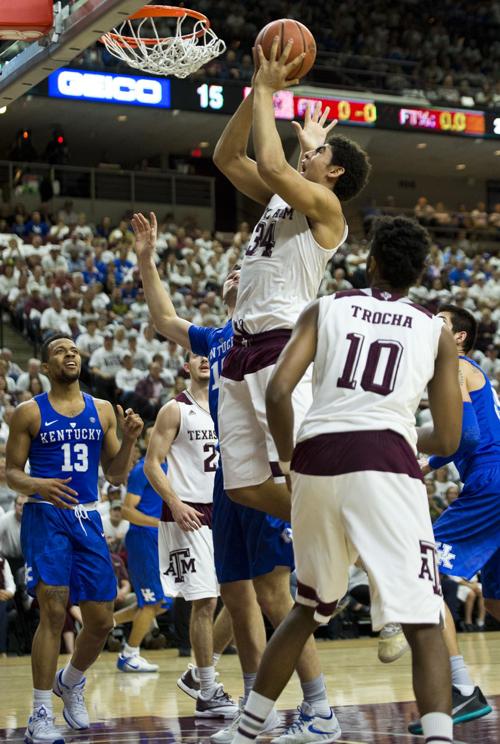 The crowd at Saturday's Texas A&M-Kentucky game gave the Aggies a huge lift and was one of the best I've seen. But it was hard not to notice the empty seats in Section 201 from my seat – I was in the media section up from the end of the Kentucky bench.
The empty seats stood out, not just because it was a sellout, but those white Rock Reed T-shirts draped over the seats got my attention (until some folks picked them up with a few minutes to play). I figure there were about 100-125 empty seats. I didn't think there were as many empty seats across from the end of the A&M bench, Section 209, but I didn't have a good view. I also was told there were empty seats at the opposite ends, 217 and 225, though I didn't have a good view, but fans noticed.
"I have a season ticket to the Aggie basketball games, four or five games have been sold out but why are so many seats empty [this] past Saturday, [against] Kentucky, must have been thousand seats empty, if you know answer please advise." - emailed one fan.
I did check it out with an A&M official, and SportsTalk host Chip Howard brought it up Monday on Writers' Roundtable. I'm sure you listen weekly live from 5-6 on KZNE 1150 AM/102.7 FM or online, because Chip, TexAgs' Olin Buchanan and myself have fun talking hoops (or football if that's in season).
The A&M official told me those sections (I'm pretty sure just 201 and 209) were reserved for students.
"Our student crowd was lighter than we anticipated,"the official said. "But we are extremely thankful for the 3,909 students who did attend, as they were extremely loud and definitely had an impact on the game. There are a lot of schools across the country who would love to have that many students at a football game, much less a basketball game."
I'd certainly agree. THAT was a home-court advantage.
Chip, though, was told that A&M never made Kentucky tickets available to the general public to keep Kentucky fans from gobbling them up which was the case the last two times Kentucky came to Reed Arena. Chip believes that explains why there were empty seats in Sections 217 and 225, where students don't sit. Chip believes those tickets should have been made available to the general public, which is a good point, and I see that.
However, I think having even a few hundred empty seats to have that kind of partisan crowd was worth it. When Kentucky tried to chant "Go Big Blue"on Saturday, you could hardly hear them. That wasn't the case the previous two times. I think Kentucky had 2,500-3,000 fans there last year. This time? Maybe 450-500?
And I don't know how many total empty seats we're talking. I'm guessing 600-700, and that's just a guess. A&M knows. I'm surprised there weren't more students, since there were seats for them. But the weather was great, and the baseball team played, etc.
I'm a firm believer in the end justifies the means. A&M won, that's No. 1 if you're an A&M official. Would it have been great to have them jammed in and standing a la LSU? You bet. It's a nice problem to have, if you call it a problem.
Read more of Robert Cessna's blogs here.