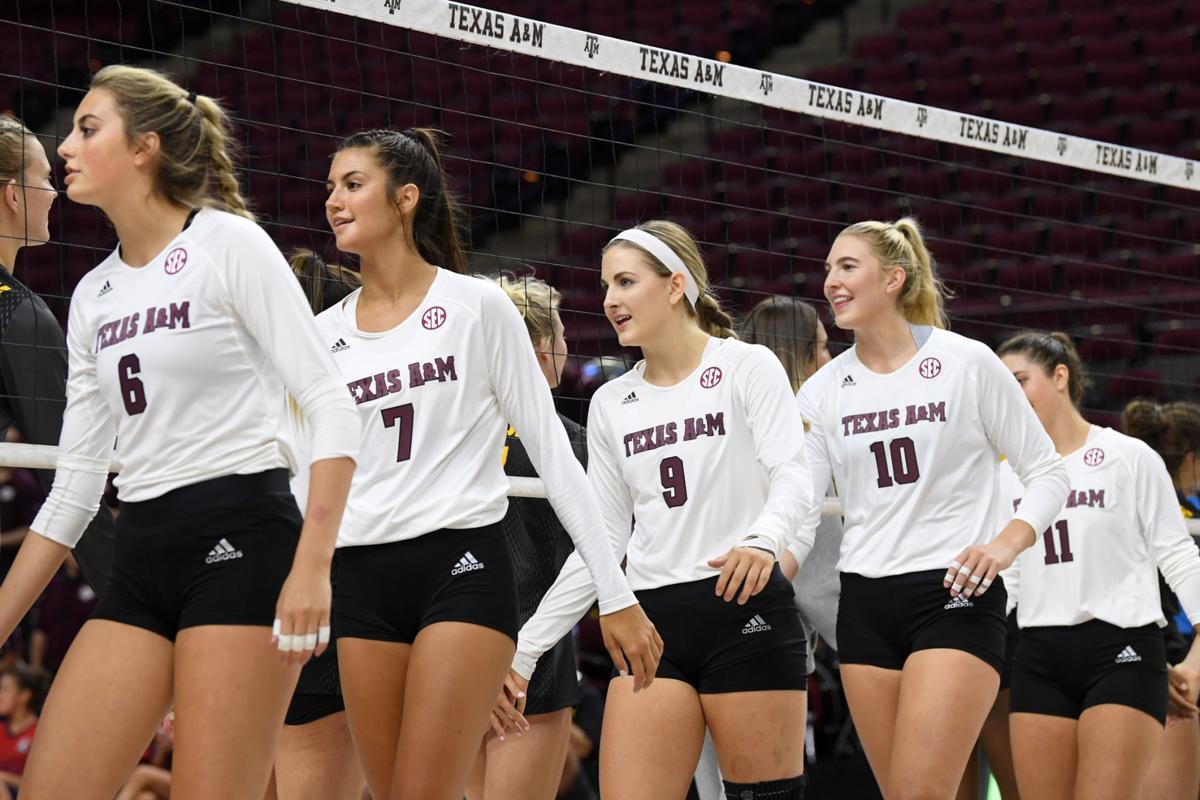 As each day draws closer to the fall, the focus of conversations across the country have been on when college football teams can safely take the field, even as COVID-19 spreads across the globe.
However, before Texas A&M football is scheduled to open its season against Abilene Christian Sept. 5, Aggie women's soccer and volleyball would already be up and running if everything went as scheduled. Cross country would be gearing up around the same time as football.
"It seems like we're all focused on football," A&M athletic director Ross Bjork said of the attention outside the athletic department. "That's where the attention is drawn to. We keep forgetting that we have three other fall sports: cross country, volleyball and soccer."
Soccer begins the earliest, with an exhibition game slated for Aug. 7 and the first game of the season, a road match, on Aug. 20. Volleyball heads to Honolulu to begin the season in the University of Hawaii Tournament, beginning on Aug. 28. Its first exhibition is an intersquad match, slated for the weekend prior to the trip. Cross country is scheduled to host its first meet Sept. 4.
On Friday, the Southeastern Conference took a step toward beginning seasons on time by allowing voluntary workouts in athletic department facilities to begin June 8.
"The same type of timeframes would apply to those sports," Bjork said. "We're looking at this holistically, with all of our sports, especially the fall sports."
Volleyball hopes to see its players officially report to fall practice on Aug. 9. Including voluntary workouts, head coach Bird Kuhn said she would like her players to get six to eight weeks of training before the Aggies' first game. However, she said it would be possible with a minimum of four weeks.
For weeks, Kuhn and her coaching staff have been working with medical professionals and athletic administrators to come up with multiple contingency plans for what will unfold in the months to come, she said.
Kuhn said the key to keeping her athletes healthy is working up to the impact of jumps and swings for her attackers and setters.
"This season is going to be very unique, in general," Kuhn said. "Every team, across the country, has not trained since March. It's going to be different. It's going to look different. It may feel a little different. Ideally, if we can get them back in the gym this summer to do open gym and lifting, I think we'll be in a good spot."
Soccer had Aug. 4 circled as a start to preseason, but that can be flexible, head coach G Guerrieri said. Per NCAA rules, soccer has 16 days to perform 21 practices before the beginning of the season, but the Aggie program doesn't usually utilize all 21 practices, he said, allowing for wiggle room should the start of practices get delayed.
The majority of preparation for a soccer season lies in conditioning and flexibility, Guerrieri said, which his players have been able to work through individually, along with ball skills.
"We expect that the players will come back and actually will have a little bit more mastery of individual ball skills than they have in the past because they're not in groups as much as they have been in the past," Guerrieri said.
Similarly in cross country, athletes have been able to train individually through the stay-at-home orders issued due to the pandemic.
"Most of our track athletes, they're committed to their sport," A&M track and field head coach Pat Henry said previously. "They're committed to what it takes to be successful, and I can put some things down on paper and get it to them and for the vast majority of them, they're very committed to doing what it takes right now for their future because you can't just sit back … and wait to get going."
Both Kuhn and Guerrieri said they are willing to follow whatever modifications to fan attendance, including no fans, and in-game safety that may arise in order to get their athletes back in play on time.
"Whatever it takes to have a season, I'm willing to do," Kuhn said. "They're breaking it down as far as not switching sides and having six game balls instead of three and the finest details, and I'm like, 'Yep. I'll sit in the same chair and not touch anyone and whatever if it means we'll have a season.'"
Be the first to know
Get local news delivered to your inbox!