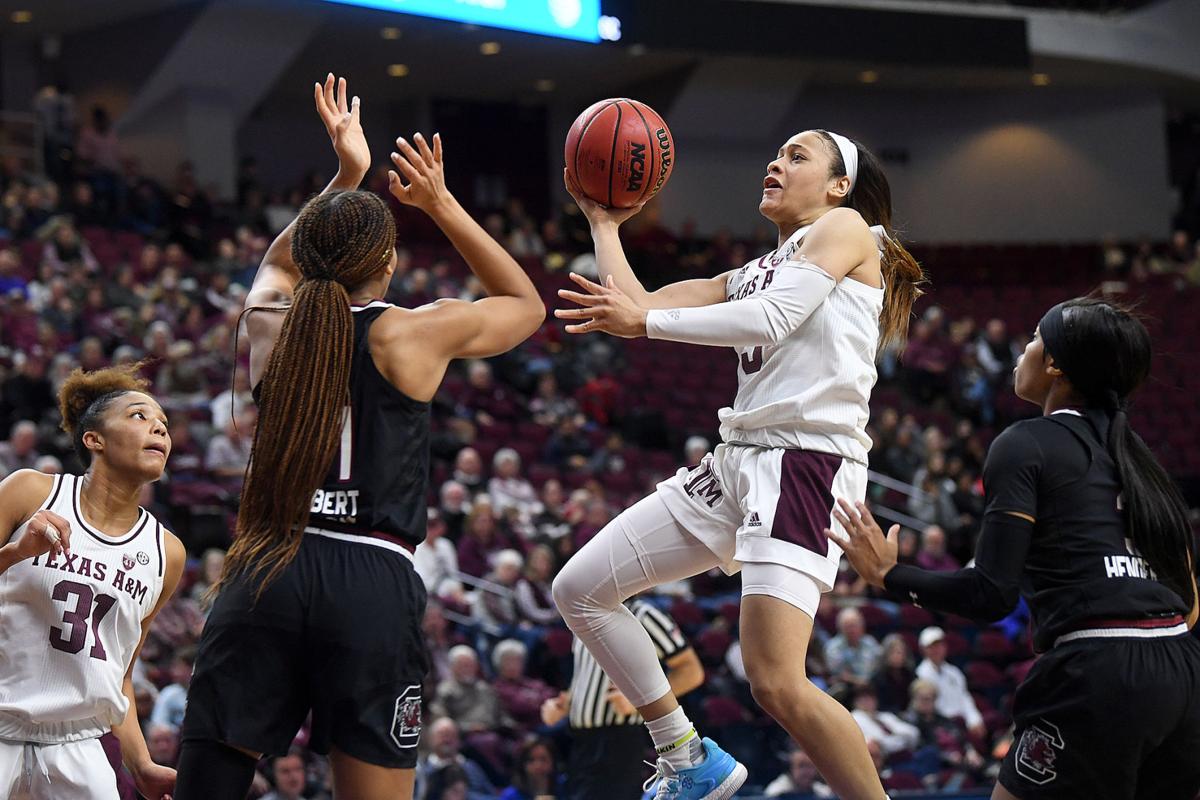 Texas A&M's two-time All-Southeastern Conference guard Chennedy Carter, who missed the Southeastern Conference tournament with an injury, has resumed full-court, noncontact practice and will be ready for next week's NCAA women's basketball tournament, the school announced late Wednesday afternoon.
"She is dribbling and shooting basketballs presently, and her rehab is on schedule to participate in the NCAA tournament," A&M said in a press release.
Carter had open reduction, internal fixation surgery on her right little finger on March 4 to repair two fractures she sustained in the Aggies' regular-season finale against Arkansas.
Without Carter, No. 17 A&M beat Auburn 64-62 and lost to Arkansas 58-51 in last week's SEC tournament in Greenville, South Carolina. Carter accompanied the team but did not resume shooting and dribbling until earlier this week. She also had been taking part in conditioning drills.
The sophomore leads the SEC in scoring, averaging 22.5 points per game.
The Aggies (24-7) are projected to be a No. 4 seed for the NCAA tournament, which will start March 22. The Aggies are expected to host first- and second-round games at Reed Arena, according to ESPN bracketologist Charlie Creme.
Crème updated his projected 64-team field Wednesday. He has 13th-ranked Marquette (26-7) coming to Reed Arena as a No. 5 seed. Marquette was the Big East regular-season champion, falling to DePaul in the league's tournament championship.
The other teams Creme has coming to College Station include Metro Atlantic Athletic Conference regular season and tournament champion Quinnipiac (26-6) as a 12th seed and Horizon League regular-season champ and tournament winner Wright State (27-6) as a 13th seed matched against A&M in the first round.
•
NOTES — A&M will host its annual NCAA tournament selection show party Monday at the Cox-McFerrin Center for Aggie Basketball. The doors will open at 5 p.m. for the show, which starts at 6 p.m. The event is free. Parking will be in Lot-100 F and G.
Be the first to know
Get local news delivered to your inbox!