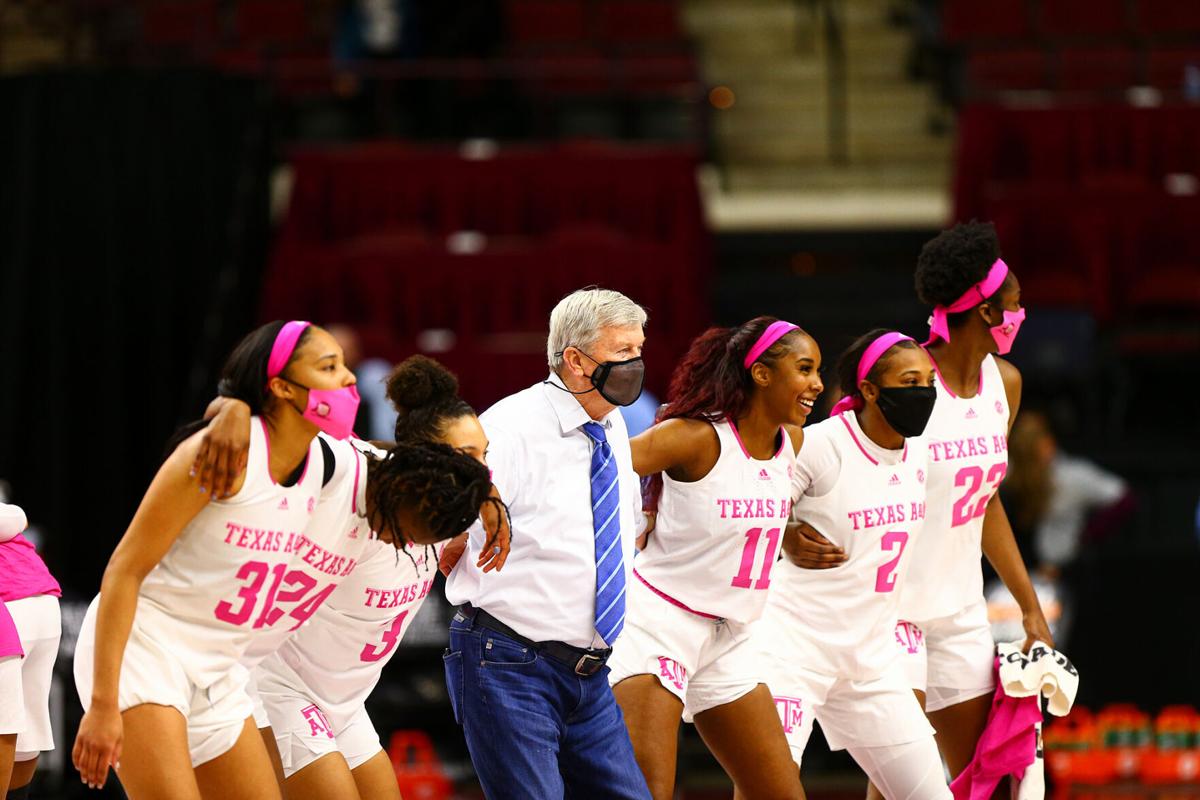 The fifth-ranked Texas A&M women's basketball team is in uncharted waters but armed and ready to handle any obstacles that might cross its path.
The Aggies are in position to earn a No. 1 seed for the NCAA tournament for the first time in program history. All A&M (19-1) has to do is finish the regular season strong, which has been a problem in recent years.
The Aggies have lost the regular-season finale in four of the last six years and three of those times they lost their last two games, including last season when A&M lost to unranked Alabama on Senior Day and lost at top-ranked South Carolina. It became a three-game losing streak when A&M lost to Arkansas in the Southeastern Conference tournament, leaving the Aggies projected to be a No. 5 seed for the NCAA tournament, which was canceled because of COVID-19.
This season, A&M has a better team and a very manageable path to a No. 1 seed with road games against Ole Miss (9-8, 3-8) on Sunday and Alabama (14-6, 7-6) on Thursday before a titanic game with second-ranked South Carolina (17-3, 12-1) at home next Sunday.
"We have a great opportunity, but if we start looking ahead to South Carolina, Katie bar the door," A&M coach Gary Blair said. "[A loss] will happen at Ole Miss or it'll happen at Alabama."
A&M has compiled the best record in program history through 20 games by bouncing back from a 65-61 overtime loss at unranked LSU with a seven-game winning streak.
"We've done a great job of just looking at the game ahead," Blair said Thursday in a Zoom conference.
Past history and Ole Miss should help the Aggies remain focused. Even though the Rebels are tied for 10th place in the SEC, ESPN.com's Charlie Crème has them battling LSU (8-10, 6-6) to join the other eight SEC teams in his projected 64-team field for the NCAA tournament.
"Please believe me, this is not coach talk — [Ole Miss] is the most improved team I know in our conference, maybe in the country," Blair said.
Ole Miss went 7-23 last season, including 0-16 in the SEC. It averaged only 56.6 points per game, more than six points behind anyone else. This season the Rebels are averaging 73.4, just 3.1 behind the Aggies.
"Folks, they are the real deal," Blair said.
Ole Miss' Shakira Austin, a 6-foot-5 junior transfer from Maryland, is averaging 17.5 points and 8.5 rebounds per game. Sophomore Donnetta Johnson, a 5-11 sophomore transfer from Georgia, is averaging 12.6 points, and forwards Madison Scott (11.0 ppg, 7.6 rpg) and Snudda Collins (7.8 ppg) are part of a freshman class ranked in the nation's top 10.
"They had a helluva recruiting year, and it's starting to show up," Blair said. "They're winning the close games."
Before Friday night's 84-74 loss at 18th-ranked Arkansas, the Rebels had defeated 14th-ranked Kentucky 72-60 and Alabama 67-62 on the heels of tough road losses at 20th-ranked Tennessee 68-67 and LSU 75-66 in overtime.
"You can see we've got our work cut out for us," Blair said.
•
At No. 5, A&M is flirting with its highest ranking in the regular season, which was third in 2009 when it opened with 12 straight victories. The Aggies also were fifth in the NCAA tournament selection committee's first top 16 projection Monday. Connecticut, South Carolina, Stanford and Louisville led the way, all getting No. 1 seeds. The Aggies topped the No. 2 seeds followed by North Carolina State, Maryland and Arizona. Since then, South Carolina lost at Tennessee.
"I love where we're at in the polls and everything like that," Blair said. "South Carolina should not be penalized as a No. 1 seed right now because they were the second No. 1 going into that ballgame."
South Carolina's loss, which ended a 31-game winning streak against SEC teams, shows how balanced the conference is.
Balance may also best describe the top 25 to 30 teams in the country. UConn, Stanford, North Carolina State, Arizona and A&M all have lost to teams that weren't in the NCAA's top 16 seeds.
"There's just so many great teams across the country," Blair said. "Are there any great teams? I don't think so, but everybody can play great on a certain day."
A&M has played great on many days, because it is arguably Blair's most talented and deepest team.
"I love how we're playing," said Blair, who several times this season has applauded his team's chemistry.
A&M has been seeded second for the NCAA tournament five times but has never been in serious discussion for a No. 1 seed on selection day.
The Aggies had an outside shot for a No. 1 seed in 2011 when they also were ranked fifth heading into the final two games of the regular season. A&M (24-3) was battling fourth-ranked Tennessee (28-2) and sixth-ranked Xavier (25-2) for the final No. 1 seed alongside UConn, Stanford and Baylor, but the Aggies lost at unranked Kansas State and a week later lost to Baylor in the Big 12 title game for a third straight time. A&M, of course, didn't lose again that season.
•
A&M will not make up the game against Missouri that fell victim to the winter storm on Thursday, Blair said.
"We're not going to agree to play it next Tuesday," Blair said. "Not if we're playing Sunday, Thursday and Sunday. There's no way I'm going to play four games [in eight days], and they're not going to play it before the SEC tournament."
The SEC has not made a decision on the game. The conference tournament begins March 3.
•
A&M's players have been in a hotel for a few days because the Callaway House had pipes burst that affected about 75 units, Blair said.
"That affected not just student-athletes but regular students as well," Blair said. "And we've dealt with it very well."