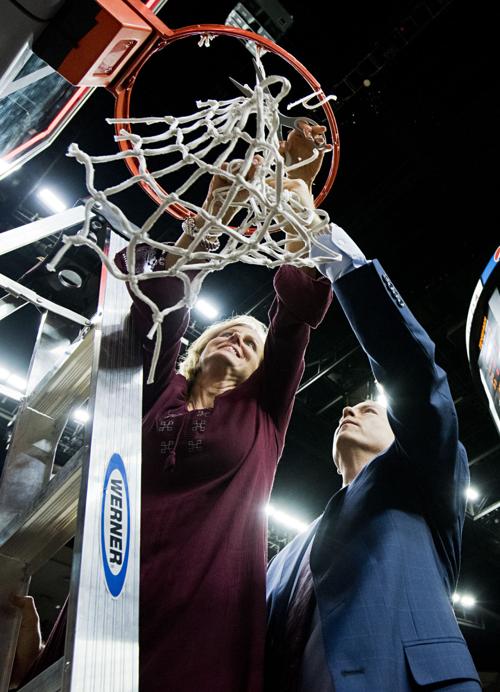 Conference champion. It has a nice ring to it, especially when you've waited three decades.
The Texas A&M men's basketball program winning the Southeastern Conference championship is one of the more remarkable accomplishments in school history, really mind-blogging when you consider the significance.
When push comes to shove, the sports that matter are football and men's basketball. They pay the bills; they turn on the television sets. It's nice that the Aggies have won so many championships in so many sports, but to say it's been a struggle for them in the money sports is like saying Donald Trump rubs some people the wrong way. A&M hasn't won a conference title in football since 1998. To many Aggies, that's like forever.
Well, for men's basketball suffers, add another dozen years. The last regular-season title for the men's basketball program was in 1986. Yeah, A&M won the Southwest Conference tournament title the following season, but getting hot for a weekend isn't quite the same as proving victorious through a grueling 14- or 16-game grind that takes you to venues that give you the feeling you're at the Running of the Bulls and losing.
Oh, those weekend conference championships also come with the rings, hats, T-shirts and bragging rights that regular-season titles do, but Saturday's 76-67 victory over Vanderbilt was 30 years in the making, not three days. You could say A&M was overdue, but when it came up short year, after year, after year, which turned into decade, after decade, after decade, you just figured A&M might find a way to come up short again.
And as good as the crowd was on Saturday — and it was darn good — and as much energy as there was in the building, when Vandy went on a 9-0 run to pull within 69-59, the party was on hold. Many fans had to be thinking they were watching a memorable moment quickly fading into the worst meltdown in school history. But A&M's Alex Caruso had the perfect medicine for those fans' indigestion with a steal and dunk. It was three times better than a Perfect 10 because this title wasn't going to slip away.
The clincher was fittingly supplied by Caruso. He's been the face of the program, a former ball boy who grew up to be a hometown hero. The day Caruso was born, the Aggies were tied for the Southwest Conference lead with Texas but a three-game losing streak to end the regular season was the beginning of the end of the Tony Barone era. Things got a lot worse under Melvin Watkins as A&M didn't win a conference game in 2004. As pitiful an experience as that was, three years later A&M came oh so close to winning a conference championship, finishing a mere game back of mighty Kansas. A&M was good enough to win at Allen Fieldhouse that season, but lost at home to Texas Tech (77-75) and in double overtime at Texas (98-96).
Oh, those losses still hurt if you're a die-hard A&M basketball fan, but at least now you can talk about a championship you don't have to google all the details you've forgotten.
Caruso told the crowd afterward there would be more titles, but to be on the safe side fans might want to enjoy this one and party to Eddie Murphy's song "Party All The Time." You did know that was one of the top hits in 1986, right?