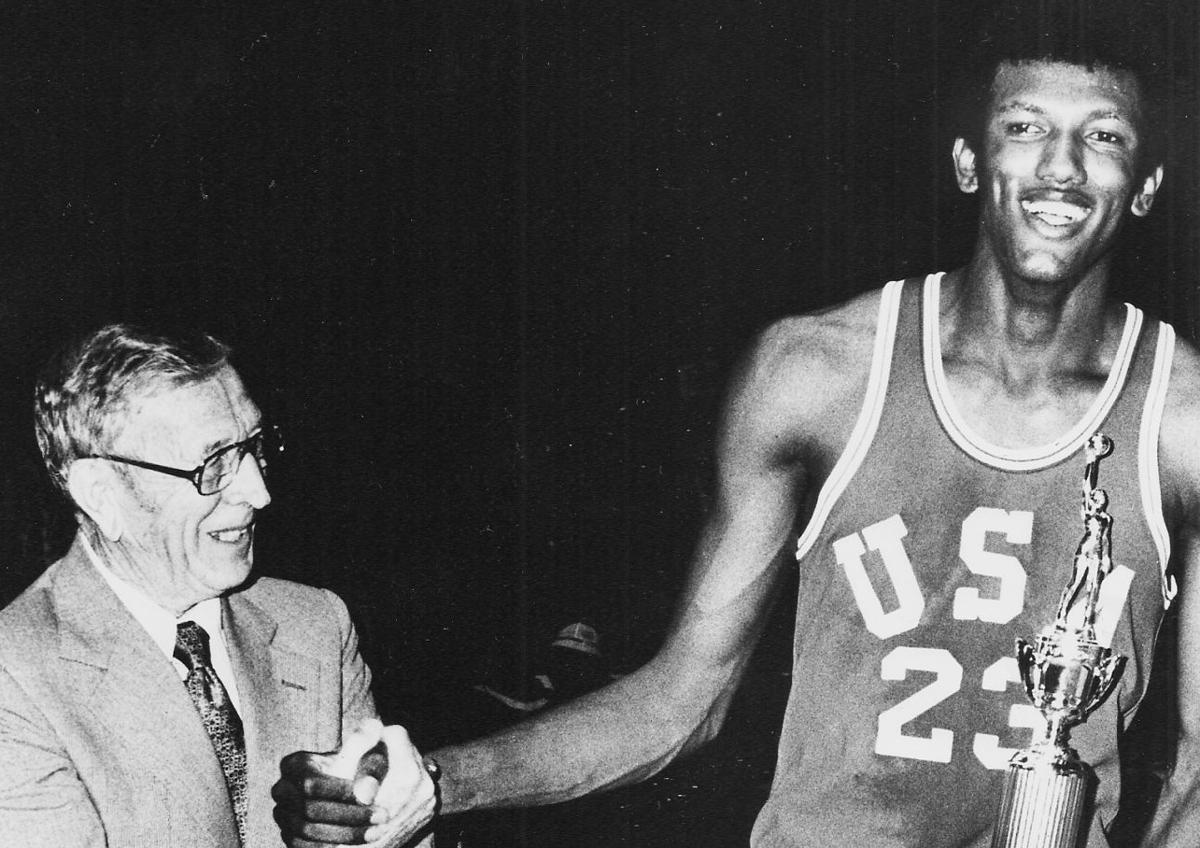 Basketball gave Rudy Woods a way to touch lives, which he did right up until his death.
Bryan High's only McDonald's All-American died Thursday, succumbing to a decade-long fight against diabetes. Woods, 57, tutored youth in basketball and life until the end. His last pupil was 13-year-old, 6-foot-4 Jaden Bowles, who is his stepgrandson.
"His life spoke for itself," said Diane Woods, his wife of 17 years, adding that in his final days at the St. Joseph Rehabilitation Center he was teaching and coaching. "The nurses, everybody, they just said his personality stood out. And he loved basketball. … when a game came on, they'd say, 'What did they do there Mr. Woods? And then, he'd explain the play to them. It was like he lived for basketball."
Woods was a hometown hero who decided to stay home for college, then after playing professionally, returned home.
Woods signed with Texas A&M, though he could have gone just about anywhere with Kentucky's Joe B. Hall, Louisiana State's Dale Brown, North Carolina's Dean Smith and Michigan's Johnny Orr among the high-profile coaches making their way to Viking Gym in the late 1970s.
"He was a real genuine person," said Bobby Joe Perry, his high school coach. "His personality never changed, he was real coachable, even though he was just an outstanding basketball player. He was no prima donna."
Woods capped his prep career at the 1978 McDonald's All-American game, which was played at the Spectrum in Philadelphia. The teams were evenly divided for the first time, drawing 13,063 fans, with Woods being most valuable player after leading the West to a 94-86 victory. He scored 13 points with 16 rebounds in only 23 minutes, with legendary UCLA coach John Wooden giving Woods the MVP trophy.
Woods appeared in 111 games at Texas A&M, averaging 11.5 points and 7.7 rebounds per game as the Aggies went 85-40 in his four seasons. Woods teamed up with forwards Vernon Smith and Rynn Wright to form the "The Wall" because of their power inside offensively and defensively. They led the 1980 A&M team to a 26-8 record that including a 78-61 double-overtime victory over North Carolina in the NCAA tournament before falling to eventual national champ Louisville in overtime.
Woods was picked in the fourth round of the 1982 NBA Draft by the Dallas Mavericks, but he ended up playing a dozen seasons overseas. His wife said he traveled all over, learning five languages, winning a few championships along the way.
"They traveled so much, they were like the Harlem Globetrotters," she said.
When he retired in 1996, Rudy Woods married his first wife and lived in Denver, working as a police officer, said Diane Woods.
Rudy Woods returned to Bryan to take care of his ailing younger brother, Darrin Woods, who eventually died. Woods then started working more with youth. He had become an associate minister for Salem Missionary Baptist Church in Wellborn when he first retired, then later as his health failed, he became an associate minister at Mt. Nebo Baptist Church.
"He had a very easy personality," Diane Woods said. "He was very cheerful to be around. He had a demeanor that everyone knew Rudy, everybody respected Rudy. He was drawn to counseling a lot of young people, and [working with] a lot of young basketball teams, whether it was at church or at the centers. He was there for them. His life spoke for itself, it was like a legacy all over Bryan. Everybody loved Rudy Woods. If we went into Wal-Mart, you couldn't get out there."
Rudy Woods was going return to school to finish his degree, because he'd been approached about coaching, Diane Woods said, but he never found the time while working with youth along with helping build his stepdaughter's security business, and then his health started failing.
Woods' funeral service will be 11 a.m. Saturday at Aldersgate Methodist Church. Visitation will be 10 a.m.-7 p.m. Thursday at Jones-Washington Mortuary.