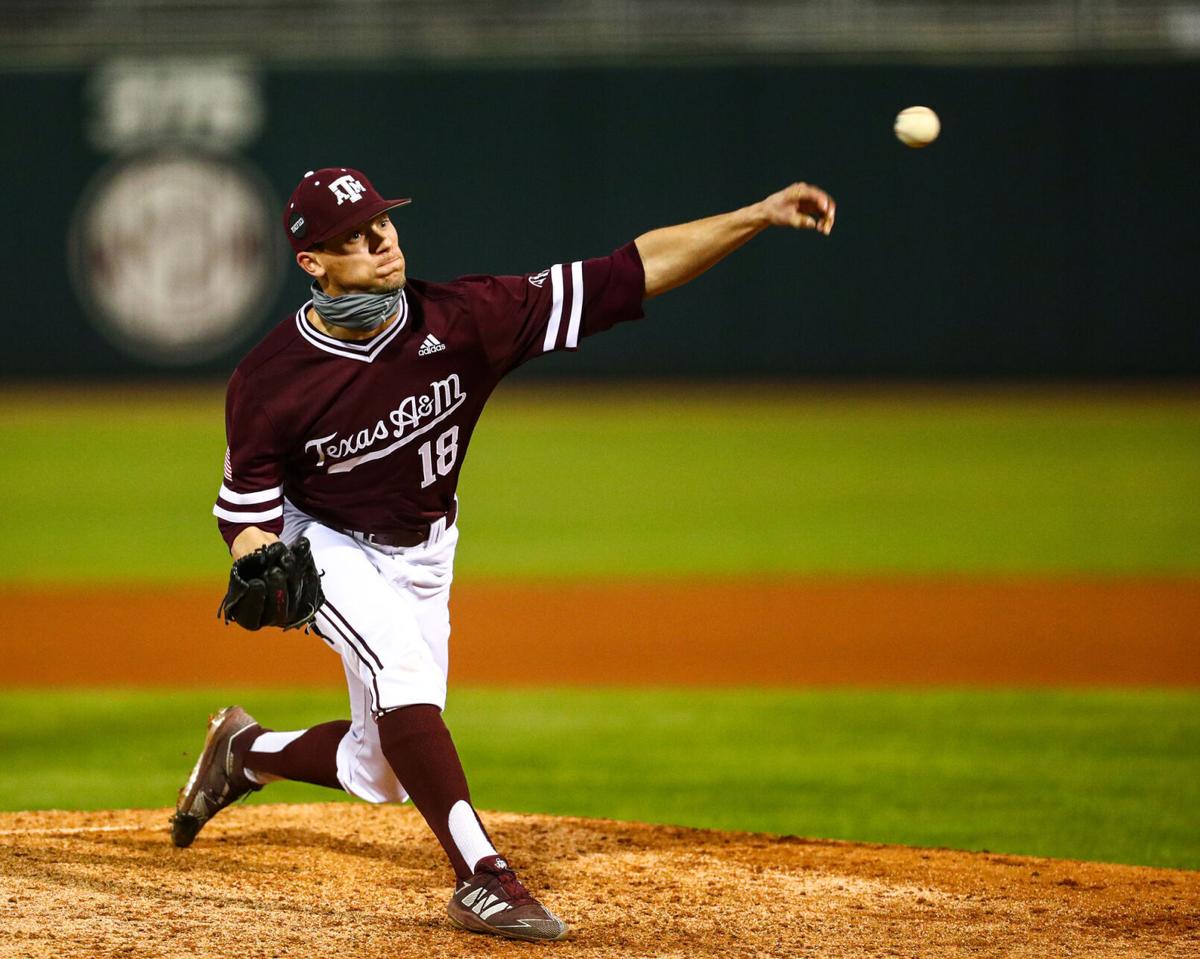 When Texas A&M senior reliever Chandler Jozwiak trotted to the mound with two outs in the eighth inning of Tuesday's midweek clash at Texas State, Aggie head coach Rob Childress was certain his most experienced arm would end the bases-loaded threat.
Jozwiak came through for 1 1/3 innings, which led to a 8-4 win that snapped a six-game losing streak for the Aggies. But Childress doesn't know long he can expect that to last.
The Aggies (20-15, 3-9 SEC) have had to rely on their top four bullpen arms more than any of the last five seasons — not including COVID-19 shortened 2020 — in a year of mixing and matching the starting rotation and unexpectedly difficult midweek games.
The longevity of that strategy is a key question for Childress, especially as the Aggies enter a weekend series against top-ranked Arkansas (28-5, 9-3).
"It is a concern of mine, especially the guys we've leaned on for so long and so hard," Childress said. "The one I really wanted to give the night off to yesterday was Chandler Jozwiak and the game just didn't allow that."
Jozwiak has thrown a bullpen leading 38 innings. A&M's top four bullpen arms — Jozwiak, Mason Ornelas, Alex Magers and Joseph Menefee — have accounted for 96 1/3 of a total 308 innings. Both Jozwiak and Magers rank third in the nation and lead the SEC in appearances with 17.
Over the last six full seasons, the next highest amount of top-end bullpen innings was 2017, when the Aggies' top four arms threw 75 2/3 innings.
This season, Jozwiak has pitched in seven midweek games, accounting for 16 of his 38 innings and 258 pitches. Former Aggie long reliever Kaylor Chafin appeared in five midweek games in 2017. In those games, he threw five innings and 100 pitches. At the same point in the 2017 season, Chafin had made 11 total appearances and thrown 28 innings.
"Especially these last couple of weeks, [Jozwiak has] thrown quite a bit," Ornelas said. "He's thrown these past three Tuesday games and once or multiple times over the weekend. That's just who Joz is. He's a competitor and a bulldog on the mound and will do anything to get the job done and help this team win."
The highest number of bullpen innings through 25 games in the last five full seasons was Nolan Hoffman's 14 in 2018. He threw 20.2 innings in that span.
It is not without reason that the front of A&M's bullpen has been needed in key innings outside of weekend series. The return of COVID-19 exemption "super seniors" has added depth and talent to mid-major programs that has not been seen by A&M's players in any of their previous seasons.
"Every game is important," Aggie starter Bryce Miller said. "Every day is valuable and even on Tuesdays, we've got to have our guys ready to go."
Miller led the bullpen last season in appearances and innings through 25 games with 13 and 18 2/3, respectively.
However, utilizing A&M's strong pitchers on Tuesdays takes away crucial pitching sessions with Childress.
Those sessions, usually held on Tuesdays or Wednesdays, are one of the few opportunities pitchers have to work on their mechanics standing next to one of A&M's pitching coaches. A slightly different grip or a better stride to the plate can be fixed with instruction that can't be provided in a game situation.
"I think, of course, the con is just wondering whether Coach Childress sees something he doesn't like or mechanically — there are ways you can fix those in the bullpen," Ornelas said. "The pro for a bullpen going out on Tuesday, you're seeing live hitting and helping this team win."
The entire Aggie pitching staff will have their hands full with the No. 1 Razorbacks. Arkansas leads the nation in home runs with 63 and runs with 281. Arkansas is No. 5 in the SEC in hitting at .287.  Christian Franklin and Brady Slavens are tied with nine home runs, ranking fourth in the conference. Slavens also leads the conference in RBIs with 40.
"We've got to have some other guys pick up the slack here," Childress said.
• 
NOTES — A&M center fielder Ray Alejo carries a season-high, 14-game on base streak into the series, followed by Will Frizzell's 12-game streak…  The Aggies enter the weekend series with an RPI ranking of 115… They are ranked 16th in the country in hits with 314 and 10th in the country in home runs with 44.