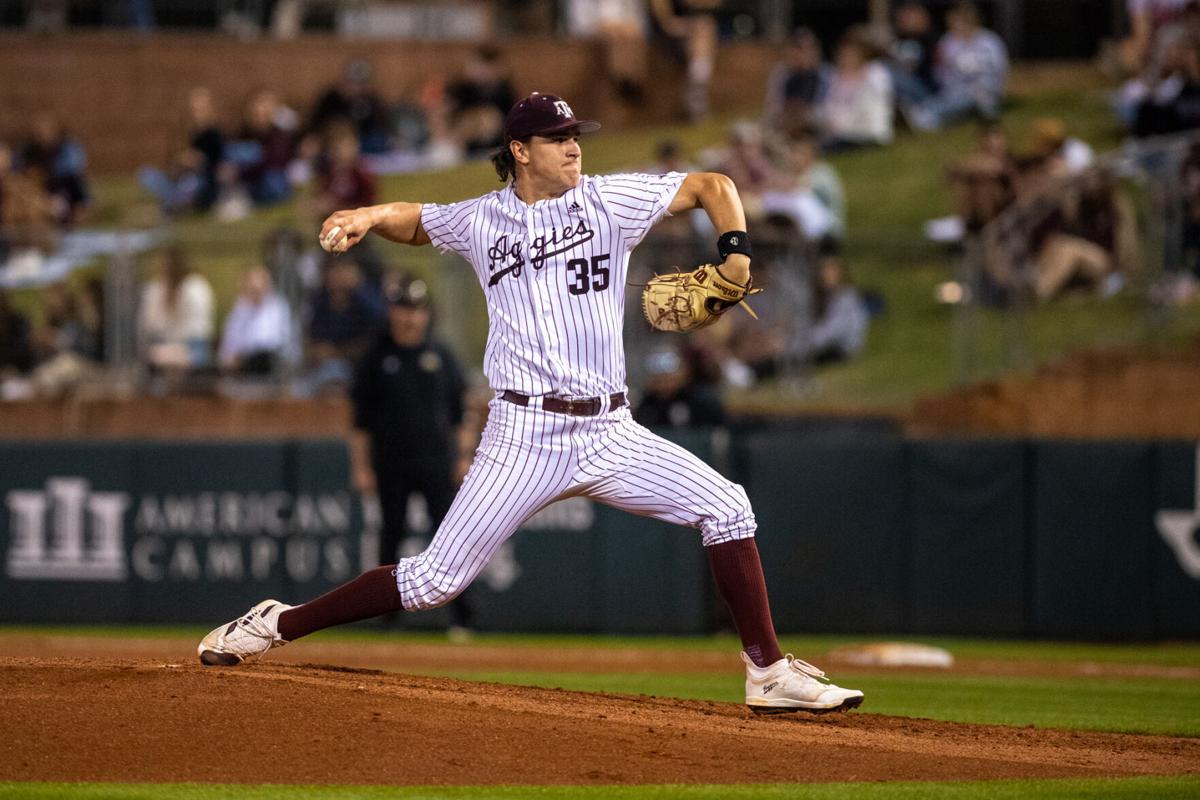 Success for the 15th-ranked Texas A&M baseball team could be as easy as one, two, three.
The Aggies will open Southeastern Conference play with top-ranked LSU, second-ranked Tennessee and third-ranked Ole Miss. If that isn't daunting enough, they'll also play SEC series against fourth-ranked Florida and sixth-ranked Arkansas later in the season in what arguably could be the toughest conference schedule in program history.
The SEC appears to be stronger than last year when it sent four teams to the College World Series. That matched the most teams one conference has sent to Omaha, Nebraska, which has been done six times, all but once by the SEC.
Second-year A&M head coach Jim Schlossnagle was twice part of the Big 12 Conference sending three teams to the CWS while at TCU, but he says heading into SEC play with six top 10 teams in the conference is uncharted territory.
"I've never seen anything like that," said Schlossnagle, who also picked the brain of Jason Hutchins, the program's director of operations. "I asked Hutch since he's been in this league and around A&M for 25 years if he'd seen anything like that and he said no. It is what it is. That's why you come here to play in those type of environments."
Blue Bell Park will be rocking this weekend as the Aggies (13-4) and Tigers (17-1) play at 6 p.m. Friday, 2 p.m. Saturday and 1 p.m. Sunday.
A&M was unranked at this time last year but won the SEC West and won two games at the CWS to match the number of victories in the program's six previous trips.
The Aggies have won eight straight after suffering an early three-game losing streak.
LSU has lived up to its preseason billing after adding the nation's top recruiting class and the top-ranked transfer class. The Tigers are riding an 11-game winning streak. LSU is batting .338 with a team earned run average of 2.27 and has committed only five errors.
"So pitching, defense, offense, they got great players, great big draft prospects," Schlossnagle said. "So, yeah, it's a great team. But it's never about the best team, only about the team that plays the best."
A year ago, LSU was ranked eighth, but the Tigers lost two of three to the Aggies to open SEC play. LSU finished third in the SEC West and wasn't good enough to host a regional or beat 11th-seeded Southern Miss to win one on the road.
"I love the talent on our team," LSU second-year coach Jay Johnson said. "I think we match up great with anyone. Our players have shown a strong mindset, and I think if they continue to be themselves and execute the fundamentals — quality at-bats, play great defense, apply strike-zone pressure from the mound — we will be headed in the right direction."
LSU has played only one road game, beating Texas 3-0 on Feb. 28. It is 2-1 in neutral-site games this season, all at Round Rock's Dell Diamond, beating Kansas State 7-3 and Sam Houston State 16-4, while losing to Iowa 12-4.
"Playing in the SEC is difficult, but that's also what makes it awesome to play in these games," Johnson said. "This is how you test how good you are, and that's exciting. Texas A&M is a great team, and they have a lot of veteran players that were on their College World Series team last year. It should be a great challenge."
LSU's starting pitchers will be all right-handers: juniors Paul Skenes (4-0, 0.75 ERA, 48 Ks, 24 IP, 4 BBs) and Ty Floyd (3-0, 1.08 ERA, 16.2 IP, 21 Ks, 5 BBs) and sophomore Thatcher Hurd (2-0, 2.04 ERA, 17.2 IP, 25 Ks, 9 BBs). A&M will counter with junior right-hander Nathan Dettmer (1-1, 2.37 ERA, 19 IP, 24 Ks, 7 BBs), sophomore left-hander Troy Wansing (2-1, 2.75 ERA, 19.2 IP, 33 Ks, 6 BBs) and sophomore right-hander Chris Cortez (1-0, 5.60 ERA, 17.2 IP, 17 Ks, 12 BBs).
The 6-foot-6, 247-pound Skenes went 10-3 last year at Air Force.
"He's a 98- to 101-mph arm and everything is hard," Schlossnagle said. "Whereas, Nathan, he can throw hard, 95 to 96 mph, but he's better when he's sinking the baseball, and if he tries to match the velocity of what's going on the radar gun on the other side, then that's probably not going to turn out well for us. He needs to be who he is and execute pitches, and we need to play defense behind him."
The weather could help the pitchers.
"It's not going to be a great hitting environment all weekend," Schlossnagle said. "It's going to be cold. The wind's going to be blowing in from the north. There's never a game when you can give up free bases, but if extra-base hits are going to be hard to come by, then you can't give up free bases to give the other team opportunities."
NOTES — A&M leads the all-time series with LSU 29-26-1, including 14-13 in SEC play with 11 of those games decided by one run. ... A&M senior outfielder Brett Minnich is two and half to three weeks away from returning from a broken thumb, Schlossnagle said. Junior third baseman Trevor Werner (hamstring) has missed the last five games and is questionable. Werner has hit and fielded some grounders but hasn't been running at full speed. "I don't want to rush it, especially on a cold weekend and then lose him for good," Schlossnagle said. "His [hamstring] is very, very minor, but we have to make sure he's all the way through it, so we can get it behind us." ... LSU has five batters hitting at least .340 led by junior center fielder Daylan Crews (.519, 5 HRs, 23 RBIs, 18 BBs), the projected top MLB draft pick. He's supported by freshman right fielder Paxton Kling (.425, 3 HRs, 7 RBIs), graduate second baseman Gavin Dugas (.408, 5 HRs, 14 RBIs), sophomore designated hitter Tommy White (.396, 6 HRs, 27 RBIs) and freshman first baseman Jared Jones (.340, 6 HRs, 21 RBIs). Crews has a 15-game hitting streak. ... A&M's top hitters are junior shortstop Hunter Haas (.371, 3 HRs, 10 RBIs), senior second baseman Austin Bost (.323, 3 HRs, 24 RBIs) and junior first baseman Jack Moss (.308, 13 RBIs). Bost has a 10-game hitting streak.