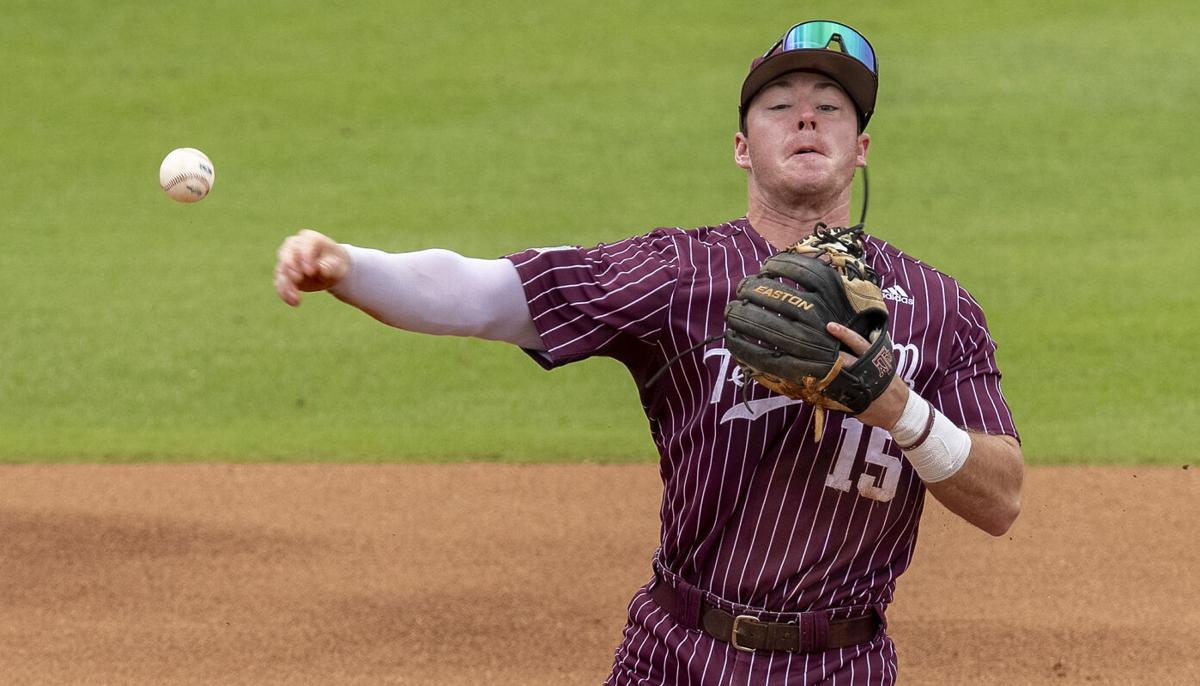 After Texas A&M's a season-ending 8-2 loss to LSU on Saturday, fifth-year senior Hunter Coleman calmly discussed the emotions felt in seeing a campaign end short of the Southeastern Conference tournament. 
When it came time to discuss the impact head coach Rob Childress had made on his career, the stoic Coleman broke down into sobs.
"I think he's the best there is," Coleman said. "I think, you come through here and not only do you get the baseball development and you get better as a player, but he prepares you. After being here five years, you know you're going to walk out of here a better man."
With a contract set to expire on June 30, career loss number 336 in 961 total games could be Childress' last at A&M. As of Saturday, Childress said there has been no communication between himself and athletics administration about his future. 
"That's not my call," Childress said in response to questions if he believes he should return. "I'm very proud of the things that we've accomplished over 16 years here and done things the right way and treated people the right way and won an awful lot of games and a lot of championships. But that's not my call." 
Just as in his first season in Aggieland in 2006, his A&M squad saw the season close without a berth in the conference tournament. Friday's loss to LSU, combined with an Auburn win over Missouri, ensured the Aggies would finish outside the top 12 teams included in the tournament field. 
The Aggies (29-27, 9-21) finished 13th in the standings, ahead of 8-22 Missouri. 
With little on the line other than honoring the 12 senior players on the team, the Aggies struggled through the final game of the season. LSU (34-21, 13-17) plated its first two runs with the help of three errors by the Aggie infield in the top of the first. Tiger right fielder Dylan Crews scampered home for LSU's second run of the inning on an errant throw from catcher Mikey Hoehner back to pitcher Chris Weber. 
Two innings later, LSU blasted three home runs in four at-bats. Left fielder Gavin Dugas, who exited Thursday's game with an injury after a collision in the outfield, hit his second of the series and 16th of the season over the left-field wall to leadoff the inning. A single by Cade Doughty bridged the next blast by Zach Arnold, which hit the clock at the top of the scoreboard. Drew Bianco finished the onslaught with a hooking solo shot that banked off the left field foul poll. 
LSU closed out its scoring with a run in the fourth and another in the top of the ninth.
"We made a few mistakes early that happened," Coleman said. "That's baseball. I'm proud of the way we bounced back with four extra base hits there."
The Aggies plated two runs in the game thanks to four extra-base hits. A leadoff double in the fourth by senior Logan Sartori preceded an RBI single by Coleman two batters later. In the sixth, back-to-back doubles by senior Will Frizzell and junior Austin Bost added A&M's final run. 
Aggie starter Chris Weber (1-3) was on the mound for LSU's first six runs, four of which were earned. He lasted three innings, allowing six hits and a walk, while striking out two. He was followed by freshman Nathan Dettmer, sophomore Jonathan Childress and freshman Mason Ornelas.
Jonathan Childress was the only Aggie to not give up an LSU run, working three scoreless innings and allowing two hits. He struck out five. Childress was removed from the weekend rotation in early May, but stacked Saturday's performance on top of a one-run outing at Auburn last weekend.
"I was just building off of last week's performance against Auburn, just trying to get a little better than that and just trying to fill up the zone and throw strikes and see what happened," he said. "It worked out well." 
LSU starter Ma'Khail Hillard (6-0) earned the win in seven innings of work, two more than LSU head coach Paul Maineiri hoped he would get out of the senior. 
"The story of the game was Ma'Khail," Maineiri said. "He went out there and dazzled them again and did a phenomenal job. I was hoping we would get five innings. He gave us seven."
A&M's record streak of 13 straight NCAA tournament also ended.
"I'm disappointed for our guys," Rob Childress said. "They don't get to continue the postseason experience, getting to Hoover and getting into a regional. It's something that we're not accustomed to here at Texas A&M, it's been a long time since we've had to deal with what we're dealing with today."
The seniors that hung on the dugout railing after the game, staring blankly at the field was a reminder that the road ahead for the Aggie program is filled with uncertainties. On the field, A&M will need to replace six starters or key players from the batting lineup, as well as two weekend starters and a key long relief man in Dustin Saenz, Bryce Miller and Chandler Jozwiak. 
In the clubhouse, a decision will have to be made on Childress' future with the program. Prior to the series, athletics director Ross Bjork said on his monthly "Town Hall" he waits until after the season to make these kinds of evaluations. 
Childress and the Aggies exited the field Saturday, those Aggie fans who remained in the stands through spurts of rain stood and clapped in a gesture of appreciation later stated emotionally by Coleman.
"He's definitely been a father figure for me since I've been here," Coleman said. "I've got the most respect for him in the world and I hope he has the same for me. I wouldn't want to play for anybody else."
• 
NOTES — Frizzell finished the season as the Aggies leader in batting average (.343), runs (46), hits (70), doubles (13), home runs (19) and RBIs (49). His 19 home runs is the most since Steven Truitt hit the same number in 1999 and places Frizzell in a three-way tie for fourth all-time in A&M history for single-season homers… Friday night starter Saenz posted the most wins with a 6-6 record… Arkansas earned the top seed in the SEC tournament, followed by Tennessee and Mississippi State. LSU enters as the No. 9 seed and will face No. 8 Georgia when the tournament begins on Tuesday.